Alumni

Baby steps to Physics Master
Strathclyde People 2017
---
Ruaraidh Dumbreck has called his time at Strathclyde an 'unbelievable experience' – after graduating for the second time.
The 22-year-old Glaswegian has just completed a Masters in Physics, specialising in solid state physics.
First time around, he specialised in finger-painting, Lego building and afternoon naps.
"I was apparently one of the first children to 'graduate' from the Strathclyde Nursery in 2000, although clearly I don't remember a lot about it," said Ruaraidh, whose mum worked at the University at the time.
As a student on Strathclyde's High Flyer programme, Ruaraidh went straight into second year, where he immediately immersed himself in his studies, as well as extracurricular interests. "I've always been into music – I play keyboards, piano and guitar – and was in a few bands at university. I had a great time. I was a bit sorry to graduate to be honest."
He added: "I couldn't recommend Strathclyde highly enough. It was an unbelievable experience, and I'll always be grateful for the opportunities it gave me."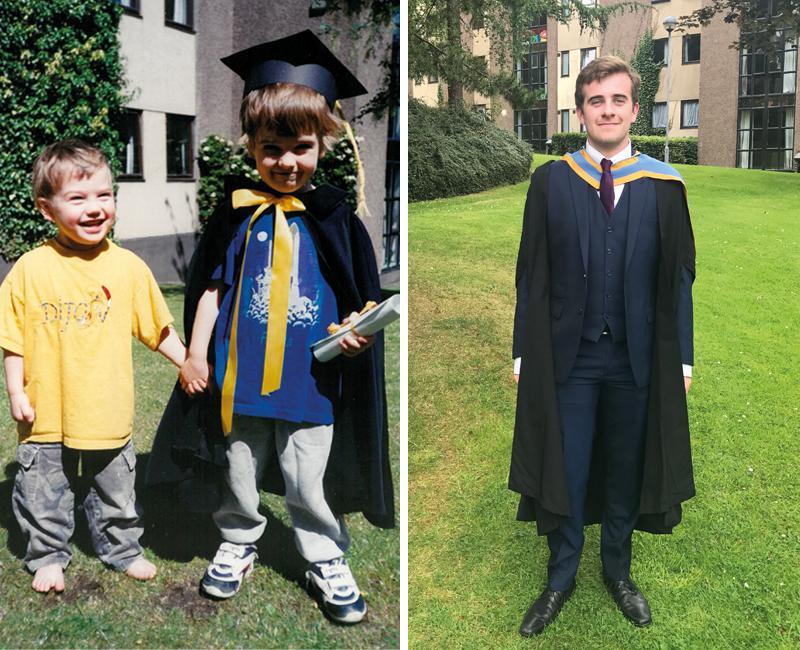 Ruaraidh on his 'graduation day' in 2000 and again in 2017
"I couldn't recommend Strathclyde highly enough. It was an unbelievable experience, and I'll always be grateful for the opportunities it gave me."

Ruaraidh Dumbreck
2017 graduate