Strathclyde People 2017
---
We are investing £650 million over the course of this decade to transform the Strathclyde campus into a first-class working and learning environment for students and staff.
At the heart of the development will be a stunning new £60 million teaching and learning hub – designed in partnership with students and staff to create leading-edge facilities.
Together with our recently opened Technology and Innovation Centre, and the redeveloped Strathclyde Business School building, it will strengthen Strathclyde's position in delivering academic excellence with impact for our students, for wider society, and for the benefit of the economy.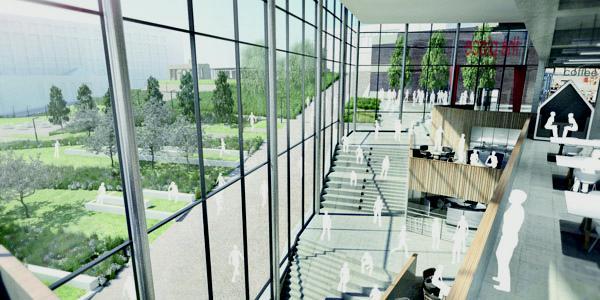 The new Teaching and Learning hub, due to be completed in 2020
However, the ongoing transformation will also cement the University's reputation among current students and alumni as simply a great place to be. The hub will provide a vibrant new home for student services and the Students' Union, while our commitment to health and wellbeing is represented by Strathclyde Sport, our new £31 million centre for sports, health and wellbeing.
"Our students are at the heart of everything we do at Strathclyde and the transformation of our campus reflects both our commitment to our students, and our status as a leading international technological university," said Professor Sir Jim McDonald, Principal and Vice-Chancellor of the University.
The story so far...
Our Technology and Innovation Centre was officially opened by Her Majesty The Queen in 2015. Today, the £89 million centre is a beacon for innovation and supports close collaboration between academics and industry in the search for solutions to urgent global challenges.
Meanwhile, Strathclyde Business School has undergone a £23.2 million refurbishment and was named Business School of the Year at the prestigious Times Higher Education Awards 2016.
Supporting sport
Strathclyde Sport, our new centre for sports, health and wellbeing will provide state-of-the-art facilities where performance sport can thrive alongside exercise, health and wellbeing.
The investment comes at a time when sporting opportunities and the quality of facilities are increasingly important factors when it comes to applicants selecting a university.
In fact, membership of the University's Sports Union has increased by 73% since the 2012 London Olympics and the 2014 Glasgow Commonwealth Games – while there has been a 25% increase in Strathclyde teams competing in the British Universities and Scottish student leagues.
Our new teaching and learning hub will meet the future needs of a student population growing in size and diversity, as well as enabling innovative new modes of teaching for the digital age. The new facility, due to be completed by 2020, represents our biggest ever single investment in estates projects.
As well as learning and teaching facilities, it will provide an exciting new home for student support services and the Students' Union. Speaking for the students, Union President Calvin Hepburn said: "With its location at the heart of the campus, this is a building that will vastly improve the student experience.
Cutting-edge
We're in the final stages of a £12 million extension and refurbishment project of our John Anderson Building, which will create facilities for advanced laser and plasma physics research. With 14-tonne, metre-thick doors – and some of the world's most powerful lasers – the new facilities will allow our scientists to undertake truly cutting-edge research.
The lasers will be used collaboratively for a variety of industrial, medical and scientific applications, while the new facilities will form an important part of the Scottish Centre for the Application of Plasma-based Accelerators.
The work (due to be completed in the spring of 2018) will not only improve facilities but will also bring environmental benefits equivalent to a carbon reduction of 42 tonnes per year – in line with the University's commitment to reduce our carbon footprint by 25% by 2020.
In my own words...
The University's Head of Sport and Recreation, Neil Brown, is excited about the new sports centre and is confident there will be something for everyone.
"We're creating a modern facility with a range of different spaces and a mix of equipment for a breadth of users of all levels of ability – from members who might only come through our doors once a month to the high-performance athlete. The new centre will be a place to train, compete, meet people and have fun. For example, we'll have a virtual cycling area with four TV walls – you could sit on a 'spinner' bike and cycle a stage of the Tour de France.
"We'll also be looking to engage people with smart phone apps, while booking a court or a class will be online and much easier.
"Research shows that for 25% of people applying for university, their first or second question is about the quality of sports facilities. That's 5,000 Strathclyde students. So we know we have to meet the high expectations of students, staff and alumni for an enhanced fitness and sporting experience.
The new swimming pool – a total transformation from the old one – will be a great example of this. But we also want to engage with communities, such as elderly groups, or encourage local young people to cross the threshold of a university for the first time.
"We'll be able to attract high-performance athletes who want an education from Strathclyde. But we also know that with better opportunities for health and wellbeing – and high-level facilities, equipment and support for our 53 university clubs – we'll be able to help more people through some of the stressful times of being a student."