Strathclyde Executive Education & Development

Productivity Through People
Driving Growth Through Better Workplace Practices
Productivity through People is delivered over an 8 month period and is a cohort based executive education programme for leaders within SMEs wishing to "work on the business, not in the business". It is an opportunity to share critical insights for success regarding people, leadership, communications, innovation and, ultimately, productivity. The objective of the programme is to help leaders create a high-performance workplace with a fully-engaged, productive workforce. Delivered in collaboration with and subsidised by world class organisations such as Rolls-Royce and BAE Systems, the programme is endorsed by Be the Business, the business-led organisation created to boost management skills and close the UK's productivity gap.
Delivered at the University of Strathclyde's award-winning Business School, the programme blends classroom learning and pragmatism with firms receiving inputs from peers as well as visits to best practice organisations to share knowledge and insights that can be put into practice quickly to accelerate performance. In addition to meeting and learning from industry leaders, course attendees build peer networks to help them work together to solve challenges and harness opportunities.
Complementing the Growth Advantage Programme (our unique programme for managing directors, owners and visionary leaders of growth companies in Scotland), Productivity through People is aimed at the leadership teams of established businesses with a minimum £2 million turnover and a staff of over 20 people and which have real growth ambitions.
To get the most from the programme we recommend that participants should be senior managers within the firm with authority to make change happen.
The 14 companies that completed the inaugural Productivity through People programme had an average of over £5million in annual revenues and 50 employees at the start of the programme and came from all over Scotland, from a wide range of sectors and included companies started from scratch, bought and multi-generation family businesses - all with ambitions to grow.
Productivity through People is a 9 day leadership development programme delivered over an 8 month period. Led by the Strathclyde delivery team, the induction day is designed to introduce you to the programme, help you to develop peer networks and create the foundations of a learning community. Setting the scene for the remainder of your programme, you will be encouraged to consider the big picture and ensuing strategic challenges currently facing your organisation against a backdrop of increasing volatility, uncertainty, complexity and ambiguity. This framing enables you to start exploring ways to deal with your changed circumstances and contexts and drive productivity forwards.
In the following session, you will undertake an intensive benchmarking and organisational analysis exercise to help you establish a baseline of information about your people practices and your business. This enables you to understand how well your business is doing in comparison to other SMEs in the UK, so you can start to make informed decisions about the future of your business.
Over the next few months, you will attend a series of 1 day workshops led by our academics and industry practitioners. Designed to help you develop meaning and purpose and apply impactful workforce practices, these workshops will explore the interconnectedness of factors, such as, 'Empowering Leadership'; 'Culture, Communication and Engagement'; 'Managing Innovation' and 'Aligning the Business'. This latter session brings it all together, helping you to align your business around new opportunities and fresh approaches to management as you learn to apply practical solutions and execute context-sensitive change strategies for sustainable results. The final review day includes a repeat of the benchmarking exercise to measure the progress towards best practice that you and your organisation will have achieved as a result of your participation on the PtP programme. The day will conclude with your graduation.
During the programme, you will also benefit from site visits to two world-class organisations, Rolls Royce and BAE Systems, where you will be exposed to further leading-edge thinking around transformative practices, tools and techniques that can be readily applied in your own business. In addition, you will have the opportunity to work with industry mentors drawn from these organisations and can opt to undertake a leadership exchange, which involves shadowing a fellow participant, and vice versa, in their place of work to observe and provide feedback on each other's leadership style.
COVID-19 continues to have an impact on Strathclyde Business School's ability to deliver face to face programmes.
The real impact of each of our programmes comes as much from peer discussion in the classroom as the great content and it is our absolute intention to do this face-to-face at Strathclyde Business School as soon as we are allowed. Nevertheless, we remain committed to providing practical help to growing businesses during COVID-19 and have developed a "live-online" delivery methodology which we believe is effective as an interim measure until Government restrictions are lifted. Our experience of having had to move programmes to live-online delivery has identified best practice in structuring individual sessions, the effective use of available technology and encouraging cohort interaction which, whilst no substitute for the power of face-to-face, delivers a high quality learning experience.
Key dates are set out below and, at present, we are anticipating that the first two sessions will be delivered live-online:
What is Productivity and Why Does it Matter? – 28 September 2021
Benchmark Assessment – 26 October 2021
Empowering Leadership – 16 November 2021
Culture, Communication and Engagement – 11 January 2022
Industrial site visit to BAE Systems – 1 February 2022
Managing Innovation – 22 February 2022
Industrial site visit to AFRC & Rolls Royce – 15 March 2022
Aligning the Business - 26 April 2022
Reflections, Review and Graduation – 10 May 2022
If Government restrictions are still in place for subsequent sessions, we have contingency plans in place to split sessions and deliver live-online over two half days, back-to-back.
Empower and engage front line staff leading to better usage of skills and abilities - transforming management practice, developing leadership skills and adopting modern work practices delivered through a unique experiential learning programme
Develop a support network with other SME owner/ managers – collaborating with like-minded peers to build a more productive future together
Exposure to world class manufacturing and operational environments – enabling you to formulate high-performance workplace strategies. Benchmark against best in class organisations and develop a measurable action plan for continuous improvement
Enhanced productivity and growth for businesses
Creation of an open organisational culture that is positive, supportive and conducive to innovation and change to develop business growth.
This programme has received significant investment from our strategic partners, both in its design and finance. As a result, the subsidised cost of this programme is only £2,500 per delegate.
Bruce Peat – Peak Scientific
A colleague - who had been on the course the year before - recommended the Productivity through People (PtP) programme to me and spoke very highly of the outcomes from the course so that led me to apply.
I had a great experience on the programme and felt it really aided my professional development. The stand out part was the site visits to industry and a large part of that was the realisation that even the biggest and best companies in the world are not perfect.
The course has definitely changed the way I approach work - and for the better. Productivity has increased and, not only that, it has been recognised within the business.
I would absolutely recommend the PtP programme to any business leader looking to evolve their skill set and ultimately increase productivity in their business, department or team. Access to some of the world's leading businesses and business leaders is not easy to get - that access and insight was extremely beneficial. The peer-to-peer engagement also allowed for a lot of learning and questioning of how and why we do things, which led to improved practices and motivations when brought back to the business.


Julie McVicar – Drummond Laurie
A client of mine had been on a similar programme and had recommended the Productivity through People (PtP) course so I decided that it would benefit me too.
Doing the programme was a great chance to get away from your desk and the day to day and refocus whilst meeting a wide range of people from different businesses. We discovered that although we came from different industries we quite often faced the same issues in business.
My role is heavily staff focussed and, as the course covered leadership, motivation and communication, I found I took a lot of helpful information and techniques back to the office which I could then implement.
I would definitely advise others to do the PtP programme - you will gain a lot of information that can be used to improve performance in your organisation. I would advise that to get the most out the course you have to be willing to get involved - you will get out of it what you put in.


Aimee Doole – Booth Welsh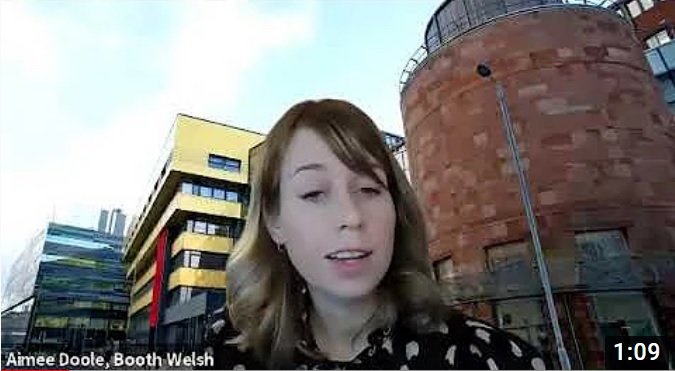 Emma Heathcoate- James – Little Soap Company
Due to my improved understanding and enlightened view of leadership, I feel more confident and empowered to trust my wonderful team, and not guilty about taking time to review the business and invest in my own learning and development.
I also recognise that it's impossible to know it all as a business leader, but that through access to the fantastic mentors and other leaders you get on this course the solutions are out there, which you may never have discovered on your own.
Pre-Covid we forecast 63% growth in the business, but it's actually been 110%. Circumstances and sales have been unpredictably boosted by recent events, but we've also become slicker, more ambitious, more confident and determined to continue to learn and grow.
The Productivity through People course has been a truly important aspect of my journey, due to the inspiration and knowledge drawn from the content, mentors and alumni network of business leaders who I continue to value for their collaborative approach, morale and support.
I would urge any business owner who wants to improve their leadership and bring out the very best performance in their team, to take the time to invest in Productivity through People. It was worth every minute of my time.


Stephanie Chamberlain - Magic Milestones
I can honestly say that the Productivity through People course changed my life. It helped me turn a lack of direction into clarity, a confused message into a clear succinct business proposition and vision, and a lost mojo into reinvigorated motivation and passion.
The course lit a fire under me and I haven't looked back since. We've grown, kept our staff and won new clients, including a large global contract, even during the pandemic. Amazingly we've seen our gross business profits increase by an incredible 48%.
A year ago, I would never have believed these figures. But we have nailed our 'why' and we're clear on our customer message, so I have every belief that we now have the resilience and tools in place for a bright and secure future for our fantastic team.
What is for certain is that I will never stop investing in myself and my people. I know how important it is to take the time to consider, reflect and think. Because it's only by doing this that you can keep moving forward, adapting and growing not only as an individual business leader but as a business which offers the very best service and outcomes to its clients.
We're always happy to talk about how the programme could benefit you. Please get in touch with us to find out more and register your interest

Supported by:
Address
Strathclyde Business School
University of Strathclyde
199 Cathedral Street
Glasgow
G4 0QU