MSc Financial Technology

Tiger Garcia
Tiger's Strath Story
Tiger graduated with a Masters of Science in Financial Technology after relocating to Glasgow from California with his wife, Lauren.
He grew up in the small town of Moraga, California and went on to study Managerial Economics at the University of California, Davis and competed for the school's Division 1 American Football team.
After working in Silicon Valley for companies such as Apple, Tiger applied and won a Fulbright Scholarship. Find out more about his journey and his reasons for choosing Strathclyde.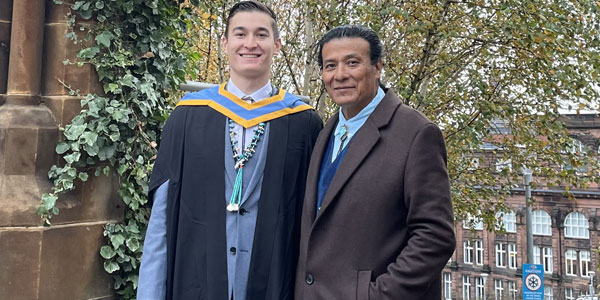 Tell us a bit about yourself and your background
My great aunt has lived her whole life on the Navajo (Diné) Nation Reservation. Years ago, she had cattle, horses, and sheep on her homestead, but now she focuses only on her sheep. My great auntie is kind and loving. She makes the best Navajo fried bread in the world, and has won awards for it on the Rez. She primarily speaks Navajo and is unable to read or write. In her youth, her family needed her to work on the homestead so she was not allowed to attend school. She enjoys her life on the Rez and has woven many beautiful Navajo rugs, including one for my wedding.
My father spent the first couple years of his life living on the homestead with my great aunt. Life on the Rez is difficult and he faced many hardships because of poverty. At 14 years old, he moved out from his parents' home and started making a living on his own. He earned an American Football scholarship and completed his degree at the University of Arizona.
My father went on to start his own construction company and has been a small business owner for 35+ years. He gave everything he had to raise me near good public schools so I could have a better education than him. This meant working for 30+ years with no vacation.
After graduating from the University of California, I moved to Silicon Valley to work for Apple as a Finance Associate at their headquarters in Cupertino. I analysed the global iPad Pro Sales for their newest model and presented my insights to senior management. After Apple, I worked for Penserra Capital in portfolio management where I grew their assets from $3.5 to $7 billion in 10 months.
What were your reasons for taking on a postgraduate degree?
My academic advisor recommended that I apply for international postgraduate scholarships in the UK.
I did an extensive search for programmes that would combine my passion for investments and interest in coding. I wanted to learn how to code because it would make my work more valuable.
I found the MSc in Financial Technology at Strathclyde Business School and reached out to the heads of the department, Dr. James Bowden and Dr. Ashwin Arulselvan.
The programme seemed like the right fit so I applied for a Fulbright Scholarship and won. This paid for my tuition, food, and housing. It was incredibly difficult to leave my job at Penserra Capital because I loved my work and team, but I ultimately wanted the international experience. I'm thankful my team supported my decision.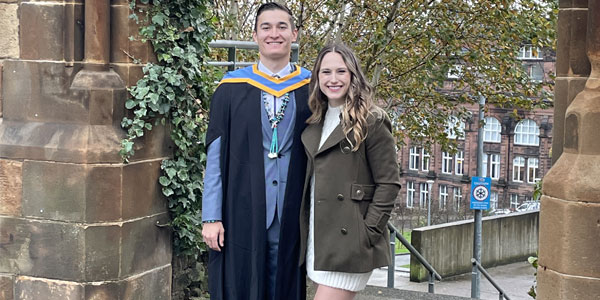 How did your family react to your decision to study in Glasgow?
My wife Lauren jumped in my arms and hugged me as tight as she could. She is a world traveller and absolutely wanted to live in Scotland. My father was over the moon. He always wanted me to live internationally and experience different cultures. My mother was excited as well, but also sad when we said goodbye. She's proud of me for moving abroad and praying that I don't stay in Scotland forever. My brothers were also very supportive of my decision.
Has anything surprised you about living in Scotland?
The people in Glasgow are often incredibly kind to foreigners. Individuals outside Scotland either have not heard of Glasgow or view it as a rough city. The community has treated me well and taught me their customs and history. My friend invited me to a Scottish cèilidh and offered a traditional kilt for me to wear. It was an amazing night of dancing.
What's been your favourite memory of your time at Strathclyde?
I played basketball for the Strathclyde men's team this year. After an away game against Edinburgh Uni, my teammates and I packed into a small van to drive home. The motorway was closed so we had to take the backroads through the Scottish farmlands.
I'll never forget singing "Take me home, Country Roads" by John Denver at the top of my lungs with my teammates in the twilight hours of the night.
What's been the best piece of advice you've ever received and who was it from?
Before university, I was working a local summer job in my hometown. I received a call from my university coach that an athlete was no longer able to play, I was needed immediately, and I should move to university as soon as possible. I was ecstatic. When I told my boss the news, he was upset because there was no one to replace me at the time. His anger weighed heavily on me. When I went to turn my uniform in, a man noticed me. He walked over and asked what was wrong. I told him the situation. He responded, "Forget that. This is a dead-end job. Go chase your dream." I still do not know who that man is, but I'm forever grateful for his advice.
Interested in MSc in Financial Technology?
Find out more about the course content, entry requirements, funding options and career opportunities.
MSc Financial Technology