Key facts
Start date: September

Accreditation: AACSB, EQUIS & AMBA

Application deadline: September

Study mode and duration: MSc: 12 months, full-time
Study with us
combine the study of theory with intensive practice and industrial engagement
understanding how the use of technology improves the efficiency of financial transactions
undertake two research projects, one in Finance and one in Management Science
gain invaluable practical experience of the factors that drive today's financial markets at Amplify Trading Boot Camp
Back to course
Why this course?
This MSc in Financial Technology (FinTech) teaches the big data techniques, computer programming, and analytics that banks and insurance companies are looking for. Graduates in this field will have a good understanding of the changing nature of finance and how accounting, business information systems, and analytic methods are adapting to the internet as a delivery channel.
The course is provided jointly by the top-ranked Departments of Accounting & Finance and Management Science with input from Computer & Information Science.
Strathclyde Business School
Strathclyde Business School (SBS) was founded in 1948 and is a pioneering, internationally-renowned academic organisation with a reputation for research excellence. One of four faculties forming the University of Strathclyde, SBS has held triple accreditation from the three main business school accreditation bodies – AMBA, EQUIS and AACSB – since 2004. Our subject departments and specialist centres collaborate to provide a dynamic, fully-rounded and varied programme of specialist and cross-disciplinary courses.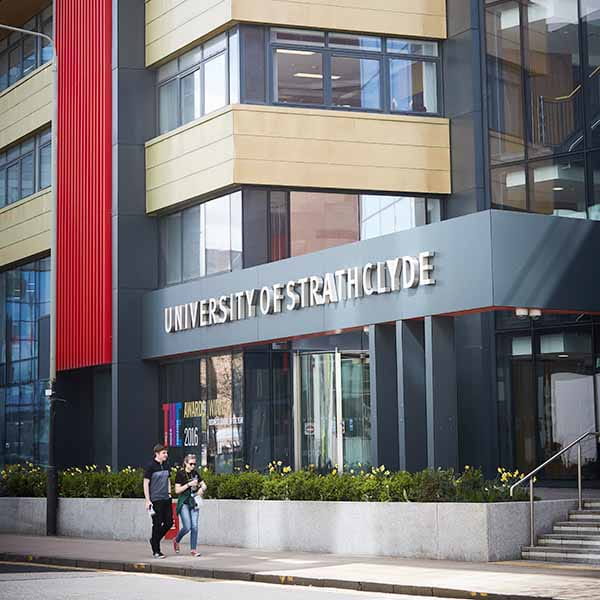 What you'll study
The course is 12 months full-time, with two semesters of classes followed by two projects over the summer. You'll gain a comprehensive skill set using a blended learning approach that combines theory, intensive practice and engagement with FinTech start-ups. The course content will involve interaction with the Bloomberg Trading Simulation Laboratory in the Business School.
In Semesters 1 & 2 you'll take compulsory core classes, some of which are offered within our award-winning MSc Finance. You also select at least one elective from the list of classes in Accounting & Finance, Management Science and Computer Science.
Semester 1
You'll gain a fundamental understanding of finance and analytical methods within the context of big data developments in FinTech practice and application and learn about Python programming.
Semester 2
You'll extend your core skills, expand your knowledge of analytics methods, deepen your understanding of information systems and enhance your understanding of financial markets.
Summer projects
You undertake two research projects, one in Finance and one in Management Science. You'll submit your final work in September.
Learning & teaching
The programme is mainly taught through a combination of lectures, tutorials and computer labs.
The class Becoming an Effective Financial Technology Analyst focuses on experiential learning. Acting as clients, industrialists from the financial technology sector will introduce a series of business problems, outlining real problems on projects and cases that they have been involved in. Working in small groups, students will work in role of analysts/consultants with a brief of advising the client on how to tackle the problem.
Assessment
Assessment will vary across the classes but will include exams, written assignments, as well as practical team and individual projects.
Accreditation
CQF
The Certificate in Quantitative Finance (CQF) is the largest professional qualification in quant finance and is recognized by financial companies worldwide. Strathclyde Business School is one of the few Universities recognised by the CQF Institute and our students can register as free members and have the opportunity to access the latest CQF Institute membership resources, including events, research, careers tools, workshops and thought leadership content.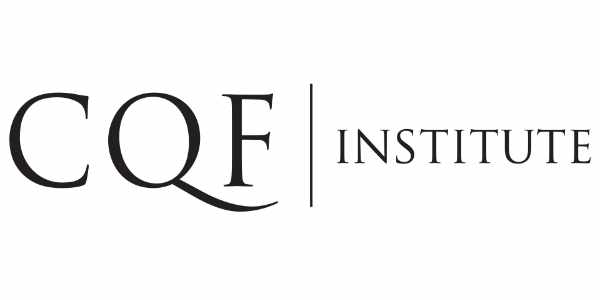 Amplify Trading Boot Camp
You can gain invaluable practical experience of the factors that drive today's financial markets as part of your Master course. Amplify, a global financial trading and training company, in collaboration with Strathclyde Business School, delivers a week-long Boot Camp. This provides you with the opportunity to experience a real-life trading simulation, covering multiple roles in the process.
Amplify is a leading provider of training programmes to the financial industry, and they offer our students the same analyst level practical training they deliver to their clients. Amplify's clients include Bank of China, Goldman Sachs, HSBC and Bank of America.
Note: the provider of this boot camp may be subject to change.
Finance simulation boot camp
Triple-accredited business school
Core classes
Programming for Fintech
Programming is taught to a level at which the knowledge can be useful to a financial professional.
Principles of Finance
This class provides an introduction to the basic principles of financial decision taking and the theory of finance. It will develop the basic principles of valuation, the nature of risk and uncertainty, and the relationship between risk and returns.
Quantitative Business Analysis
The first part provides an introduction to the basic theory and application of statistical modelling. Topics covered include:
data analysis
probability theory
distributions and moments
estimation
hypothesis testing
The second part focuses mainly on two areas:
regression modelling
multivariate analysis
While key background theory will be presented, the emphasis is on the generation and interpretation of output from commercially available software.
Big Data Fundamentals (10 credits)
This module will introduce the challenges of analysing big data with specific focus on the algorithms and techniques which are embodied in data analytics solutions.
At the end of the module, you'll understand:
the fundamentals of Python for use in big data technologies
how classical statistical techniques are applied in modern data analysis
the limitations of various data analysis tools in a variety of contexts
Core classes
Sustainable Finance and Technology
This course uniquely encourages students to explore the nexus between sustainable finance and financial technology (FinTech). Students will be introduced to key concepts that define FinTech. The dynamic FinTech landscape will be navigated, outlining how a new ecosystem of financial services is evolving, with new innovative financial products and services being offered and new alternative markets being developed. Against the background of the global sustainability challenge and the critical need for mobilising sustainable finance, the role that FinTech can play as an enabler of this capital flow will be discussed.
Across areas such as crowdfunding and peer-to-business lending, cryptoassets and blockchain, and wealth management and roboadvisors, students will synthesise academic and industry evidence to evaluate the levels of investment currently being directed through FinTech enabled channels to fund sustainable companies and projects. Particular attention will be given to the area of Environmental, Social and Governance (ESG) investing and Socially Responsible Investing (SRI) and how technology can support this activity. The challenges of ESG measurement will be considered and financial data science applied to the problem of ESG scoring. Portfolio management demonstrations will be provided to students under emerging portfolio construction frameworks that seek to optimise across risk, return and ESG.
Business Information Systems
The class will build on the fundamental multivariate statistics by developing both visualisation and advanced analysis techniques relevant in the area of big data. The focus will be on application and interpretation of techniques and there will be an investigation of what makes good data. The class will develop both new theoretical knowledge in the form of analytics techniques as well as new software skills in relevant analytics software.
Becoming an Effective Technology Analyst
This class is led by industrialists in partnership with academics concerned with FinTech problems. The practical reality of applying analytical methods in financial technology business is often far removed from the classroom. While traditional teaching can alert students to such issues, understanding needs to be reinforced by experience, which is acquired in this module.
FinTech Innovations, Applications & Considerations
The aim of this class is to critically evaluate the underlying technologies and innovations emerging in fintech and explore the various potential applications and considerations in each case. By linking academic theory with practical use cases and industry speakers, the module aims to provide students with both a technical as well as a strategic overview of core technologies.
A proportion of this module will also focus on various considerations inherent in financial technologies, such as ethics, trust, security and built-in behavioural biases. Such considerations are important given the amount of personal financial data that is now generated, the increasing use of machine learning and artificial intelligence in financial services, and the number of new entrants into the banking industry.
Risk Management for Banks
The class employs some of the basic principles of financial analysis to consider the application of risk analysis. It explores issues relating to risk management in the banking sector, with a particular focus on the regulatory requirements stemming from the Basel Accord.
Elective classes
Accounting & Finance
Portfolio Theory & Management
The aim of this class is to examine the Markowitz (1952) approach to optimal portfolio selection. The class explores issues relating to optimal portfolio choice and issues in practical fund management. This would be useful for those who wish to specialise in Roboadivsors.
Derivatives
This class will provide you with a strong grounding in derivatives that may be used to manage the financial risks faced by individuals, financial institutions and business corporations. This would be useful for those who wish to focus on FinTech for market instruments.
Fixed Income Analysis
While fixed income securities (bonds) have been traded for a far longer time than equities, it's only recently that the trading volume of these instruments has exceeded that of equities in many of the economies with highly developed capital markets. The bond markets for the last 25 years or so have been characterised by rapid innovation and the range of bonds now being traded is quite diverse. Any graduate of an MSc programme in Finance is expected to be familiar with the nature of the valuation of bonds.
This class will put the MSc courses at Strathclyde in a position to provide students with the opportunity to analyse bonds and the markets in which they are traded in more depth than is possible at the moment.
Find out more in the class outline for Fixed Income Analysis class outline.
Management Science
Stochastic Modelling for Analytics
This class introduces fundamental stochastic methods and techniques and then provides applications to large scale modelling. These methods are crucial for a better understanding of uncertainty and risk and these approaches are closely related to many important fields from forecasting to simulation.
Business Simulation Modelling
The class will focus on the main two forms of business simulation:
discrete-event simulation (DES)
system dynamics (a continuous simulation technique)
For DES, the class will start with an introduction, aiming to familiarise students with the concept and its use. For system dynamics the class will provide a background to system dynamics including its links to other modelling techniques.
Risk Analysis & Management
This class will explore the entire process of structuring a risk problem, modelling it, supporting and communicating recommendations, both theoretically and in practice.
Computer Science
Big Data Tools & Techniques
This class will continue the focus on machine learning and data mining. It will also provide an introduction to data visualisation and big data platforms.
Fundamentals of Machine Learning for Data Analytics
To aim of this class is to equip students with a sound understanding of the principles of machine learning and a range of basic approaches, along with the knowledge of how and when to apply the techniques.
Research projects
Prior to the start of the work on the projects classes are provided on research methodology for each project. These compulsory classes will provide the basis for the project work, the nature of research work in finance or accounting and the writing and structuring of research reports. The classes will not be assessed but attendance is compulsory.
Finance Project
The project allows the student to use all that they have learnt to specialise in an area of interest, delving much more deeply into it.
Management Science Project
This project uses management science techniques to solve a data problem.
Chat to a student ambassador
Want to know more about what it's like to be a Strathclyde Business School student at the University of Strathclyde? A selection of our current students are here to help!
Our Unibuddy ambassadors can answer all the questions you may have about their course experiences and studying at Strathclyde, along with offering insight into life in Glasgow and Scotland.
Chat now!
Back to course
Entry requirements
Academic requirements

Minimum second-class Honours degree, or overseas equivalent (view the entry requirements for your country) in:

accounting
economics
business studies
a subject area with a strong quantitative component

No prior knowledge of finance is required.

English language requirements

Students whose first language is not English must have a minimum of 6.5 IELTS score, with no individual score lower than 5.5. Get more information about the English language requirements for studying at Strathclyde.

Introductory sessions

You're required to attend introductory sessions in mid-September.
Pre-Masters preparation course
The Pre-Masters Programme is a preparation course held at the University of Strathclyde International Study Centre, for international students (non EU/UK) who do not meet the academic entry requirements for a Masters degree at University of Strathclyde. The Pre-Masters programme provides progression to a number of degree options.
Upon successful completion, you'll be able to progress to this degree course at the University of Strathclyde.
Back to course
Fees & funding
All fees quoted are for full-time courses and per academic year unless stated otherwise.
Fees may be subject to updates to maintain accuracy. Tuition fees will be notified in your offer letter.
All fees are in £ sterling, unless otherwise stated, and may be subject to revision.
Annual revision of fees
Students on programmes of study of more than one year should be aware that tuition fees are revised annually and may increase in subsequent years of study. Annual increases will generally reflect UK inflation rates and increases to programme delivery costs.
Go back
Scotland

£15,400

England, Wales & Northern Ireland

£15,400

International

£27,650

Additional costs

Course materials

Textbooks do vary in price from around £40 to £100. The majority are provided free in the library or via the Virtual Learning Environment platform. For budgeting purposes, we recommend allowing £200 per academic year for books.

International students

International students may have associated visa and immigration costs. Please see student visa guidance for more information.

Other costs

students are required to print and soft bind their project submission. An average cost would be in the region of £10.
graduation gown hire

Available scholarships

Take a look at our scholarships search for funding opportunities.
International students
We've a thriving international community with students coming here to study from over 100 countries across the world. Find out all you need to know about studying in Glasgow at Strathclyde and hear from students about their experiences.
Visit our international students' section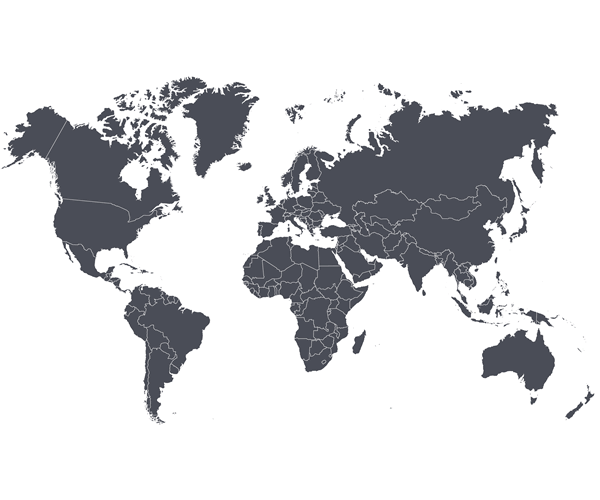 How can I fund my course?
Go back
Scottish postgraduate students
Scottish postgraduate students may be able to apply for support from the Student Awards Agency Scotland (SAAS). The support is in the form of a tuition fee loan and for eligible students, a living cost loan. Find out more about the support and how to apply.
Don't forget to check our scholarship search for more help with fees and funding.
Glasgow is Scotland's biggest & most cosmopolitan city
Our campus is based right in the very heart of Glasgow. We're in the city centre, next to the Merchant City, both of which are great locations for sightseeing, shopping and socialising alongside your studies.
Life in Glasgow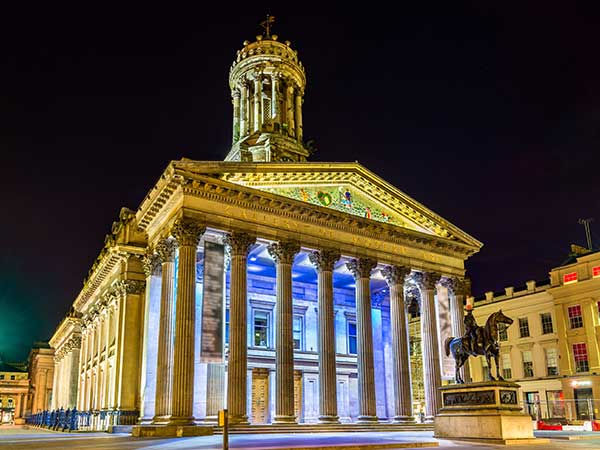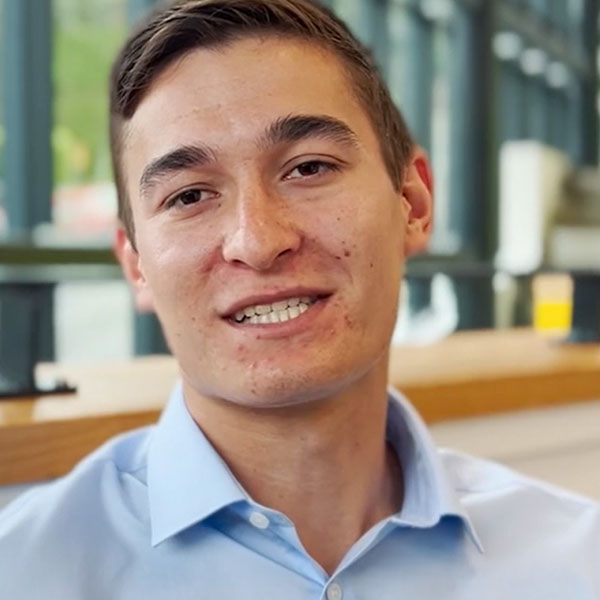 I chose Strathclyde because it's the number one school in the UK for Accounting & Finance by a couple of different rankings.
Tiger Garcia
Back to course
Careers
The course is tailored to make the graduates eminently employable in this exciting new field that cuts across traditional disciplinary boundaries.
Research indicates that students with programming, data analytics and finance skills get premium starting salaries compared to graduates from any one of these disciplines.
Have you considered?
We've a range of postgraduate taught and Masters courses similar to this one which may also be of interest.