MEng Naval Architecture and Marine engineering (2020), EngD Wind and Marine Energy Systems and Structures (present)

Victoria Sykes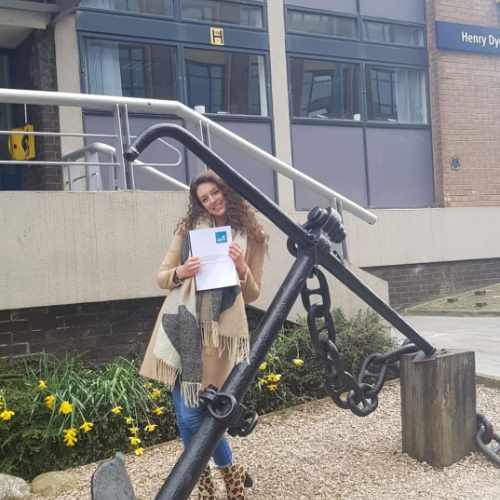 Why did you choose to study at Strathclyde
The reason I chose to study at Strathclyde and continue studying here was firstly the huge Faculty of Engineering, there really is an engineering course for everyone! Another reason I initially choose to study here was the potential to meet lots of new people from all over the world, this allowed me to meet some of my best friends in my undergraduate degree.
What did you like about your undergraduate course?
It was super interesting and a really good mixture of classes, ranging from structural to mechanical with the additional challenge of everything being confined to a vessel and potentially harsh conditions.
The facilities in the department are wonderful, we not only have access to the kelvin hydrodynamic lab but also a virtual reality bridge!
How did you find the support from the staff in your department?
Everyone in the department has always been really friendly and accommodating. Since the lectures are usually relatively small you get a better experience in lectures in my opinion, for me it was much less daunting to ask questions and just have a chat with the lecturers about any questions I had to do with the course, and also for advice out with the course.
What facilities have you had access to during your studies?
During my studies I used the kelvin hydrodynamic lab for two projects, one was for the testing and design of an energy convertor and the latter was for a sailing yacht. My favourite was definitely the sailing yacht as we got to design and build it from scratch and then race against other teams. This was definitely a nice break from normal lectures!
What were your reasons for deciding to continue your studies at Strathclyde with a postgraduate research degree?
I love Strathclyde and the campus, and fortunately enough for me they also have a centre for doctoral training (CDT) for PhD students in Wind and Marine Energy Systems and Structures. This was a more appealing route than a traditional PhD allowing collaboration between other students and a really great support network of lecturers, alumni and other students.
What has been your favourite aspect about studying at Strathclyde?
I really enjoyed the classes I took as an undergraduate, but my favourite aspect about studying here is the people, everyone is so friendly, and I have made such amazing friends.
Have there been any funding opportunities available to you and if so, how did they help?
During my undergraduate studies, I won a bursary for getting an internship in a Glasgow based company. For my PhD I am fully-funded by ESPRC, like a lot of my peers in the CDT.
What are your ambitions for the future and how do you think your time at Strathclyde will help you achieve your goals?
My goal is to hopefully finish my PhD on time and go into industry. As much as I love studying I think gaining some industry experience will defiantly take my knowledge to the next level. A key learning in my time at Strathclyde is being able to work well in a team, with numerous group projects and collaborations throughout my undergraduate and postgraduate studies. I feel that being able to work as part of a group and having good communication skills is really important.