Key facts
UCAS Code: FH18

Accreditation: Institution of Chemical Engineers, Royal Society of Chemistry

Ranked: 4th in the UK (1st in Scotland) for Chemical Engineering / Top 10 for Chemistry (The Times/ Sunday Times Good University Guide 2023)

International study: opportunities in Year 3
Study with us
for those who want to combine their interest in chemistry with knowledge of chemical engineering
created with industry in mind to bridge the gap between engineers and chemists
extensive practical work provides the preparative and analytical skills which employers are looking for
opportunity to undertake projects in industry or at one of our partner universities abroad
gain expertise to transform small-scale laboratory practice into industrial-scale chemical operations
benefit from bursary schemes available for Chemistry undergraduates
Back to course
Why this course?
The MSCi in Applied Chemistry & Chemical Engineering provides a clear understanding of the fundamental principles of chemistry and chemical engineering. It also gives you an appreciation of the expertise needed to transform small-scale laboratory practice into large-scale chemical operations used in the industry.
This course will ensure you're well equipped to enter the industry with the range of skills which employers are looking for.
Teaching and classes are divided equally between the Departments of Pure & Applied Chemistry and Chemical & Process Engineering. Both departments have strong industrial links and a history of teaching students specifically for the chemical industry.
The course involves extensive practical work that builds on the theory you'll learn in lectures. You'll also develop communication and teamwork skills with the ability to work safely.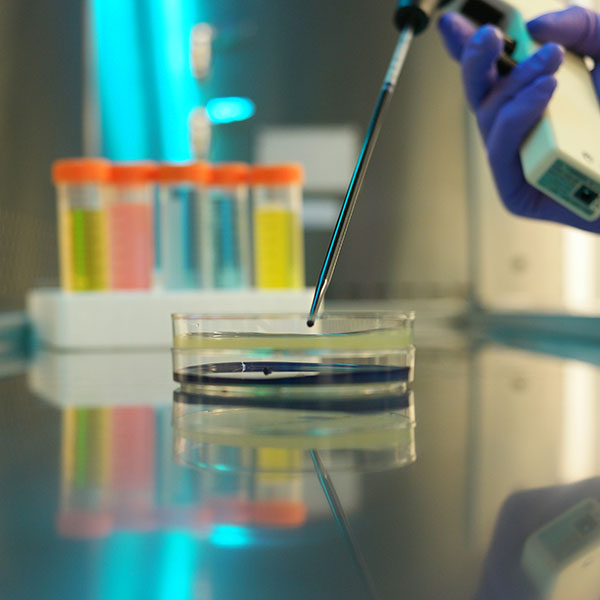 What you'll study
Year 1
Classes in Chemistry, Mathematics and Chemical Engineering. Chemistry practical classes help you to master basic preparative and analytical skills. You also choose an elective subject.
Years 2 and 3
Fundamental Organic and Physical Chemistry plus supporting classes. Practical Organic, Inorganic and Physical Chemistry and Safety. Fluid Flow & Heat Transfer, Process Analysis and Statistics, plus Mathematics. You'll have a choice of electives from chemistry, engineering or the wider university prospectus. Laboratory work increases and your practical skills are enhanced with computer modelling and group exercises to develop presentation skills.
Year 4
Students undertake a Chemical Engineering Design research project, plus further Physical Chemistry, Inorganic Chemistry & Spectroscopy and Process Control & Environmental technology.
Year 5
You'll specialise in the areas and applications of chemistry and chemical engineering that interest you most. An Applied Chemistry research project will enable you to use your practical skills and knowledge to solve a new chemical challenge, working in one of our specialist research laboratories with full-time researchers on real chemistry challenges.
Facilities
Our high-quality, bright and modern laboratories include a range of specialist equipment in both departments. You'll gain hands-on experience with state-of-the-art machinery used in industry and research.
Student competitions
In recent years, our students have won:
Salters Graduate prize
Low Carbon Undergraduate of the Year award
Carnegie Scholarship
Accreditation
Accredited by the Institute of Chemical Engineers for the purpose of fully meeting the educational requirement for Chartered Chemical Engineer.
Accredited by the Royal Society of Chemistry for the purpose of fully meeting the educational requirement for Chartered Chemist.
Go back
Course content
Year 1
Principles & Practice of Chemistry & Chemical Engineering
Foundation classes in Mathematics
Practical chemistry laboratory sessions help you to master the basic preparative and analytical skills
You'll spend one afternoon in the laboratory; the rest of your time will be in lectures and tutorials.
Years 2 & 3
Fundamental Organic Chemistry
Physical Chemistry
Practical Organic
Inorganic & Physical Chemistry
Safety Lab & Transferable Skills
Fluid Flow & Heat Transfer
Process Analysis & Statistics
Mathematics
Practical Preparative & Physical Chemistry
Inorganic Chemistry
Intermediate Organic Chemistry & Spectroscopy
Mass Transfer & Separation Processes
Chemical Engineering Design & Advanced Information Technology
Reactors
Chemical Engineering Practice
Year 4
This year is spent in the Department of Chemical & Process Engineering undertaking a detailed chemical engineering-focused research project.
Year 5
In the final year, you'll undertake a chemistry research project, working with a research group, using your practical skills and knowledge to solve a new chemical challenge.
Learning & teaching
Each year contains compulsory classes. Some years contain either optional classes, which relate to different areas of chemistry and chemical engineering and/or elective classes from other subject areas in the University.
In Years 1 to 3, you'll learn the essential knowledge and understanding required by all chemistry and chemical engineering graduates. This is supported by group tutorials and workshops. Chemistry and chemical engineering are both practical subjects so you'll also be trained in chemical engineering and all branches of mainstream practical chemistry.
Year 4 involves some taught classes and an engineering design project. In your final year, you'll study advanced chemistry and chemical engineering and complete an independent research project in your chosen chemistry field. It may be possible to undertake Year 4 & 5 projects in industry or at one of our partner universities abroad.
Back to course
Fees & funding
All fees quoted are for full-time courses and per academic year unless stated otherwise.
Fees may be subject to updates to maintain accuracy. Tuition fees will be notified in your offer letter.
All fees are in £ sterling, unless otherwise stated, and may be subject to revision.
Annual revision of fees
Students on programmes of study of more than one year should be aware that tuition fees are revised annually and may increase in subsequent years of study. Annual increases will generally reflect UK inflation rates and increases to programme delivery costs.
Go back
Scotland

2023/24: £1,820
2022/23: £1,820

*Fees for students who meet the relevant residence requirements in Scotland are subject to confirmation by the Scottish Funding Council. Scottish undergraduate students undertaking an exchange for a semester/year will continue to pay their normal tuition fees at Strathclyde and will not be charged fees by the overseas institution.

England, Wales & Northern Ireland

£9,250

*Assuming no change in RUK fees policy over the period, the total amount payable by undergraduate students will be capped. For students commencing study in 2023/24, this is capped at £27,750 (with the exception of the MPharm and integrated Masters programmes), MPharm students pay £9,250 for each of the four years. Students studying on integrated Masters degree programmes pay an additional £9,250 for the Masters year with the exception of those undertaking a full-year industrial placement where a separate placement fee will apply.

International

£22,450

University preparation programme fees

International students can find out more about the costs and payments of studying a university preparation programme at the University of Strathclyde International Study Centre.

Available scholarships

Take a look at our scholarships search for funding opportunities.

Additional costs

lab coats and safety goggles (approximately £30)
molecular modelling kits are recommended but are not a compulsory requirement (£20)
class materials (such as lecture notes and exercise sheets) for PAC classes are freely available for download
students may wish to supplement their material by accessing textbooks which are in the range of £40-80, however all recommended reading texts are available in the library

International students

International students may have associated visa and immigration costs. Please see student visa guidance for more information.
How can I fund my studies?
Go back
International Students
We have a number of scholarships available to international students. Take a look at our scholarship search to find out more.
Back to course
Careers
A degree in chemistry opens doors to a wide variety of employment opportunities both in the UK and further afield. The range of available jobs is considerable and encompasses many different types of chemistry and industries. From nanotechnology to large-scale chemical plants, from the drinks and pharmaceutical industries to teaching, the opportunities are numerous.
This course's dual accreditation from both the Royal Society of Chemistry and the Institution of Chemical Engineers and can lead to careers as a chemist or chemical engineer.
Chemistry graduates compete very successfully for jobs in all branches of the chemical industry as a result of their recognised expertise. These are well-rewarded careers that will allow you to go onto supervisory and management roles.
The range of problem-solving, analytical and management skills gained during a degree in Chemical Engineering means that chemical engineers are highly employable in a wide range of businesses. Jobs range from research and development, the design, commissioning and management of plants, to product marketing and technical services. Employers include large organisations such as ExxonMobil, Procter & Gamble, Unilever and Diageo.
How much will I earn?
The average graduate starting salary is £27,000. The start salary for chemical engineers with experience is around £53,000.
Chartered chemical engineers can earn in excess of £70,000.*
Where are they now?
93% of our graduates are in work or further study.**
They compete very successfully for jobs in all branches of the chemical industry, both in the UK and overseas. The chance of employment is substantially increased by experience gained in undergraduate industrial placements and internships.
Our graduates are working in a range of interesting positions such as:
analytical chemists
chemical engineers
forensic examiners
forensic researchers
police officers
project engineers
development chemists
laboratory technicians
technical associates
research analysts
chemistry teachers
Recent employers include:
Atkins
Begg Cousland & Co Ltd
Ecolutia Services Ltd
Exxon Mobile
Intel
Jacobs Engineering
Maxoil Solutions
Teijin Dupont Films
University of Strathclyde
*Information is intended only as a guide.
**Based on the national Destination of Leavers Study.
International alumni
Our chemistry international alumni are almost 4,000 strong in locations all over the globe. After completing a chemistry course here at Strathclyde, they're now living and working in locations across Europe, including Spain, Germany and Italy as well as further afield, in Australia, Canada, Hong Kong, Middle East and the USA.
Glasgow is Scotland's biggest & most cosmopolitan city
Our campus is based right in the very heart of Glasgow. National Geographic named Glasgow as one of its 'Best of the World' destinations, while Rough Guide readers have voted Glasgow the world's friendliest city! And Time Out named Glasgow in the top ten best cities in the world - we couldn't agree more!
We're in the city centre, next to the Merchant City, both of which are great locations for sightseeing, shopping and socialising alongside your studies.
Find out what some of our students think about studying in Glasgow!
Find out all about life in Glasgow
Back to course
Apply
Applied Chemistry & Chemical Engineering (
1

year entry)
Applied Chemistry & Chemical Engineering (
2

year entry)
Have you considered?
We've a range of courses similar to this one which may also be of interest.