Freight and Logistics Manager, Golden Agri-Resources International

Scott Kerr
Why did you originally pick the University of Strathclyde as an institution?
It has a reputation for being one of the best universities in the UK for engineering.
However, although that was a factor, there were other reasons too including the facilities available to students and the overall vibe that I got from my interview, which was so much better than any other University that I had been to.
Why did you pick your course?
I have always had an interest in design and how things were made. I wanted to study something that I would enjoy and the Product Design Engineering course at DMEM had that potential.
What was it like studying in DMEM?
It was great fun and very enjoyable! The department itself is relaxed and full of incredibly helpful people. You get the opportunity to be exposed to many different tasks and challenges throughout your degree.
DMEM has a big social community, partly thanks to the multiple group projects that allow you to get to know everyone across the undergraduate courses.
What key skills did you learn as part of your studies?
One of the key skills I learnt, which I think would be extremely useful across any industry, is the ability to look at something and then try to improve it. Throughout our degree we are taught to look at a product/process to find "flaws" or an area that could be improved for the user/process and then try to find solutions to improve it.
When I first moved to my new role one of my main tasks was to study the shipping program. Golden Agri International (GAI) ship approximately 400-500k metric tonnes of cargo per month, globally. It is a very complex program with many moving parts. My task was to examine this process and find ways to improve it. I was able to apply the skills and techniques that I had been taught throughout my degree, to strip the program down and make it more efficient. This was a slow process to start with but it proved to be very valuable and it saved the company millions of dollars. Due to the complex nature of this program it has to be reviewed on a weekly basis.
This skill has proven to be extremely important and has really helped my career, I also believe it made me stand out.
Where has your career gone since you have left?
After I graduated I moved to Singapore having received a job offer from Golden Stena Weco, a joint venture between Stena Bulk (one of the world's largest ship owners) and Golden Agri International GAI (one of the world's largest producers of Palm oil), to join their Commercial Operations team.
After working for them for nearly two years (being in charge of approx. 10-14 vessels per month transporting cargo around the World) I was asked by GAI if I would like to join their Logistics team and manage their Freight department. As previously mentioned, one of my main roles is to examine the shipping program and continually ensure that it is running efficiently. Another part of my job is to source suitable ships that can transport our cargo. This involves negotiating with brokers to ensure that we get the best/cheapest contracts.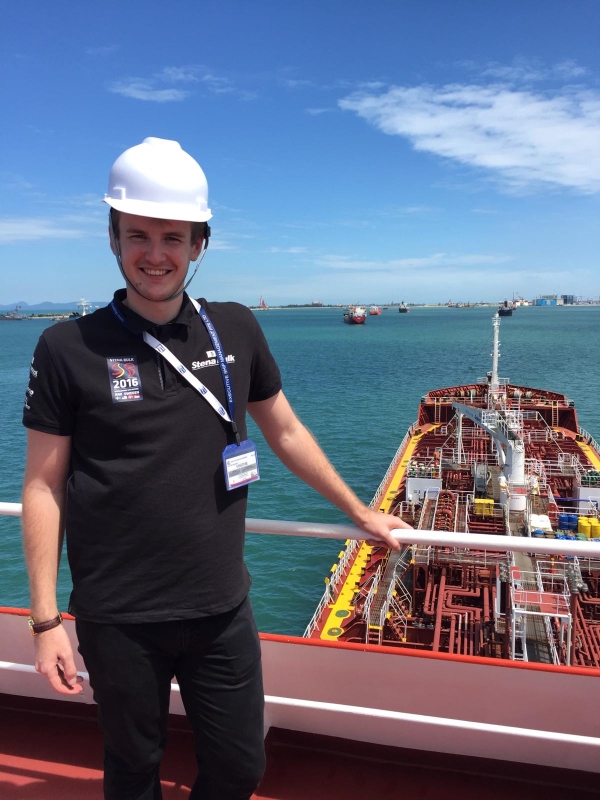 What are some of the benefits of having transferrable skills that allow you to move countries for work?
As part of our degree we were given the opportunity to work with students from different countries. This involved working with exchange students who had come from Brazil or working in group projects with students based in Malta. Doing these tasks really helped expose us as individuals to working with different cultures.
This experience was particularly useful, especially now that I am based halfway around the world and working for an Indonesian company! On a daily basis I am exposed to a range of different cultures and nationalities. Part of my logistics role is to regularly speak to the local Indonesian team and to work with them on planning the shipping program.
My experience from DMEM has taught me to be mindful that different cultures impact how we think and what we do, and more importantly to always be respectful of that.
What are your ambitions for the future?
In my first 4 years of working I have been very lucky because I have been exposed to many different roles and responsibilities within the shipping and trading industry.
The next challenge that I would like to undertake is to become a commodity trader. Using all of my knowledge and skills that I have learned to trade the future commodity market. I am currently very happy living and working in Singapore, there are so many great and exciting opportunities here.
However, my long term goal is to eventually move back to Europe and set up my own company.
What excites you about the future in your industry?
The most exciting part of my industry is that it is always changing. This keeps the job really interesting and means I always need to be up to date and aware of what is happening.
With regards to the future it is completely unknown, which is even more exciting to me. You have the opportunity to be creative and change the way things are done…. Hopefully for the better!
What would you say to someone considering studying in or working with DMEM?
I would say definitely do it!
It is a brilliant department to study in, where you will learn many transferrable skills and techniques which would help you across any industry.
Additionally, I would highly recommend that you take part in an exchange program, if you are presented with the opportunity. One of the main reasons that I am currently working in Singapore is because I came here in my third year and made many contacts that have helped me get to where I am now.