Abigail Hird
MEng Product Design Engineering, EngD and PgCert graduate
Knowledge Transfer Network Manager (Manufacturing), Innovate UK
What made you look at the University of Strathclyde as an institution option?
The main reason I chose to study at Strathclyde was the link to the college where I studied my first degree (BEng Product Design and Motorsport). Frank Gadddis, one of the Strathclyde staff used to travel from Strathclyde to college to teach a module on prototyping. He was very encouraging and made it all seem really exciting. When I finished college I really wanted to learn more so continued on to the University of Strathclyde, specifically the Department of Design Manufacturing and Engineering Management (DMEM).
Why did you choose to study your undergraduate course?
The course was the natural next step from my degree at college in 'Product Design with Motorsport' that I had completed. Initially I chose Product Design because I was interested in art and creativity but once I started, I realised I was equally interested in the analytical side of things.
Now, the thing I am most interested in is how to plan and manage design and manufacturing.
What was it like studying in DMEM?
Initially, coming from a class of six in college, the larger class sizes (in comparison) and multiple buildings seemed so different to what I was used to. I came straight into third year which was brilliant for me as I didn't need to start back at the beginning, but everyone in my cohort had already formed social groups. The team-working elements of the course really helped me get to know people though and quickly I felt part of the cohort. Additionally the staff were always friendly and helpful.
I really enjoyed the diversity of the subjects - I was able to explore a diverse range of topics in both engineering and design and the integral links to the product development process kept it all useful and relevant.
Did you have any opportunities throughout your studies which helped your development?
When I finished my masters studies (the final year of my MEng degree) I went to work as a research assistant in Harbin Institute of Technology, China for three months. This really helped develop my confidence and sense of independence, as well as exploring a different environment and work ethic.
Why did an EngD in DMEM appeal to you and what was your topic?
My EngD involved working in a medical device company (DePuy Orthopedics) based in Leeds for four years. My EngD topic was 'A Systems Approach to Resource Planning in New Product Development'. I liked that I got to gain industry experience whilst studying my doctorate. It also incorporated an MSc in Systems Engineering which I studied in block taught modules at Loughborough University. The Doctorate was set up to encourage leadership skills. Expectations were high and it was tough at times but I think I learned at least as much about communication, leadership and management as I did about the subject I was researching.
My EngD resulted in a new forecasting method for uncertain and complex environments. The method produces accurate, timely, transparent and consistent results. It is particularity useful where data is sparse and traditional methods are unsuitable. It improves the quality and control of information available for resource allocation/investment/planning decisions.
It was great to see direct results of my EngD in industry.
What was it like working in DMEM?
I have really enjoyed working in DMEM. At first, I was on a research project working with BAE Systems. It was great to see into a different industry, from a whole life-cycle perspective. My next role, as Research Coordinator, allowed me to appreciate the University Systems and collaborate with a broad range of people from other organisations and internally across the University of Strathclyde. In my most recent role, as a lecturer in Engineering Management, I found the experience of facilitating students learning a real privilege.
Collaborating has always been central in my DMEM experience - as a student and as a member of staff.
What are you excited about for your future as a Manufacturing Manager?
My new job with Innovate UK will be about facilitating collaborations and growing a network around manufacturing across the UK. As a systems engineer, I appreciate that connectedness and interdependencies are what drives systems behaviour so I can see that they are integral to improving innovation and productivity in UK manufacturing.
Just now is a really exciting time for manufacturing in the UK and in Scotland.
What advice would you give to someone considering coming to study at the Department of Design, Manufacturing & Engineering Management and the University of Strathclyde?
Be open to new directions in terms of your interests and be willing to collaborate. Team working can be challenging but you'll learn valuable skills in the process. It's the hard things that often turn out to be the most valuable things!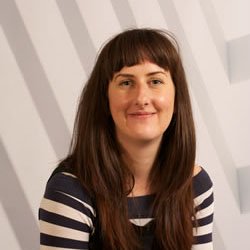 Abigail was a student in DMEM from 2005-2015 and a staff member from 2012-2019 before moving on to her career in industry. We want to thank Abigail for all of her help and expertise she brought to the department and the student success stories she contributed to.