Design, Manufacturing & Engineering Management

Jamie Gallagher: My placement year
Jamie Gallagher
Production Engineering and Management
Hi, my name is Jamie Gallagher and I'm a Production Engineering and Management student in my fifth and final year of study. I completed a placement between my fourth and fifth year of study, working as an Operations Management Intern at Airbus. Prior to this, I'd also completed 3 additional internships as a Continuous Improvement intern with A.G. Barr (Irn Bru).
What made you look at the University of Strathclyde as an institution?
Initially, before I came to university, I had heard that Strathclyde had the biggest engineering faculty in Scotland. My big brother had also studied at Strathclyde so I'd heard lots of good things.
What made you pick your course?
Initially I had an interest in the areas of engineering and manufacturing through a class I done at school, we got to mess about with injection moulding and vacuum forming machines. I also used to watch a lot of tv programmes like 'How It's Made' and 'How do they do it', so I was always drawn towards manufacturing. I knew I didn't want to go into purely mechanical engineering or just electrical, so when I saw the option to study in the department of Design, Manufacturing and Engineering Management (DMEM), it offered a sort of in between opportunity that allowed me to be practical as well as the theoretical side. Then when I came to the open day and saw all of the facilities that the department had, the ways in which I could learn, my decision was made.
What is it like studying in DMEM?
I think from a fifth year's perspective, I feel quite lucky because we have a dedicated study area where we have our own desks and lockers. On top of that, you have groupwork areas which have integrated televisions to display your work on, so it is an environment where you can collaborate and you don't really need to go to the library – I literally never go to the library unless I need a book or a document bound.
As well as that, from first year through to fifth year you have access to workshops and labs with great equipment like 3D printers – we even had a welding workshop in first year which was good fun. Throughout those times in the workshop you are always supported by the staff and technicians as well, they're always more than happy to help you with whatever project you are working on, especially in first or second year when you really need it the most. It's what helped me produce my best work.
Why did you choose to do a placement as part of your studies?
I think when I finished my fourth year I wanted a chance to apply the knowledge I had learnt over the course of the four years, and at the same time I didn't want to graduate completely at that time, so I knew that gaining a placement would give me a chance to do that.
When I got my placement at Airbus I was able to apply a lot of the knowledge I had learnt in DMEM and see how the theory stands when put in to practice. It was interesting to see the difference between theory and reality, I learned a lot more by seeing this.
As well as all that, I knew that the placement would further bolster my CV and make me a more rounded graduate – and I even got a graduate job out of it! When I reflect on my placements at both A.G. Barr and Airbus, I feel very privileged to have worked for both, both companies treated me very well and for that I will always be grateful.
What happened as part of your placement? What did you get to do?
I did a lot of things throughout my time at Airbus as it was over 12 months. One of my main roles was analysing mass data sets and key performance indicators, but most of my placement involved leading and managing small operational and environmental improvement projects. For that I was given budgets, small project teams, timescales and the general responsibility of ensuring the project was developed to meet the customer's requirements whilst also being delivered on time. Most of my projects were based around Lean Six Sigma, Lean Manufacturing and industry 4.0 which are all areas I'm really interested in having learnt about them during my studies, so it was good to be able to match them up and see how they work when you apply them in a real life situation.
On top of that, the highlight was being able to go to France on two occasions with the company for a few meetings and workshops which was more than ideal, when I look back at the placement that's probable the thing I remember the most, I was lucky to get the opportunity as most interns don't usually get the chance to go abroad.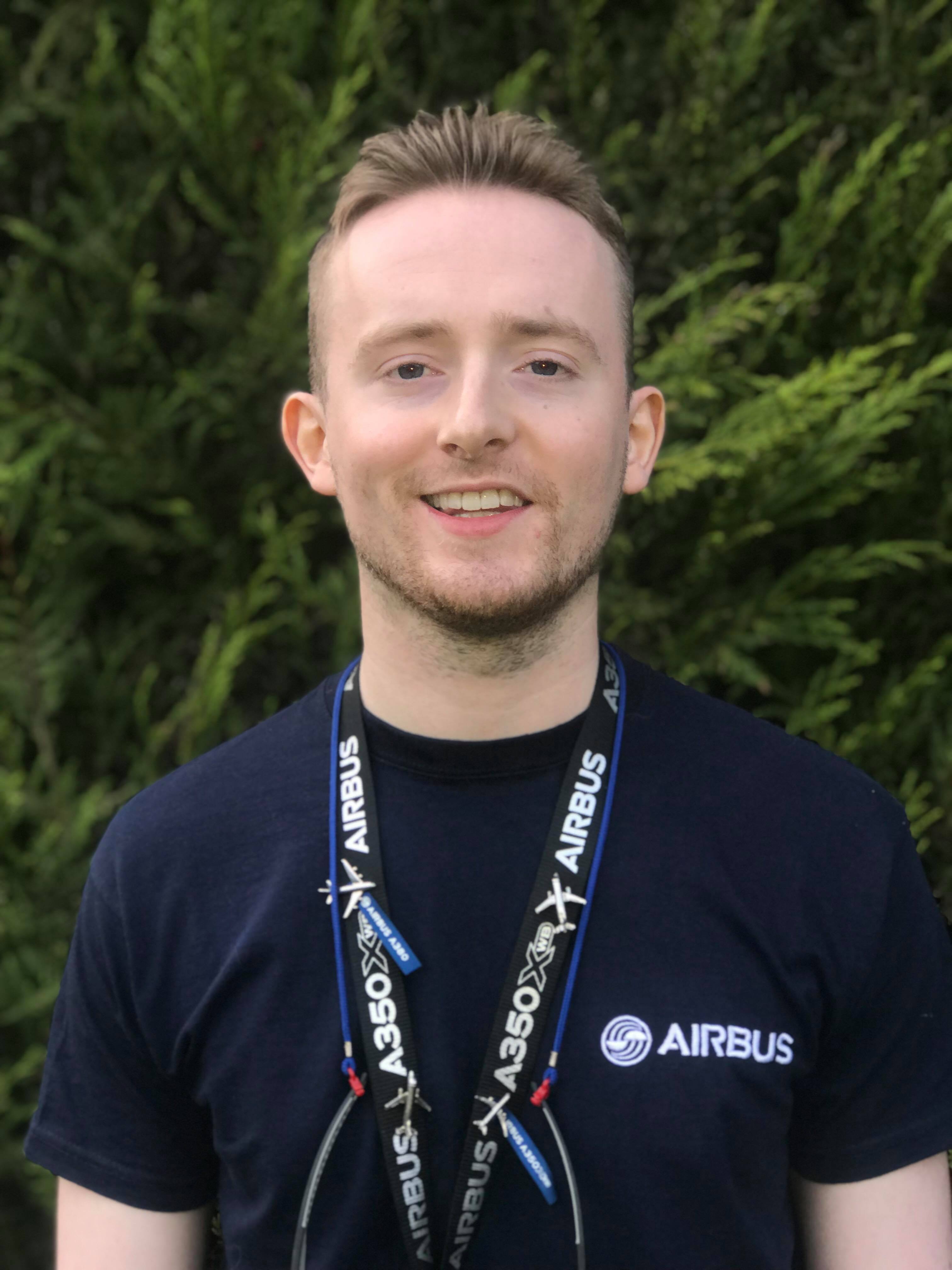 What have you gained from doing the placement?
I think my technical knowledge has increased a lot, because I've essentially spent the last year building planes and I certainly didn't know anything about building planes prior to that. It's also gave me the chance to further develop my soft skills, for example, the project and stakeholder management side of things. I was exposed to a lot of difficult situations during my internship which helped stretch my current ability, for example, I dealt with a lot of difficult people and learnt how to overcome this. What else have I got from doing this placement? A really good 12 months on my CV which ultimately will help me once I graduate!
What are your ambitions for the future?
Well, I've secured a graduate job with Airbus, so I'll be going back there to learn more, develop and work my way up in the company. I think since a manufacturing class that I did in third year of my studies, I've always wanted to become a manufacturing manager because of the nature of the role – the combination of the technical and soft skills involved in it. I think going back to Airbus will give me the opportunity to achieve something like that.
Would you recommend studying in DMEM?
I would definitely recommend studying in DMEM, I've had a great 5 years here (6 years if you count the placement year out). I think that is primarily down to the staff who have always been very supportive throughout the whole time, from first year through to fifth year, it doesn't change. DMEM also have great facilities for us to learn in and a good learning environment – after speaking with my brother it seems really different from mechanical engineering, so yes, I would definitely recommend!