Outreach

STEM outreach and engagement activities at the Wind and Marine Energy Systems CDT
As a research body within the exciting and growing world of renewable energy, the Wind and Marine Energy Systems CDT has a huge role to play in the promotion of sustainable energy and STEM careers. Engagement with local schools and the wider public has always been a key component of the Wind and Marine Energy Systems CDT. All of our activities are organised and led by students of the CDT, with a dedicated student acting as outreach and engagement coordinator overseeing the planning of new events.
We have a range of equipment used to promote engagement at events, including a miniature wind turbine with a power output reading, and loads of different types of material used in our floating wind turbine challenge. This hands-on approach has proved successful in encouraging a range of ages to design, build and use creative skills and innovative thinking to solve problems.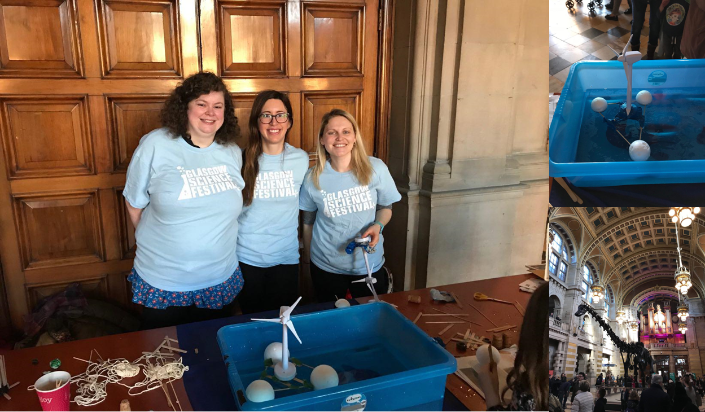 To date, students have been involved in events at Glasgow Science Festival, Glasgow Science Centre, and Kelvingrove Art Gallery and Museum to name but a few. Recently, CDT students have hosted activities alongside 'Dippy' the dinosaur at a science event and energy suppliers at sustainable energy events. Activities and events have all aimed to educate and stimulate interest in sustainable energy, STEM subjects, and careers in engineering and renewable energy.
More recently, we have been creating a range of online facilities to keep our engagement with the public going whilst social interaction is limited. This includes advertising our facilities and skills online through STEM Learning, with educational videos and at-home experiments.
Our classic 'floating wind turbine challenge' has been modified to allow children (and adults!) the opportunity to design, build, and test their creations at home using items and materials from around the house. Feel free to have a go at the challenge, and don't forget to share your creations online, tagging @WindEnergyCDT on Twitter and using the hashtags #STEM and #STEMAtHome.
If you'd like to know more about our outreach activities, or to get your school or oganisation involved, please get in touch with our school/publich engagement coordinator, Sam.
Download the Floating Wind Turbine Challenge pdf.