Centre for Energy Policy's COP26 Briefing
The University of Strathclyde's Centre for Energy Policy (CEP) works with research, government and industry partners to understand and address the pressing public policy challenge of ensuring transitions to mid-century net zero targets deliver sustainable and more equitable prosperity.
The COP26 conference, hosted in Glasgow, the Centre's home city, provides a unique opportunity for world-leaders to secure consensus and commitments around targets needed to keep 1.5oC a reality, building momentum towards nations taking strong individual actions in the crucial coming years. Ahead of the conference, the UK and Scottish Governments have committed to significant and world leading interim emission reduction targets of 78% by 2035 for the UK and 75% by 2030 in Scotland, ahead of net zero emission targets for 2050 and 2045 respectively.
It is a central aim of the Centre for Energy policy to support policymakers in delivery of these targets, providing crucial evidence about opportunities, trade-offs and consequences of different policy actions.
In this brief we outline our key messages for COP26, summarise our recent work in selected policy areas, and draw some key learnings for the net zero transition from across our research portfolio.
Key Principles for Net Zero decision making at COP
To aid the identification of feasible pathways, CEP has developed a Net Zero Principles Framework (NZPF). The framework sets out key questions and challenges that must be addressed in identifying, designing and considering the nature and aim of public support and policy intervention for any net zero action. Questions around 'who pays and who gains' set out in the framework align with the objectives of the HMT Net Zero Review, where attention is focused on understanding how the costs of achieving net zero emissions are distributed, the benefits returned, the fiscal impacts, risks of competiveness effects and the impacts of decarbonisation across the whole economy.
We believe these principles need to underpin decision-making at COP26 and beyond if we are to ensure sustainable, equitable and prosperous transitions to net zero.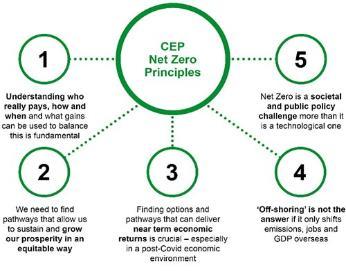 Policy focus – emerging findings from recent research
Energy efficiency and heat
Understanding the wider economy impacts of household energy efficiency has been a key focus of the centre over the years. Our latest policy briefing 'Meeting the UK's energy efficiency goals: securing greater wider economy benefits through longer term programmes' summarises our work simulating the impacts of first a 4-year UK wide energy efficiency programme involving a total of £4billion of retrofitting spending, then a larger one, £68.5billion, over 15 years (both starting in 2021).
We find that retrofitting programmes themselves provide an important transitory boost to the economy, and more so the longer the programme is anticipated to last, particularly by those firms carrying out retrofitting projects. But it is real household income gains from reduced energy bills that trigger a sustained expansion of the economy, with the key driver being the level of real spending power freed up - though with an important qualifier in that lower income households gain most from the energy bill impacts themselves and share less in additional gains from the related wider economy expansion. Importantly, however, we find that the way the programme is funded can impact the nature of economic impacts, with scenarios that force households to directly pay or take out loans restricting actual savings. Without a more limited spending boost, supply constraints in the economy may dominate in some timeframes, leading to some net GDP and employment losses in the period when retrofits are taking place. This research has also been summarised in a recent article in The Conversation.
The centre's focus is now expanding to address other aspects of the wider heat decarbonisation challenge. The sustainable and equitable heat transition (SEHT) project will identify and shape evidence-based public policy pathways to successfully balance the conflicting technical, economic and socio-political dimensions of the residential heat transition in the UK. It will do so by strengthening understanding of the economic and societal impacts and consequences, and the associated opportunities, challenges and trade-offs of different actions to decarbonise heat.
Electric vehicles (EVs)
Decarbonising transport is one of the key challenges facing governments around the world. In our latest research, we focus on understanding the trade-offs involved in enabling the EV roll-out as a route to 'green growth', with particular attention to electricity price and cost of living impacts associated with the recovery of network upgrade costs, wage pressures in an expanding economy, labour supply constraints and wider price pressures. We considered a scenario involving £10billion of spending to upgrade the UK electricity network, spread over the timeframe between 2020 and 2050 to enable a full roll-out of EVs in the private transport fleet by 2050.
We find that the combined impact of this investment activity, and the EV uptake it enables, is one of sustained net gains in GDP per annum largely due to the UK supply chain gains of using electricity rather than (import-intensive) petrol or diesel to fuel vehicles. However, the extent of wider economy expansion and the distribution of costs and benefits is affected both by the cost-burden of investment being passed on through energy bills and how UK labour supply constraints impact wage rates and the operating costs of firms in all sectors.
Industrial decarbonisation
The decarbonisation of industry is also a central challenge to achieving mid-century net zero emission targets and this is the focus of several new CEP briefings and reports around COP26 time. Our initial work on the Scottish Net Zero Roadmap project is summarised in a new policy brief which explores the key and emerging societal, economic and policy opportunities and challenges of key elements emerging across all of the scenarios the SNZR project is currently considering. Meanwhile, our initial contribution to the linked Scottish Net Zero Infrastructure project is summarised in a new policy brief 'Could the introduction of a new CO2 Transport and Storage industry in Scotland service decarbonisation, 'green growth' and 'just transition' agendas?', building on our previous work on carbon capture in Scottish industry. Generally, we find that, while the introduction of the T&S industry does indeed have the potential to enable economic expansion supporting jobs in a range of sectors, the outcomes depend on how CCS is supported. Crucially, where the direct cost burden falls on clustered industries without policy support in building efficiencies and productivity in CCS deployment at the 'early mover' stage, there could be a consequent loss in industry competitiveness and 'offshoring' of industrial activities, with job and wage income losses concentrated within Scottish communities and supply chains.
These findings are reflected in emerging results for a greater scale of CCS roll-out across the UK, which we summarise in a new upcoming report 'Moving early in Carbon Capture and Storage: opportunities and challenges for delivering green growth and just transitions'. Here we focus on the consequences of different policy approaches in deploying industrial carbon capture and the transport and storage sector needed to service it. Key lessons emerge around the trade-offs and tensions involved in the delivery of innovative climate technologies and infrastructure generally and the role of policy action in building crucial economic as well as carbon efficiencies.
Key learnings for the transition to Net Zero
Undertaking research across different policy areas has allowed CEP to build up expertise and understanding of a range of issues that may affect policy delivery across the net zero space. A recent discussion paper written by CEP Director Professor Karen Turner draws attention to issues around green growth, price pressures and productivity. She considers three recurring findings emerging from CEP research:
Reducing carbon emissions to meet net zero targets will inevitably involve new costs that must be recovered and/or which will ultimately feed through to higher prices of goods and services, emphasising the need for mitigation through efficiency gains and developing competitive advantage in low carbon solutions.
Green growth opportunities do exist and can help offset and redistribute the impacts of new decarbonisation costs, but, like any expansionary process, bring price pressures of their own and a risk of potentially overheating the economy.
Green growth opportunities can be maximised where productivity gains can be realised in production and/or where people and businesses can learn to use new technologies more efficiently.
Across CEP's research another key theme emerges around the issue of offshoring. Ahead of COP26 Professor Karen Turner has written a blog on the topic, highlighting the key issues around the risks of offshoring emissions, jobs, and investment.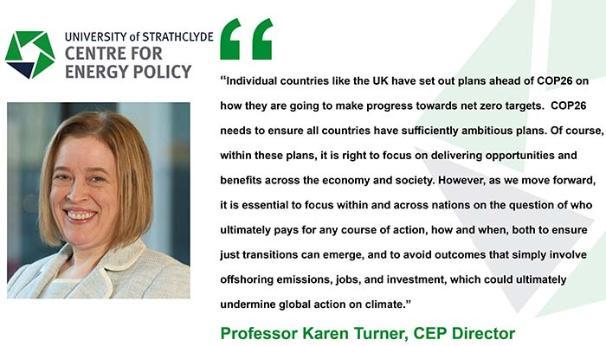 With finance being one of the four COP themes (the others being collaboration, mitigation and adaption) CEP is pleased to be undertaking a new incubator project focused on the role of finance and innovative public policy solutions for net zero societies. Looking first at the UK, the project will explore how strategic investment, particularly in relation to the mix and timing of public and private finance, can be used effectively to accelerate the net zero transition whilst delivering positive societal and economic outcomes.
Main image credit: Daniel, 2021, flickr.com, CC-BY 2.0