Brexit and Competition Law book published, co-written by our Professor Rodger
Our Professor Barry Rodger is the co-author of a new book, entitled Brexit and Competition Law.
The book, written with Professor Andreas Stephan of the University of East Anglia, was published by Routledge in July 2021.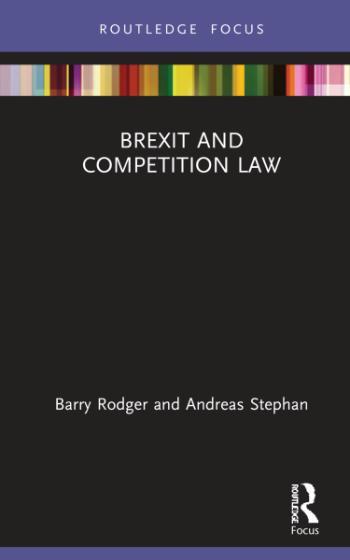 The book is a reaction to UK's withdrawal from the European Union. A trade and co-operation agreement is in place to govern trade between the two jurisdictions, including in relation to competition law and State aid.
The implications for competition law enforcement were not widely debated in political circles, but there was clearly considerable thought by the Competition and Markets Authority, the Department for Business and by competition law academics and practitioners from the time of the Brexit vote to the end of the transition period and Agreement at the end of 2020. This book seeks to give a fairly comprehensive account of the key issues, consequences and developments in competition law post-Brexit.
The first set of issues concerns the legal apparatus, institutions and co-operation mechanisms, particularly in relation to antitrust rules.
The second set of issues concerns the future development of the central prohibitions in Competition Act 1998, modelled on Articles 101 and 102, and the extent to which there may be scope for future divergence in the interpretation and application of the two sets of rules.
Competition litigation has increased in significance across the EU, and in the UK in particular in recent years. The book assesses various issues in order to allow us to reflect on the potential impact of Brexit on private enforcement of competition law.
Merger control is a particularly significant aspect of any competition law system in practice, and this is also considered by the book.
Also considered is State Aid, or subsidy control as it has come to be known. The book then draws together views on the future trajectory of UK competition law, institutions, substantive law and enforcement.
More information about the book is available on the Routledge website.