PGDE Secondary Education - Business Education

Alan Galloway, UK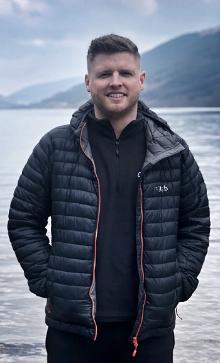 Tell us a bit about your background…
My name is Alan and I'm from Edinburgh. I attended school in Edinburgh and gained a Business Studies degree at university. I then moved into a graduate scheme and subsequently decided to move down to England to pursue a career with a motor manufacturer. Whilst I enjoyed my time in the 'real world', the lack of opportunities to move back to Scotland in a role I enjoyed were few. With a bit of life experience behind me, this is when I decided to pursue my other dream of teaching. Within the following year, I moved back to Scotland, gained all the necessary qualifications required for the course and another year later, here we are!
What inspired you to be a teacher?
Teaching was always something I was interested in, and was always in the back of my mind. However, I did not manage to get the required grades at school and so decided to close the door, and pursue other interests. After deciding to take a career move back to Scotland in 2017, I decided it was the right time to put some life experience to good use and follow my aspirations in becoming a secondary teacher.
Did you have a favourite teacher when you were younger?
Mrs Smith- Modern Studies. Not only because she was a great teacher, but also because she took a group of pupils including myself to America as part of an educational trip... probably the main reason I took the subject!

Why did you choose to study PGDE at the University of Strathclyde?
Strathclyde holds one of the best reputations in Scotland in terms of teacher training. Studying at Strathclyde seemed like the best fit for me as a prospective business education teacher, and one which has provided me with ample opportunities in gaining the best start to my career as a teacher.
Did you seek any support during the application process? Please tell us about this.
Thankfully, I have a few friends who are fully qualified teachers and so I called on their expertise when going through the application process.
What has been the highlight of your time at Strathclyde?
Student discount! Isn't it great that you get discount on so much when you have nothing to spend?! Seriously, I would have to say my highlight has been going back to student life, and meeting so many fellow students at different ages and stages on my course. Also sharing experiences not only from our lives outside of the course, but also experiences from inside the classroom. Learning from one another is key.
Tell us about your experience on placement…
Where to start?! For me, being on placement was the times where I learned the most. It is always good to have a base theoretical knowledge from university, but taking new skills and experiences into the classroom is definitely the biggest buzz for me. The most beneficial thing I learned was that you are never the finished article in teaching. There is always something to learn, and every day is different.
What would be your advice for people considering taking the PGDE course at Strathclyde?
Do it! When I was seriously considering all the hoops I had to jump through to go into teaching, there were points where I felt I was too far into my career to make the change. If you're passionate about young people, and inspiring the next generation, make the change. It is never too late to think about teaching! We all bring different talents, abilities, life experiences to the table.
What have been your main challenges at university/in placement, and how have you overcome them?
There would be times where it was challenging to balance university work with placement work, but this is something which became easier as the course continued. It's important to have a good work/life balance, but organisation is very important when doing a PGDE... something I learned very quickly!
What do you think of the support available during your course?
Strathclyde offers a huge amount of support not only in terms of the level of quality resources available within the likes of the library, but also very approachable subject specific tutors who are experts in the field you are looking to teach.
What are your ambitions for the future?
My main ambition is to become a successful business education teacher. Thereafter, I may be interested in exploring opportunities within a school environment such as pastoral care or supporting those with additional support needs. After that, who knows what might happen!