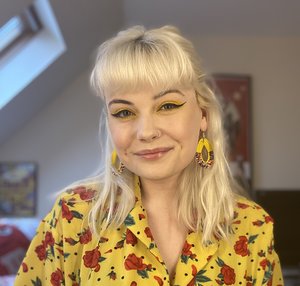 Tell us a little bit about your background...
I am from Renfrew, right next to Glasgow so have lived and been round Glasgow my whole life. I got a conditional offer to study the LLB at Strathclyde in 2015. However, I fell short of my conditions by one mark. One of the Law School Faculty phoned me up and told me that I had been offered a place on the LLB starting next year (2016) as I had shown a great improvement from obtaining a C in Higher English to obtaining an A in Advanced Higher English. I took a gap year and worked in retail for a year before commencing the LLB in September 2016. In June 2020 I graduated with a First Class Honours LLB in Scots and English Law.
Why did you decide to study at the University of Strathclyde?
Glasgow is my home city, I grew up here and always pictured myself studying here as well. I chose Strathclyde as my first choice when applying for the LLB because it was in the heart of the city centre and because of its reputation as a fantastic and friendly law school. I also wanted to study the Dual Qualifying degree so that I could maximise my options career wise in the future.
What inspired you to study Law?
I have a strong desire to change injustices and fight for what is right. From an early age I have always stood up for what I believe in and argued for the right thing. I would like to have a career which enables me to help people and by studying the LLB it would enable me to start the path which led to a career as a solicitor.
What made you select LLB Law?
I chose LLB Law because I want to be a solicitor. The LLB is the first step in the route to becoming a solicitor, because the University of Strathclyde is an accredited provider it means that the classes undertaken on the LLB are recognised by the Law Society of Scotland as part of the route to qualifying as a Scottish solicitor. I chose the Dual Qualifying (Scots and English Law) LLB because it gives me more flexibility in my options after University. The Dual Qualifying degree is recognized in all UK jurisdictions; England, Wales, Northern Ireland and Scotland. It also gives a competitive advantage when applying for jobs as most universities only offer the Scots Law LLB.
What was the highlight of your time at Strathclyde?
The highlight of my time at Strathclyde was definitely my Honours year. The vast choice of classes meant that I got to study parts of the law which really interested me. Researching and working on my dissertation was very enjoyable as it allowed me to delve into a niche section of the law and create a unique project over the year, which, in turn, enabled me to take great pride in what I had achieved.
What has been some of the main challenges whilst studying at university?
The main challenge while studying at university for me was the work/life balance. Getting the right balance between studying and doing the work for my classes and also maintaining a social life and making sure I had downtime because these things are just as important for your wellbeing as getting your degree! The main thing to remember is the bigger picture; your degree and to not get too bogged down on the individual components of the course.
What would be your advice for people considering studying at Strathclyde?
I would say, do it! Be prepared to work really hard but also have a lot of fun. It is a great university to study at with lots of things to do on and off campus. Get involved with as many things as you can and take advantage of all the facilities and opportunities given to you.
What are your ambitions for the future?
I am about to start the Diploma in Professional Legal Practice at Strathclyde which I am really looking forward to. I hope secure a traineeship and train to be a solicitor with the view to having a career as a solicitor in the future.