Graduates

Fiona McKay, Journalism (PhD)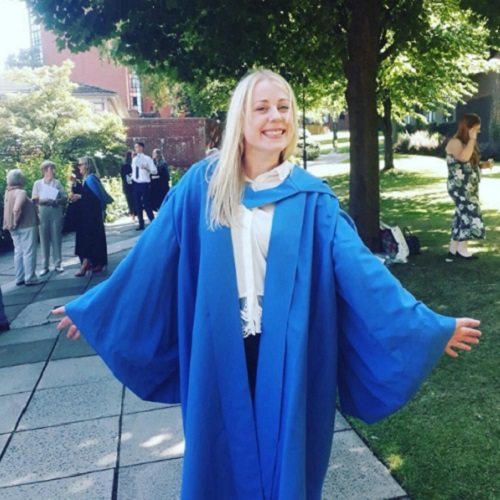 Tell us a little bit about your background…
I grew up in Bearsden, outside Glasgow. I went to the University of Glasgow to study English Literature as an undergraduate, which was a great experience. I worked for a short time after finishing my degree but didn't quite know what I wanted to do for a career, so I decided to get a visa and one-way ticket to New Zealand. After that, I didn't come home for 18 months, working and then travelling my way through a number of countries before returning to Glasgow. The experience gave a me a lot perspective about the way the world works and offered a lot of room for growth. After coming home, I fell into a job in recruitment for around two years, but decided this wasn't for me.
What initially sparked your interest in journalism?
I had always been interested in writing, and when I was working in recruitment, I attended adult education classes in creative writing in the evenings. At that point in time, I was also becoming a lot more politicised and recognised that I wanted to work towards a different career path. I wanted to do something where I could read, write, work with lots of different people, and do something where I could make a difference (if possible). I increasingly felt journalism was the route to achieve all these things. I managed to get some work experience at local publications to test the waters before applying to the MLitt in Journalism at Strathclyde. From there, opportunities were opened up to me to work for publications in Glasgow, including the Evening Times and the Herald. Alongside this, and stemming from my Masters dissertation, I also discovered a love of research. This led me to embark on a PhD with the university. The Journalism department here is a close-knit group and extremely supportive, they have been instrumental in helping me get to where I am today.
How has your PhD helped you to prepare for your chosen career path?
It has been instrumental for me gaining my current job. Following on from my Masters, I was in the fortunate position of simultaneously working as a professional journalist as well as working towards a doctorate. Having both these strings to my bow fit the requirements of my current role. Journalism education in Scotland brings together a wealth of talent from experienced practitioners as well as researchers, and strikes an good balance between theory and practice.
What advice would you give to someone considering studying your course?
Read read read! Build up your baseline knowledge of current affairs. Journalists need to know what's going on, so start now to get into a reading habit and build your news sense. Read newspapers, websites, magazines, and watch TV news to get a feel for the different voices and kinds of journalism out there.
Where are you working now?
I'm the course leader and a lecturer for the BA (Hons) Journalism degree at the Robert Gordon University in Aberdeen.
What is the best part of your job?
Bringing together all my skills together in one role: staying involved with current affairs, doing research, working with students and working with other academics. Academia is a challenging environment at times, but I feel privileged that I have the opportunity to build on what I've learning throughout my PhD.
What has been your most memorable moment from your career so far?
Managing to submit my PhD thesis at the 11th hour, just in time, running before the submission office shut for the day. The sense of relief in finishing was immense. And getting the call about my job at RGU. It felt like things were beginning to fall in place after years of preparation.
What are your ambitions for the future?
I'd like to be able to keep on doing research in Journalism, and in Scotland. Scotland has been an interesting case study in terms of journalism and politics recently, and it's exciting think about future possibilities here. There's a wealth of talent here, which should be celebrated.
Any final points, or words of wisdom?
If you are considering studying journalism, make sure you take advantage of the many opportunities offered to you. Build networks and talk to guest speakers and contributors, as they may end up becoming your boss one day!