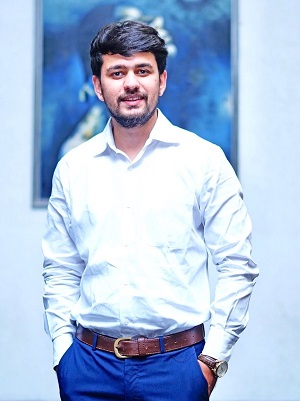 Tell us a little bit about your background…
I am the great, great grandson of Lokmanya Tilak – Indian freedom fighter and leader of the Indian Independence Movement before Mahatma Gandhi. I live in Pune, Maharashtra. I have completed a Bachelors in Business Administration (BBA) and a Bachelor of Laws (LLB) from University of Pune. I have also completed the LLM International Relations, Law & Security from University of Strathclyde.
Why did you decide to study your course at university?
I decided to study this course at Strathclyde as it was the only university in UK offering the course with the exact content I was looking for.
What advice would you give to someone considering studying your course?
My advice to any prospective student wanting to study this course would be to have a general knowledge of international politics and current affairs. This is beneficial during the course as it helps your development of ideas, which in return is an important aspect of the assessments and seminars here at the University of Strathclyde.
Do you have a highlight from your time at university?
The best thing about studying at the University of Strathclyde is its location. Centrally located, in the heart of Glasgow, makes it such a sought-after university. The research facilities, the world-class library and the modern infrastructure are the things that I find the best about Strathclyde.
Where are you working now?
I have started a business, The Tilak Chronicle, after working at a local think tank for 7 months after the course. The Tilak Chronicle is an opinion and analysis website which publishes analytical articles on contemporary issues pertaining to India and South Asia.
What is the best part of your job?
The best part about my work is that I get to read highly analytical pieces on various topics by eminent authors.
How did your time at Strathclyde help prepare you for this role?
My time at Strathclyde was instrumental in preparing me for this business. The writing-based course enabled me to develop the skills and inculcate an interest in public policy.
What has been your most memorable moment from your career so far?
My most memorable moment so far has been a token of appreciation from the former Finance Secretary of the Government of India.
What are your ambitions for the future?
My ambition for the future is to start a research-based think tank in Pune which will enable young researchers to learn about the nuances of research and writing from a young age.