Our graduates

Magdalena Ifesie, MSc Psychology with a Specialisation in Business, Poland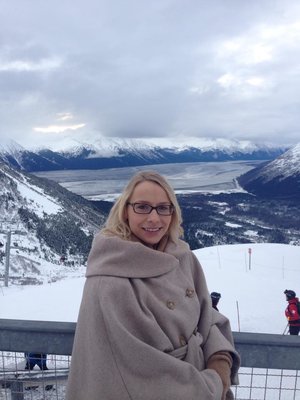 Tell us about your background...
I am from a small town in Poland. I studied Education and Social Rehabilitation at the Kazimierz Wielki University in Poland but always dreamed of traveling. After my Masters I moved to Australia where I lived for two years. I got married and continued to move around the world with my husband and three beautiful children. Besides Australia we lived in the UK, USA (Louisiana and Alaska) and are currently residing in Saudi Arabia. I have had different jobs through the course of my travels including HR Assistant, Sale Rep and Relocation Consultant but never worked in my field of study. I also did some voluntary work in Addiction Centres, Troubled Youth Homes, and Expatriate spouses associations.
What inspired you to further your studies?
It's always been my personal ambition to obtain a degree in Psychology. I have successfully raised a family while travelling and working. My 3 children had gained some independence with my youngest beginning day care so I felt the time was right to pursue my passion and focus on developing myself.
Why did you choose to study the Masters in Psychology with a Specialisation in Business?
I have always been very passionate about helping people, and wanted to study psychology. When I saw this program I believed it would be a wonderful opportunity to additionally learn more about psychology in a business context. Because we move every few years; I believed studying Psychology with a specialisation in Business would give me more career opportunities while also satisfying my interests.
What attracted you to Strathclyde specifically?
Strathclyde offered a chance to fulfil my passion and dream of studying Psychology while catering to my personal circumstances by providing a fully online learning opportunity. The British Psychology Society also accredited the program, which was very important. One year ago not many universities offered an online accredited degree in Psychology. When comparing them all, I was impressed with different awards won by Strathclyde and decided it would be a good fit.
Tell us a bit about your experience as an online learner...
I am not going to lie and have to admit that online learning was much harder than I expected. Having to motivate myself to study instead of meeting friends for brunch was difficult. The lack of personal contact with other students was also challenging. That's why I created a social media group with some of the other students so we could support each other. I also missed the ability to ask questions and receive answers in real-time and have live discussions both with the lecturers and other students. However the ability to study something that was always a big passion of mine in my own time without sacrificing my family was much appreciated. I enjoyed every minute of learning and was confident that online learning was a great choice.
What appealed to you about the online mode of learning?
I believe that online studying is the future. It creates opportunities for people who always wanted to further their education but were not able to, because of their jobs, families, country of living etc. The ability to study what I am interested in at a prestigious university without compromising my life was very attractive. I was able to create my own learning schedule that worked with other commitments. Being able to study at my own pace was also very helpful. The flexibilities that an online mode of learning offers is endless, it makes it easier for people to decide to develop themselves.
What advice or words of wisdom would you give to prospective students who are interested in studying online?
If you want to study online make sure to create a good schedule. Making lists of tasks to do for a coming week is also very helpful. As much as it is sometimes tempting to study in your pyjamas, it is important not to fall into this trap. Make yourself feel like you're not studying at home but at an actual class at the university. Create a study area that is not your bedroom and is separate from the area where you relax. Try to connect with fellow students, even if it is just online. The support of others who can relate to your experiences is important.
What are your ambitions for the future?
I want to continue my education and apply for a PhD program in Clinical Psychology. It might not happen as soon as I hoped for but I don't intend to give up this idea just yet and believe that one day I will be able to accomplish it. I am also developing a program for spouses of expatriate to help them with adjustment in new locations and to deal with loneliness, insomnia, depression, anxiety and stress that are very common in this population. I want to continue to keep developing my abilities and knowledge in order to be able to help others the best way possible.
What did you think of the support available?
The leader of the Psychology with specialisation in Business was absolutely amazing. She was very supportive, answering all questions and helping with any difficulties if they occurred. The lecturers were organising live support sessions to answer any queries the students had about the module or assessment. It was also amazing that all professional services like Strathclyde careers were available for me. My dissertation supervisor was always there for me and made the whole experience of writing a dissertation online actually an enjoyable process. Throughout my studies I knew if I had any issues there was always someone in Strathclyde who would help.