Our graduates

Niharika Mehta, MSc Clinical Health Psychology, India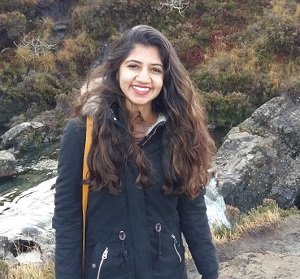 Tell us a little bit about yourself...
I am from India, Pune. I completed my undergraduate degree in Pune and then continued my studies with a masters degree in Clinical Health Psychology at University of Strathclyde.
Why did you decide to study your chosen subject university?
I always knew I wanted to study clinical psychology. The course at Strathclyde offered not only clinical psychology but also health and neuropsychology. As well as the applied modules, it also included research methodologies and a dissertation. This balance of research and applied psychology is what impressed me. The placement, as part of the course, definitely was an additional benefit.
What advice would you give to someone studying your course?
Make the most of all facilities. The campus offers great study areas and an impressive library. The faculty is very supportive and helpful. The course is demanding but it is these facilities that make it easier to manage the coursework. So venture out, explore and make the most of this experience.
Do you have a highlight from your time at university?
The placement was definitely a highlight. Also the group projects and research was unexpectedly great. These experiences helped me learn not only about psychology, but also about different cultural backgrounds and working as a team.
Where are you working now?
Currently I am working as a Psychologist in Mumbai within a hospital. My responsibilities include offering counselling and therapy to patients and I also train interns.
How did your time at Strathclyde help prepare you for this role?
The academic as well as practical knowledge gave me a boost in my career. The placement improved my skills. As a result, I conduct regular workshops in schools and corporations. The combination of clinical and health psychology is perfect in a hospital setting. The experiences at Strathclyde and Glasgow, in general, helped me grow as an individual and become more independent.
What are your ambitions for the future?
I always wanted to pursue a PhD. My experience at Strathclyde provided me with the encouragement and guidance to follow this career path and I aspire to pursue my career in academia.