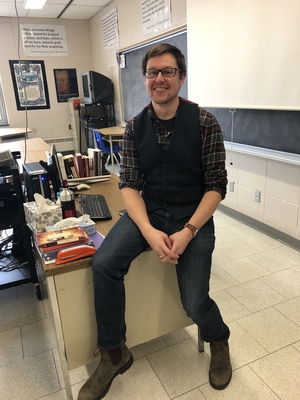 Strathclyde graduate Robert Gale is currently teaching English at John Fraser Secondary School in Mississauga, Ontario, Canada. After studying a BA degree at the University of Waterloo, Robert decided to travel to Strathclyde - a decision he says was key to him getting a job as an English teacher back in Canada. Find out more about Robert and why he chose to study at Strathclyde below.
Why did you decide to study the Professional Graduate Diploma in Education (PGDE) and why did you choose Strathclyde?
At first I wanted to go to a local university in Ontario, but when I went to the info session Strathclyde held in Toronto, I became more interested in the PGDE programme. Originally I wanted to take a year off to travel, but I didn't want to lose the momentum of my education. So Strathclyde was a great way to do both.
What did you enjoy most about the course?
The course had great professors, and the people I worked with at my placements were very helpful. I found my time with Hugh Gallagher (Education lecturer) rewarding, as his lessons blossomed more when I actually started teaching. There are some things that only experience can teach you, and he was able to pass this experience along in a way that helped me grow even after the course was finished.
What knowledge and professional skills did you develop studying the course?
I learned how to use curriculum and creativity to construct clear and engaging assessments, and learned a great deal from the Curriculum for Excellence, and the differences, and surprising similarities to Ontario Curriculum. The 'how to mark' sessions were the most memorable as far as what helped the most, as that is something that I found the most difficult when I started. I found my comfort zone as a teacher, and discovered ways to connect with the students through my subject area and engage them through my passion for it.
How did the course prepare you for life as a teacher?
The placements, and the reflection that came with doing them, helped me feel more comfortable in the classroom. Although I had, what I remember as a rocky/nervous start, I was able to finish with a wealth of teaching tools and knowledge that helps me to this day. I got the job that turned into a permanent position because I studied in Scotland, and was able to bring a new, and educated perspective to the Ontario curriculum I was working within.
What did you learn from your placements?
I was placed in Renfrew, and in Wick. My first placement was a little tough at first, but I really got a sense of what teaching in a classroom feels like. I even started an extra-curricular cross-country running club there too! The final two placements were in northern Scotland (Wick), and although different, I was able to find my comfort zone there. There was such a great sense of community, and the teachers pushed me to try different approaches to my teaching. The practical, hand-on aspect of the placements was invaluable.
What did you enjoy most about living in Glasgow?
Glasgow is a beautiful, and lively city. On the second day I'd arrived, I went on a walkabout, and was captured by the history in the architecture, and how close everything was to Strathclyde campus. Having lived there, and in the Scottish Highlands (Wick), I have seen many beautiful and exciting things. This choice has been life-changing for me, both with the programme, and the experience of the trip.