Our graduates

Sumra Anis, MSc Counselling & Psychotherapy, Pakistan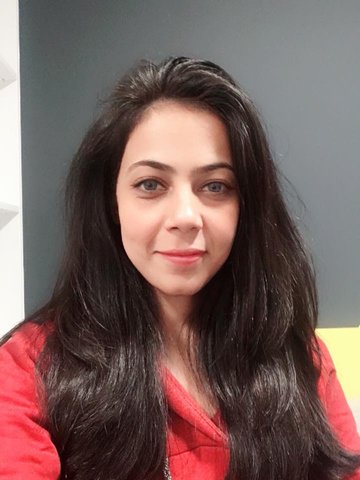 Tell us a little bit about yourself...
My name is Sumra Anis. I am from Pakistan. I did the MSc in Counselling and Psychotherapy. Prior to this degree I did a Masters in Public Administration with HR and Marketing as major subjects. I have 10 years of experience in the Learning and Development and Organizational Development field. I have interest in understanding human psychology and how their thought process and emotions work. I love travelling, going to different places and exploring the diversity and uniqueness of different culture. So understanding and managing people is my forte.
Why did you choose Strathclyde for your postgraduate degree?
My interest of choosing the postgraduate degree from Strathclyde emerged from my willingness and eagerness of learning human behavior and their psychology. Moreover my job was to manage employees' wellness and productivity and engage them in the organization so I thought that it will be very helpful for my work if I will have skills and knowledge to understand human behaviour and their psychology.
In Pakistan, the concept of Mental Health is still new and people are not comfortable with visiting a Mental Health Practitioner in need. I took this gap or challenge as an opportunity and now as a psychotherapist I am spreading awareness of Mental Health in Pakistan.
This course fulfilled my requirements and it was a good match. I initially chose this course because of the course outline. It was a balanced mix of theory and practice. They were offering to put theory in to practice in class and in the field (Clinical practice and placement in different organizations). This course was offering Person Centered Approach which is very humanistic and this approach changed my personality 360 degree. With the help of therapeutic process run by the tutors I learnt a lot about my issues and behaviour pattern. The other aspect I really liked about this course was the dissertation. The department was offering participation in a research dissertation of tutors. When I was applying for this course, I also got admission in top two Australian Universities but I prefer Strathclyde because I received good feedback from my friends who previously attended different courses in Strathclyde. I was told that tutors and staff are very supportive especially with foreign students. Indeed I received a lot of support from my tutors. In Pakistan we believe that tutors are our spiritual parents who help us in building our character and knowledge. I can proudly say that my tutors in this course groomed my personality and gave me immense knowledge which is helping in developing my career in Pakistan.
What initially sparked your interested in Psychotherapy?
As I said earlier that learning human behaviour and their psychology is my key area of interest and also this is one of my work requirements. In my early 20s, my mental health was in distress and I was unable to get the support I needed. Since then becoming a psychotherapist became my calling. I really wanted to help people around the world who are facing mental health issues. To fulfill my need of helping people first I did a certificate course in humanistic integrative counselling in Pakistan and then I decided to do MSC in counselling and Psychotherapy.
What advice would you give to someone considering studying your course?
This course offers psychological process and deeper awareness of self. So I would advise future students to seek support from the class fellows and tutors whenever it is needed. If you are a foreign student, make sure that you have enough finances to manage your expenses. Cultural change and adjustment is a big aspect. Be mindful that this change can bring discomfort but the more you are flexible and adaptable in nature, the more you will enjoy cultural diversity. Be aware about the deadlines of the assignments and submit it on time. Start applying for placement and finding out your supervisor as soon as tutors announce to secure your placement.
Do you have a highlight of your time at university?
The entire experience of this course is memorable, however, there are few events which are highlights of my journey and I want to share one of them. In our course we had to spent two days and attend lectures outside the university premises. So the entire class and tutors went to a place near Loch Lomond and we had a great time over there. We studied and spent time with classmates and tutors. After class we played different board games, enjoyed beautiful scenery, sang songs and went for long walks together. It really helped in developing a strong bond between class and tutors. Overall it was an amazing experience.
If a placement was included as part of your course, can you tell us about this and the experience you gained?
Yes, placement was part of our course work and we had to complete 100 clinical hours of practice. I got three placements. In every placement I had a supervisor who was guiding me through my work. I had individual supervision and my course was also offering group supervision. So I experienced rigorous training during the course. My placements gave me exposure of field work and working with clients gave me immense knowledge about dealing with different people, behaviours and their issues. I was able to put theory in to practice. Different organizations have different management and requirement so it also taught me how to work with different organizational cultures.
Where are you working now? And how did your time at Strathclyde help prepare you for this?
I am doing private practice and I am also providing consultancy to different organizations in developing mental health courses for their employees. In our course we had a lecture on developing career in counselling and psychotherapy. They also shared the information about how to reach to organizations which are interested in Mental Health work and the procedure to establish private practice was the part of this lecture and they gave great attention to follow the ethical boundaries of practice. The BACP handbook was also shared with us and I am using it as a guidance to follow ethical practice in Pakistan. Batch of 2018 was invited in our career fair and inauguration. Talking to them and learning from their experience was a great help.
What is the best part of your job?
The best part of my job is spreading Mental Health Awareness in Pakistan. There are very few people who are rigorously working in spreading awareness, active on social media and working with different companies related to the topic of mental health and I am one of them. I am doing private practice and working as a freelance consultant so I have a lot of freedom in doing work in my own way but with the consideration of ethical boundaries. I also feel free to add creativity and bring variety in my work.
What are your ambitions for the future?
I want to offer my services all around the world. I am a psychotherapist who is not bound to one category of people, culture, beliefs and country. My services are for the development of humanity and I want to expand my horizon according to this. I want to practice and learn from different people's experiences and cultures and this thought is making my work open for the entire world.
Any final points, or words of wisdom?
Be empathic to yourself and others. Have acceptance of different people and culture. Discourage judgmental behavior. Seek support and support others.