MLitt Interdisciplinary English Studies

Deborah Crowe, UK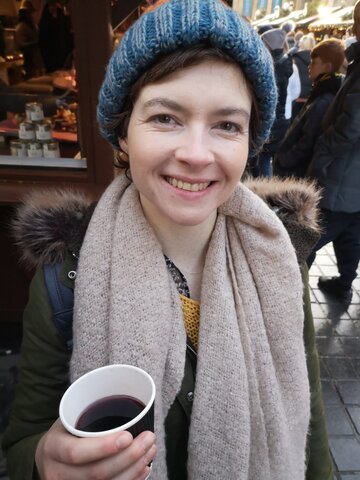 Tell us a little bit about your background...
I was born and brought up in Rutherglen, near Glasgow. I've always been a 'reader': some of my favourite childhood memories involve me going to Rutherglen Library, or to Borders or Waterstones in the town. I love how stories can transport us to a different time and place or culture. Certain books remind me of holidays, or what was going on in my life at the time. My family are all readers too, so I completely took for granted all the books being swapped, read and discussed. I didn't think that this was anything out of the ordinary, and so didn't think I was capable of studying English. This attitude was not helped by my terrible aptitude for numbers: I loved the 'social' subjects at school but dreaded maths and the sciences. This really affected my confidence and I left school when I was seventeen: I couldn't bear to stay to try to take more Highers. After I left I tried to forget about academic subjects: I actually felt embarrassed about the amount of books I had! After a few false starts I eventually ended up working in the welfare rights / money advice field, which suited me as an accessible and non-discrimanatory benefits system is something about which I feel strongly.
What inspired you to study English?
I started re-reading my old copy of Jane Eyre in my late twenties. Reading as an adult is totally different to reading as a child, and I noticed different themes, and had different opinions on characters or situations. I was interested in how Charlotte or Emily Bronte came to write about some of the weighty themes in their novels, and I started doing some reading around their lives and influences. This led me onto Byron, Mary Shelley, and then Victorian literature. I enrolled at The Open University at twenty eight years old. It had been in the back of my mind for a while but it was a big step, financially as well as personally. As I mistook my love of early nineteenth century and Victorian literature for a love of history I initially intended to work towards a History degree, but this didn't work out. As it turns out, my terrible memory for numbers extends to dates! I took my first level two English module in 2017 and was hooked on learning about theory and new literary terms. I have also discovered an interest in modernism and have enjoyed reading Ford Madox Ford, Virginia Woolf and James Joyce.
Why did you choose to study Interdisciplinary English Studies at Strathclyde?
Just after I finished 'level two' at The OU, I was diagnosed with Hodgkin's Lymphoma. Luckily, my prognosis was always positive but the treatment was gruelling and I had to take time off work. At this time my children were four and two years old. I enrolled for a level three module regardless. The thought of not only having to endure chemotherapy, but also having to stop studying was unbearable. The six months of chemo would have been mentally much harder if it wasn't for The OU and the support of my tutor. Reading and writing essays was time for myself and away from the real world. My final module was almost at an end. I knew that I wanted to do something to do with English, so I thought about applying to do the MSc Information and Library Studies. I much prefer reading and analysing texts, however, and I know from experience that forcing myself to do something in which I'm not one hundred per cent interested doesn't end well! I applied to Interdisciplinary English Studies as I am genuinely interested in how novels are shaped by society and vice-versa. The 'sensible' option would have been to keep working, but looking after the boys, working and doing an MLitt may have finished me off! I'm very lucky to have been able to stop work to pursue something I love doing, and to have my parents and mother-in-law to help my husband and I with childcare.
What has home learning been like in comparison to your traditional form of learning?
Well, being an OU student I'm used to home learning! I was looking forward to face to face seminars and meeting other people, but that will have to wait for now. We didn't have zoom seminars in the OU, so I'm actually having some more interaction than I usually would, which is nice.
What specialist knowledge/professional skills are you hoping to develop whilst studying your course?
I want to develop my analytical and writing skills. I would also like to find a particular area of interest for my dissertation.
What would be your advice for people considering taking this course?
If you love English literature and how it relates to the world around us, do it!
What have been some of the main challenges studying at postgraduate level, so far?
I've found thinking of a topic for my dissertation, or even my next essay, quite challenging. At undergraduate level we already have all our topics and questions set out for us, so this was quite a change. It's a nice change though: it gives me the opportunity to really think about what interests me.
What do you think of the support available?
Excellent. The professors have gone out of their way to make us feel welcome, and have also been very helpful with any queries I've had.
What are your ambitions for the future?
That's a tough question! If I could do this forever then I would. I would be interested in doing a PhD, but I don't know if that's compatible with having a young family, and then there's the funding aspect. The answer is, I don't know, but I'll be happy if it's in the field of literature. I'm very lucky to have been able to get this far doing something that I love.