Modern Languages students

Erica Henderson, 1st Year, BA French and Spanish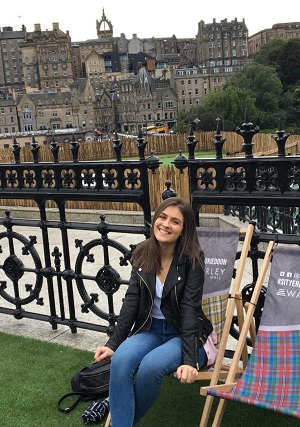 Tell us a bit about your background…
I grew up in a small town, Larkhall, which is around 20 minutes from Glasgow city centre. At the school that I attended, Spanish was not on offer as a course but I already had my heart set on studying two languages at university so in my final year of school I actually attended a different school in order to gain my Higher in Spanish. With no prior knowledge of the language it was definitely hard work but I managed to achieve an A which I was thrilled about.
Why did you decide to study at the University of Strathclyde?
I initially considered Strathclyde based on recommendations from friends and family who had studied here and had nothing but positive things to say about it. Upon visiting the university open day I immediately felt very comfortable in the surroundings, more so than I had done when I had visited other universities. The central location of the campus and the enthusiasm of the French lecturer on the day helped to solidify my choice to study here.
What made you select your course?
At school I had a particular affinity for languages which my French teacher, who also studied at Strathclyde, noticed and she encouraged my natural flair for the subject. After doing my research into what the course entails and reading about the experiences of the year abroad, I decided that languages was the perfect route for me to go down.
What has been the highlight of your time at Strathclyde so far?
A highlight for me has definitely been the friendships that I have formed in my first year of being at the university. The other students on my course are generally very friendly and it has been great getting to know like-minded people. I definitely feel that many of the friendships I have made here are going to last for the duration of my course and well into the future.
What would you say is one of the key takeaways from your course?
As well as learning new languages, which is a key skill for the world of work, a significant part of the course is being able to learn about new cultures. This includes not only the cultures in France and Spain but also cultures from a number of French and Spanish speaking countries all over the world. The compulsory year abroad allows students to put their language skills into practice but also allows them to fully immerse into a new culture which I think is an incredible experience for a young person.
What would be your advice for people considering studying at Strathclyde?
From my personal experience, lecturers and tutors at Strathclyde have been incredibly helpful and have been an integral part of my understanding of the course. I would advise anyone considering studying here not to be afraid to approach staff for help or clarification on any aspect of the course because they are very approachable and are always more than happy to help.
What has been the main challenge while studying at University?
As with any university or establishment, a challenging aspect is finding a good balance between education and leisure time, particularly if you also have a part-time job as many students do. The key to success at university is being able to find the balance between hard work and fun as too much of one and not enough of the other can be detrimental.
If you could travel back in time to give advice to yourself on your first day at Strathclyde, what would you say?
I would definitely remind myself that everyone around me is in exactly the same position as I am and that I am not alone in feeling nervous or anxious. I would also encourage myself not to be afraid to approach people and make conversation as making friends at university can actually be very easy.
Have you joined any clubs or societies while at Strathclyde? Tell us a bit more about your experience!
I currently haven't joined any clubs or societies but there is a wide range of things to choose from and I'd definitely like to join some in the future. I have also heard amazing things about the new gym facilities and would like to join when the new semester begins.
What do you hope to do when you complete your course?
I haven't definitively chosen the career path that I would like to go down just yet, however I am considering getting into translating or interpreting. I am very passionate about music and listen to music in a number of foreign languages and would perhaps like to have the opportunity to translate lyrics for English speaking audiences. Eurovision is a huge guilty pleasure of mine so the ultimate dream would to be involved in that as a translator or interpreter.