Abseiling and Bungee Jumping off of the Titan Crane
By Savio Baptista
If you're looking for a fun way to spend an afternoon or raise money for a charity, then I would highly recommend going abseiling at the Titan Crane in Dumbarton. This activity involves descending from great heights using a rope under controlled conditions. You may have seen rescue teams use this technique to help injured or stranded victims trapped in difficult-to-reach areas.
During my teenage years, I spent 6 years as a member of the Royal Canadian Air Cadets. As a cadet, I got to go abseiling during trips to different military bases. However, I had only abseiled using a climbing wall. You can imagine my surprise when I went abseiling off the Titan Crane since I could only use a rope. There was no wall for me to push my feet off from.
The Titan Crane is a historical Scottish landmark with an amazing view from the top. It is also a great place to go abseiling. When I got to the bottom of the Titan Crane, I couldn't believe that I climbed down 150 feet. Now that was quite the adrenaline rush.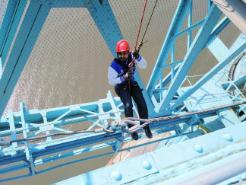 Bungee jumping is a popular adventure sport renowned as the ultimate adrenaline high. Today, you can bungee jump almost anywhere in the world, and over natural wonders such as active volcanoes.
In Glasgow, you can bungee jump from the cantilever of the iconic A-Listed Titan Crane. Without a doubt, this was one of the greatest free-fall experiences.
I leaped 150 feet towards the River Clyde from a moveable platform attached to the cantilever. Once airborne, I was descending at a speed of around 50 miles per hour. The thrill of being mid-air shortly came to an end once the bungee cord stretched to the point where it then sprang me back up.
Here are some pictures from my jump: