Korean Food and Doughnuts: Your Next Dream Combo
By Alex Wasalinko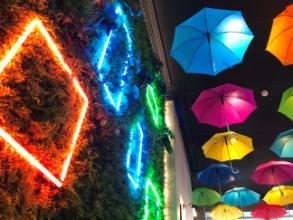 On the search for some variation in your lunch breaks? Maybe thinking of a place not far from Central or Queen Street? Want to mix a Glasgow icon with some eclectic interior design? Then you look no further than Glasgow's newest Korean restaurant Bibimbap on West Nile Street and the newest branch of Tantrum Doughnuts around the corner on Gordon Street.
Bibimbap is one of the many new restaurants to grace Glasgow in the past weeks. Its official grand opening occurred mid-Beast from the East snow madness, but the weather has not shaken the new city centre business. Bibimbap's menu offers authentic Korean cuisine and speciality house cocktails at a reasonable price. On a cold Sunday, I ventured out for a late lunch with a friend from uni to escape the frigid air with warm Korean classics.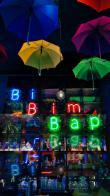 We both began with orders of dumplings, myself opting for the kimchi and pork, which were the perfect beginning of the meal and light sharing dish. For my main meal, I ordered the namesake dish: bibimbap, rice, vegetables, beef, and egg served in a hot stone bowl with spices and miso soup on the side. The warm dish was the perfect lunch to complement the classic Glasgow weather and the interior, filled with neon lights, greenery and colourful floating umbrellas made me forget the last of winter raging outside.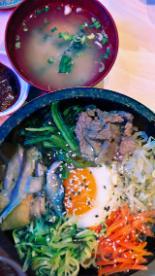 For dessert, we ventured around the corner to Tantrum Doughnuts and were met with a wonderful array of handmade treats. Doughnut lovers, do note: just as Tantrum advertises, many of their goods sell out quick and early, so a visit later in the day may be met with empty trays. However, Tantrum also serves coffee, so if you're looking for a caffeine pick-me-up before catching the train, you're in luck.
Both locations are rather popular, so plan accordingly to properly treat yourself on your next meal out!