Dr Rogelia Pastor-Castro made historical adviser by The British Embassy in Paris

History at the Heart of Diplomacy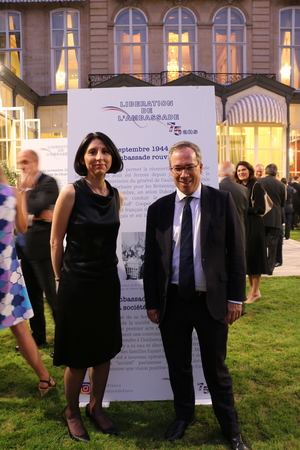 The British Embassy in Paris asked Dr Rogelia Pastor-Castro, the director of the MSc Diplomacy and International Security programme, to act as historical adviser for the commemorations marking the 75th anniversary of the Liberation of Paris and the reopening of the embassy.
Dr Pastor-Castro wrote about the embassy from 1940 to 1947 based on her publication The Paris Embassy: British Ambassadors and Anglo-French Relations, 1944-79 and her forthcoming volume Embassies in Crisis. Selected text and images were displayed on panels at the Ambassador's reception to mark the event. Guests read Dr Pastor-Castro's account and discussed with her the history of Franco-British relations. After the reception, Ambassador Llewellyn hosted a private dinner at which the special guests included descendants of the Grenadier Guards who liberated the embassy in 1944. Dr Pastor-Castro's research will continue to reach members of the public as the panels will be on display when the embassy holds Open Doors Day.
Find out more about Dr Pastor-Castro's work here >>
Find out more about MSc Diplomacy and International Security here >>