Council of Military Education Committees Dynamic Twitter Feeds from University Service Units, the Armed Forces, strategic allies and associated organizations
August 2016
The Willow Trees Return
Members of Glasgow and Strathclyde URNU, UOTC, UAS and MEC attended a ceremony for the planting of willow trees gifted by Erskine Hospital to the University of Glasgow.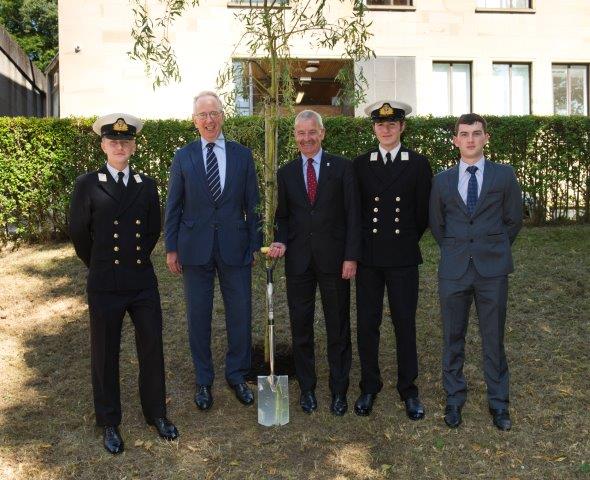 Erskine is a veterans charity founded in 1916 as the Princess Louise Scottish Hospital for Limbless Sailors and Soldiers by Sir William Macewen, who was also Regius Professor of Surgery at the University of Glasgow. The new hospital desperately needed resources to produce artificial limbs for incoming patients. Macewen asked Sir Donald MacAlister, Principal of the University, for the willow trees then growing on campus: the pliable and tough willow was suitable for the manufacture of artificial limbs, as well as cricket bats. Sir Donald said that he did not think there would be any objections but told him that he should ask University Court at its next meeting. Sir William replied that if there would be no objections he shouldn't need to wait to take the trees. That afternoon Sir Donald was out for a walk – and was surprised to see that the two willow trees Macewen had pointed out had already been chopped down!
At the Remembrance Service and Parade in 2015, Macewen's latter-day successor belatedly petitioned the University for permission to remove the willows and Erskine presented the University with replacement saplings: these were ready to be planted in August. Officer Cadets Barnaby Rose, Charles Mawer and Ryan Ward are pictured with Andrew Robertson (Chairman of Erskine) and Professor John Briggs (Clerk of Senate & Vice Principal), together with one of the willows.
April 2015
Queen's Birthday
The UOTC Gun Troop were appointed by Scottish Command to fire the 21 gun Royal Salute at Stirling Castle to mark The Queen's Birthday on 21 April: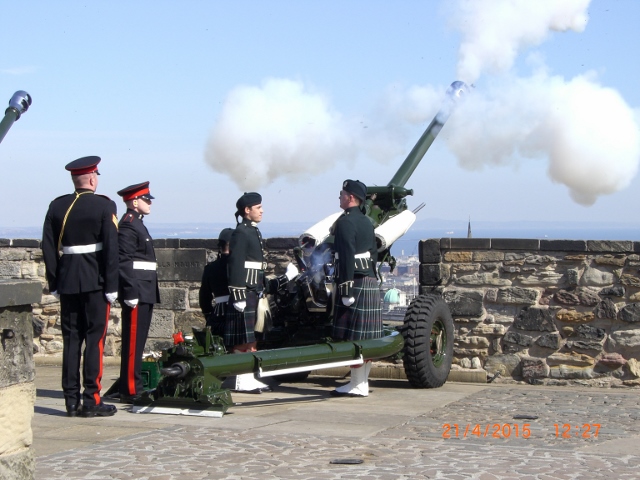 April 2015 - MEC member, Jim Castle, engages in full-on activity in seasonal weather conditions at the UOTC Spring Camp at Otterburn training area: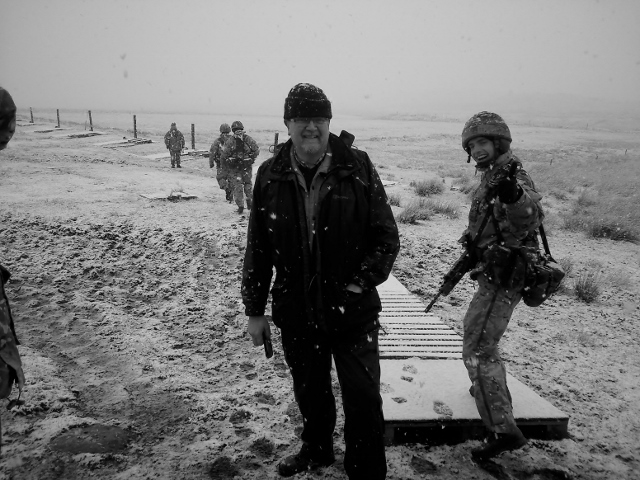 May 2014 - Strathclyde joins the Defence Technical Undergraduate Scheme
Major General Mike Riddell-Webster CBE DSO Late BW, Director College of Management and Technology, and Professor Kenneth Miller, Vice-Principal, signed a partnership agreement to educate and support students from Welbeck Defence Sixth Form College preparing for a career as a technical officer or engineer in the armed services or Ministry of Defence.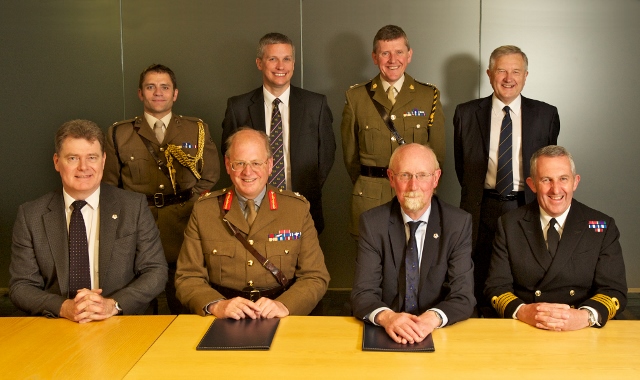 Students will attend selected degree courses in a range of subjects at Strathclyde and be assigned to the DTUS Trojan Squadron in Newcastle, while receiving weekly training support from the Strathclyde URNU, UOTC and UAS.
September 2012 - Officer Cadet training is accredited by the Chartered Management Institute towards an Award or Certificate in Management and Leadership.
November 2011 - Glasgow University, and from 2014 Glasgow Caledonian University, students who successfully complete each stage of military training, or are appointed to positions of responsibility in their University Service Unit, will have this information included on their Higher Education Achievement Report when they graduate.
September 2011 - Cadet Warrant Officer Peter Hastie is the winner of the Purdie Sword for the best cadet in Scotland & Northern Ireland. He is currently studying aeronautical engineering at Strathclyde and joining the Air Squadron.
August 2011 - Mid Amy Bolland is awarded the Committee Prize for 2011.
The Prize encourages leadership through military expertise, public service commitment and Service Unit activities. It is awarded to the Officer Cadet who demonstrates outstanding achievement.
April 2011 - HMS Smiter with her student crew, and the Royal Navy's other P2000 patrol vessels, take to the Solent for SQUADEX, one of the largest squadron exercises and manoeuvres in 25 years.
March 2011 - UOTC win Military Skills and take the overall title at Exercise Northern Lights held at Garelochhead Training Camp, HMNB Clyde and The Lake District.
March 2011 - Pipes and Drums win UOTC Competition at Stirling Castle.
March 2011 - UOTC Engineer Troop dominate the Assault Boat Race to take that title in the Combat Engineer Competition. They came fourth overall, and highest placed Scottish UOTC, out of the nineteen University OTCs and defence training squadrons which took part in two days of gruelling competition at the Combat Engineer School.
July 2010 - APO Michael Plank is awarded the Committee Prize for 2010.
The Prize encourages leadership through military expertise, public service commitment and Service Unit activities. It is awarded to the Officer Cadet who demonstrates outstanding achievement.
March 2009 - UOTC win Drums and Pipes, Drill and Tug o' War at Exercise Northern Lights
March 2009 - Pipes and Drums come third in the Army Championship and win Territorial Army Championship
July 2008 - The Pipers' Trail and Cathedral Service celebrate the Centenary of the Territorial Army, Reserve Forces and Cadets
June 2008 - The Universities Officers' Training Corps' Centenary Parade