Advanced Forming Research Centre

News
Celebrating talent without limits at the AFRC
This week is Scottish Apprenticeship Week and its theme is 'talent without limits.' Here at the University of Strathclyde's Advanced Forming Research Centre's (AFRC) we are proud of our apprentice Jayne Clark, who is a defining example that there are no limits to where an apprenticeship can take you.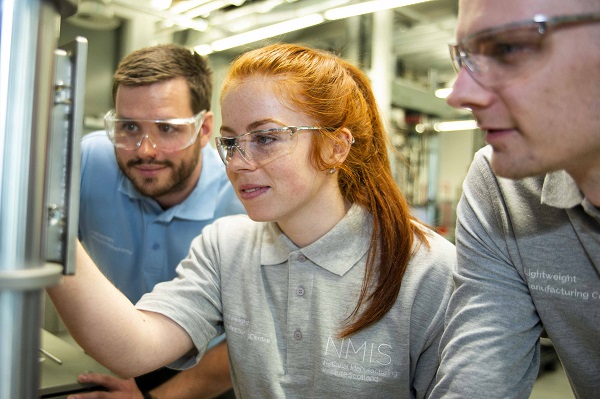 At only 22-years-old, STEM Ambassador, Jayne has achieved a tremendous amount both in her early career and personally. After leaving school in fifth year and starting a Higher National Certificate at Glasgow Clyde College, Jayne joined the machining team at the AFRC as a technician in an apprenticeship scheme.
Jayne's hard work and dedication saw her crowned as Glasgow Clyde College Apprentice of the Year Award in Manufacturing Engineering and came to join us work full time in the AFRC in the machining team, providing valuable support through expertise learned within her time at college.
Alongside her advancements in both her career and studies, Jayne has been working towards her Gold Duke of Edinburgh Award and holds the British Drug Free Powerlifting Association (BDFPA) national title for squat, deadlift and bench press – a triumph that Jayne achieved while studying and working full time within an incredibly complex field of study.
Jayne said:
In school I enjoyed graphic design and maths so I thought a career in engineering would be the best fit for me. When I was looking at different university courses nothing was catching my eye and I thought an apprenticeship would be the best option.

Thankfully my mum then saw the apprenticeship position in the paper, I went for it immediately and joined the AFRC under a modern apprenticeship scheme as a technician in the machining team in August 2014.
"I had brilliant support throughout my apprenticeship,"
Although I knew I wanted to pursue a career in engineering I was surprised at how quickly I found my feet in the workshop and adapted to my new role. I had brilliant support through my apprenticeship, and I was actively encouraged to contribute my opinion in wider discussion across the research centre.

This type of learning really helped me build my confidence and coupled with daily first-hand experience on the job I knew I wanted to take my studies further. The opportunity arose to study Computer-Aided Mechanical Engineering at Glasgow Caledonian University and I jumped at the chance, simultaneously moving to the residual stress lab, to gain further experience and enhance my knowledge on design, analysis and materials science.

Since joining the residual stress team, I have been working on some fascinating projects and I'm particularly interested in failure analysis, studying the prevention of future recurrences by identifying where components have failed and why - a study which remains in its infancy, and one in which many universities don't teach within their curriculum.

In the laboratory I regularly use heavy duty lasers and work on projects using complex measurement techniques - these projects have been fundamental for a variety of highly regarded oil and gas, aerospace and automotive industry clients. It's been a fantastic experience to learn from which I wouldn't have been able to get anywhere else.

I highly recommend an apprenticeship with the AFRC, the centre has given me the opportunity to progress my career and specialise into a field I wouldn't have considered otherwise."
Many different pathways to a successful career in research and engineering
Dr Salaha Rahimi, materials and residual stress team lead at the AFRC, said: "Jayne's success proves that there are many different pathways to a successful career in research and engineering.
Jayne's achievements showcase the opportunities that are available to young people within the manufacturing industry, with the hope that more people consider relevant career opportunities to showcase their own 'talent without limits'.
This is particularly important at a time where we are faced with an ageing population and a lack of new people entering the sector, particularly into a discipline which requires further research of such a specialist subject.
One of the AFRC's main objectives is to create jobs and knowledge whilst encouraging career progression at a manageable pace, with modern apprenticeships designed to help create a high-calibre workforce; strengthening the training system in Scotland to highlight and encourage further research within the industry."