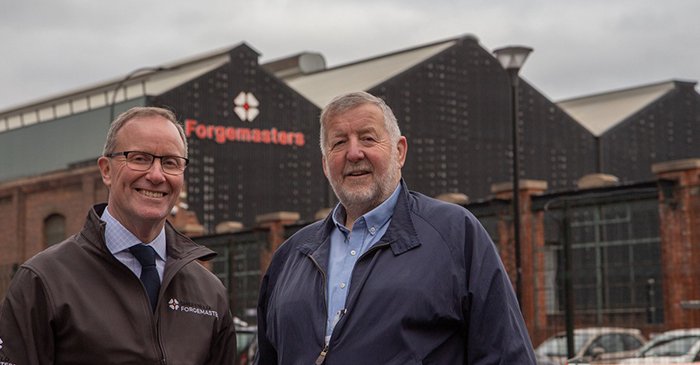 Sheffield Forgemasters, the castings and forging company tackling some of the world's most complex engineering challenges in clean energy and defence, has signed up as a Tier One Partner with the University of Strathclyde's Advanced Forming Research Centre (AFRC), part of the National Manufacturing Institute Scotland.
The move will give the 200 year-old company, recently taken into public ownership with a planned investment of £400m, access to the AFRC's state-of-the-art research and development facilities in Renfrewshire focusing on emerging advanced manufacturing technologies such as residual stress, advanced furnaces, and forging expertise in Industry 4.0 data analytics and modelling.
David Bond, Sheffield Forgemasters CEO, said:
We have a hugely talented and experienced workforce here in Sheffield tackling some of the biggest engineering challenges we face as the UK makes the transition to a net zero economy and next generation defence systems.

"As we move into a new phase of our growth and development – both in clean civil nuclear energy and defence technology – it is vital that we harness the best brains and cutting edge equipment to support us on that journey.

"This partnership with the AFRC, which is one of the seven High Value Manufacturing Catapult centres across the UK, allows us to do that in a way that may help us to become more innovative and productive while maintaining the most rigorous engineering quality standards. The AFRC now has an outreach office in Sheffield connecting us to the team in Scotland; making this a truly national endeavour.
The R&D partnership follows Business and Energy Secretary, Kwasi Kwarteng's recent tour of Sheffield Forgemasters as he announced a £200m investment to develop and build small modular reactors with Rolls-Royce helping the UK make the transition to a net zero economy.
AFRC Chief Operating Officer, Helen Lightbody, said:
South Yorkshire is the crucible of the forging and forming industry and has helped shape the destiny of the British economy since the first industrial revolution. There are huge opportunities for civil nuclear power in the transition to net zero: but there are also technological and manufacturing challenges. Our mission at the AFRC is to bring industry, government and academia together to overcome these challenges and exploit the opportunities for this region and the wider world as it strives towards the goal of net zero and improved productivity.
For over a decade, the AFRC – which is now a cornerstone of the National Manufacturing Institute of Scotland – has been pushing the limits of advanced manufacturing and engineering, helping companies of all sizes boost productivity and compete on a global stage. Its Sheffield office, supported by Sheffield City Council, helps the country's leading forming and forging companies in South Yorkshire tap into pioneering metallurgy capabilities, numerical and analytical process modelling tools and advanced industry-scale forging and forming equipment.
AFRC Executive Chair, Keith Ridgway, who founded the Advanced Manufacturing Research Centre with Boeing in Rotherham two decades ago said:
Sheffield Forgemasters is an iconic global company with deep roots in the history of Sheffield and engineering innovation. But there are many other forging and forming companies in this part of the world that would benefit from partnering with the AFRC and the wider NMIS Group whose mission is to transform the future of manufacturing by working collaboratively to deliver real world innovation and increase productivity. With the support of Sheffield City Council this is now possible.