THE AFRC 6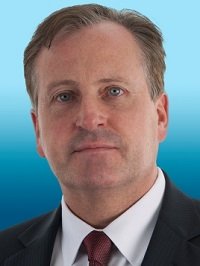 Our members are all future focused firms that know a thing or two about business.
Here we provide them with six questions that reveal more about their commercial success, approach to innovation and overcoming key industry challenges.
In our first ever AFRC 6, we speak to Andrew Aitken, COO at Lanner, who offers invaluable advice for firms seeking to embrace the exciting world of industry 4.0 but aren't sure where to start.
1. Tell us about what you do?
Lanner develops predictive digital twin software that turns business data and processes into business value.
Our digital twins use simulation technology to test, validate and model business processes to enable informed decision making.
In my role as COO, I work closely with the Lanner team, ensuring we deliver results to our customers, creating real business change for them.
I spend a lot of time developing the relationships between Lanner and our customers, which creates exciting opportunities, especially since the rise of Industry 4.0.
2. What's the biggest challenge that your industry is currently facing?
While the Industry 4.0 movement has created a lot of opportunities, it also has created a lot of confusion for those who may be new to the Industrial Internet of Things and all it has to offer.
There are so many options now, and so much jargon to decipher, it can at times seem overwhelming for the SME's who are just starting to consider implementing new technologies.
The challenge is to ensure the right technologies are selected for the right reasons, it can be very easy to spend money on something that won't actually benefit the business in the long term.
That is why predictive digital twins are so valuable, through the creation of a digital twin, new technologies can be tried and tested, before costly investment takes place, ensuring the right choices are made for long term business growth.
3. How do you manage innovation while focusing on day to day operations?
Innovation is part of our day to day operations at Lanner. With every predictive digital twin, we create, we are looking at new ways to improve a business using the latest technologies and ideas.
We also actively take part in R&D projects with various Catapult Centres, all of which is another day at the office for us!
It is a very exciting time for Lanner and the industry as a whole, everyone knows they need to innovate to stay current and successful, and it is great to be a part of that.
4. What advice would you give a company looking to innovate but doesn't know where to start?
Create a digital twin!
This really should be the starting point for anyone looking to innovate and implement Industry 4.0 technologies into their business.
The digital twin will allow you to understand your current business state, before testing the impact of new technologies and ideas to the business.
I recently wrote an executive briefing, which outlines the 6 steps to implementing Industry 4.0 technologies into a business. It will help anyone who is at the start of their innovation journey, but unsure what options are best for them.
For more on the 6 steps to success, you can find the full executive briefing here: Industry 4.0: Using Simulation and the Predictive Digital Twin to Support Successful Digital Transformation.
5. Are there any developing trends that businesses should be watching out for/ tapping into?
I think it is hard to pinpoint just one when the whole Industry 4.0 movement includes so many technologies and trends.
For Lanner, Industry 4.0 and the digital transformation has meant we have seen the demand for predictive digital twins grow.
It is no longer the analysts and users of the software alone who see the value in predictive simulation, high level management is now actively seeking out models of their business processes as they now see the value it can offer them.
Without understanding everything about your business and its processes, you can't truly make informed decisions on how to improve and grow it.
6. Has your industry been 'disrupted'? If so, how?
Definitely, and it's exciting! The disruptive technologies, such Artificial Intelligence (AI), Machine Learning (ML), Big Data & Internet of Things (IoT) connectivity, are opening so many new opportunities for us, and for our customers.
For Lanner, we are speaking to people who may not have known anything about predictive digital twins and simulation a few years ago, but who are now excited and enthused by the solutions we can offer.
For our customers, they are able to design their innovation roadmap and explore new opportunities within a safe, risk free virtual environment, ensuring the only disruption affecting their business is positive!
Read more about our members and partners here.