From the safety and comfort of the Innovation Hall at the AECC in Aberdeen, visitors to ITF's Technology Showcase can virtually immerse themselves in and interact with the complex internal workings of a wind turbine.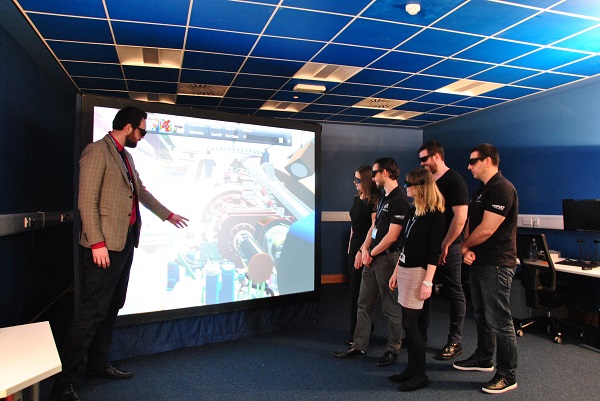 The digital manufacturing team from The University of Strathclyde's Advanced Forming Research Centre (AFRC) based in Glasgow, is bringing a huge 3D power wall to the annual ITF event. The screen, which is 2.6m wide by 2.25m tall, will give visitors the unique chance to view and engage directly with large CAD datasets and digitally captured data at a scale of 1:1.Paul Cantwell, Knowledge Exchange Fellow Oil & Gas, with the AFRC said:
Virtual reality can transform our understanding of the challenges faced across the energy sector, It's an invaluable tool for oil, gas and renewables and provides a more tangible understanding of complex technical information and data.

"Direct interaction with the 3D power wall perfectly demonstrates how other sectors, such as automotive and aerospace, have adopted such disruptive technologies to unlock program optimisation, reduce project schedules, develop safer practices, and improve training and skills. For oil and gas in particular, it can negate the costs and risk associated with offshore design and engineering, thereby cutting costs across the entire lifecycle of an asset."
The AFRC develops virtual environments to support manufacturing programmes, development and training. It also works on related areas such as factory layout simulation and optimisation. The team from the AFRC will also be showcasing components that have been manufactured via additive manufacturing processes, or 3D printing, and demonstrating how they are in used in other industries, while sharing the potential benefits for oil and gas.
The annual ITF Technology Showcase at AECC – Technology in Action - brings together some of the brightest minds from inside and outside of oil and gas to challenge current thinking and bring fresh focus on progressing new solutions.
The AFRC's Chief Operating Officer, David Jones will discuss how the UK must improve its focus on innovative technologies to increase exports, reduce dependence on imports and make the manufacturing industry more efficient and competitive. His presentation in the 'Transformational manufacturing and new materials to reduce costs' technical session will also explore how advanced forming metal processes, such as flow forming, rotary forging and shear forming and near net shape processes, can yield up to 75% improved material utilisation, accelerate production cycles and significantly reduce energy usage.
Stephen Fitzpatrick, the AFRC's Machining Team Lead will also be speaking at the Showcase. His presentation will demonstrate, through a number of case studies, how additive manufacturing can challenge and transform current methods of manufacture across a wide range of industries, including oil and gas.
Dr Geoff McGrath, Chief Innovation Officer at McLaren Applied Technologies and the KPMG McLaren Alliance will give a keynote on 'innovation from outside our industry' at the conference and exhibition at AECC on Wednesday 1st March.
Other plenary speakers include Colette Cohen, Chief Executive of the Oil & Gas Technology Centre (OGTC), Dr Geoff Nesbitt, Group Head of Technology Strategy at Petrofac and Willie Reid, Director of the Strathclyde Oil and Gas Institute. Gunther Newcombe, Director of Operations, Oil and Gas Authority (OGA) and Greta Lydecker, Managing Director, Chevron Upstream Europe will also join the morning panel session.
An Innovation hall will be dedicated to supporting the innovator community and showcasing the very best in new thinking, products, solutions and services. It is open, free of charge, to the public.
The technology sessions are facilitated by oil and gas operators with a keen interest on getting technology to market through the most effective and efficient routes possible. The three sessions this year will focus on:
Applied Digital Technologies to Improve Operational Efficiency and PerformanceTransformational manufacturing and new materials to reduce costsEmerging Inspection and Condition Monitoring Technologies to Prevent Failure in Operation and Avoid Downtime.
The event is supported by KPMG McLaren Alliance, OGA and Innovate UK.
For more information on the event, please visit https://showcase.itfenergy.com/ or contact showcase@itfenergy.com