Strathclyde's experts

Spotlight on: Dr Paul Murray
The Advanced Nuclear Research Centre (ANRC), as a 'Hub for Nuclear Research' at the University of Strathclyde, works with colleagues from various disciplines:
Paul Murray, is a reader at the University of Strathclyde working in the area of signal, image, video and hyperspectral data processing and presented at the .
Paul shares his thoughts on the challenges and opportunities in nuclear research and his area of expertise.
Working with the ANRC
"I think in the next few years there are a number of challenges and opportunities in the nuclear sector. If I think about my own particular area of interest, I do a lot of work with condition monitoring and inspection in the nuclear industry, and as time goes on, there will be a desire to better understand the civil infrastructure around nuclear assets and containers for storing nuclear materials. Additionally, there will be an interest to gather more data and obtain more information from that data to better understand the assets that we have in the sector.
"There is a lot of research at the moment going on around data analysis, and my particular area of interest is signal, image and video processing and also hyperspectral imaging.
"Our team are interested in designing new algorithms to gain new insights and extract better information from data. I think developing algorithms and new analytics technology that can be applied to data gathered in the nuclear sector will provide those new insights to the industry."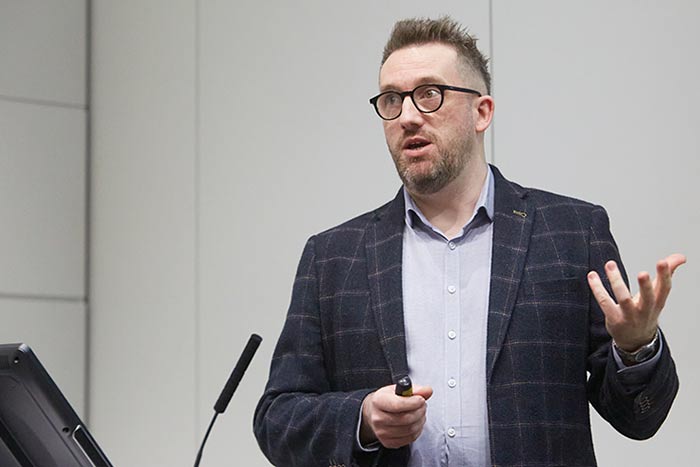 Working with the University
"In terms of coordination across Strathclyde and the wider, academic and nuclear industry in this area, it's really important because no single academic or even one group of academics can actually address and solve all of the challenges that exist.
"We need to play to our strengths. We need to identify those that can support our own research efforts, and we need to work together to solve these bigger challenges for the UK nuclear sector and further afield."
Future of research in the Advanced Nuclear Research Centre
"In terms of Strathclyde's core competencies at the Advanced Nuclear Research Centre, we have a team of academics who have expertise across a range of disciplines, from new sensor technology through data analytics, all the way through to innovative techniques for remediation and repair.
"By working together, we have a unique capability where we can deploy the correct sensors to gather data during inspection and monitoring of nuclear infrastructure and assets. We can couple that with advanced data analytics to help make better and more informed decision making tools. And, in turn, this will effectively help us identify the need for remediation. Bringing everything together will allow us to create an innovative feedback look of inspection, diagnosis and remediation to overcome a range of challenges around asset management in the nuclear industry.
"I think the Advanced Nuclear Research Centre have a unique offering that we can provide to the nuclear sector and to other fields to support a lot of those condition monitoring, inspection, and repair activities. So, that's what I'd say is one of the unique things about the ANRC here at Strathclyde. That, and our track record of delivering impact through industrially focussed programmes of research."
Advanced Nuclear Research Centre