4 Islands, 4 Sustainability Challenges, 505 Island Explorers: A new learning for sustainability programme by SCELG
June 2018: In the past month 505 pupils from 2 primary schools in Glasgow visited the University of Strathclyde where they were welcomed by its principal, Prof Sir Jim MacDonald, to celebrate the finale of the inaugural Island Explorers programme. This new programme aims to excite and inspire pupils in sustainability through learning about world geographies and environments and the challenges facing them.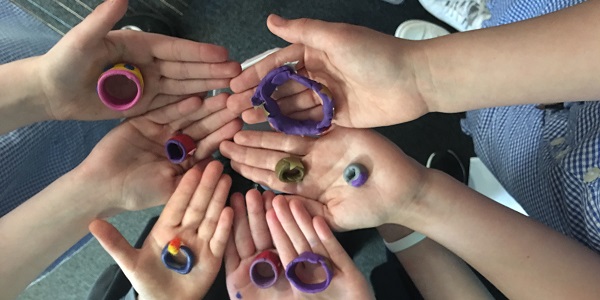 Island Explorers' Programme
Ocean plastics, sustainable energy, food security and safeguarding coral reefs
By using islands as geographical context, Island Explorers allows pupils to explore sustainability in a fun, children-centred and multidisciplinary way, bringing together geography, social-sciences, science engineering and technology and entrepreneurship to explore sustainable development using real-world contexts, and build new international youth networks.
The programme for 4 year groups in upper Primary school level (Primary 4-7). Over a course of 6 lessons, each year group explores a different island (Hawaii, St Vincent and the Grenadines, Great Cumbrae and Reunion Island) and is exposed to a different marine related sustainability challenge pertinent to that island (marine litter, marine energy, food security and sustainable fisheries and coral reef and marine biodiversity degradation). Pupils are challenged to come up with technological or creative solutions to deal with the challenge their island is facing.
A unique aspect of the Island Explorer programme is that, within each level, a partner school has been identified on the relevant island.
P4 Ocean plastics (Hawaii, USA – Punahou School)
P5 Sustainable energy (St Vincent and the Grenadines – Fitzhughes Government School)
P6 Food safety (Isle of Cumbrae, Scotland – Cumbrae Primary School)
P7 Coral reefs/marine biodiversity (Ile de Reunion, France – Saint-Leu Centre)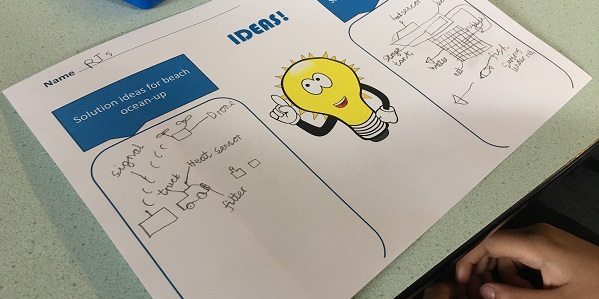 Island Explorers' Programme
Creating solutions and new technologies
The project is framed as a challenge for the primary school pupils who are asked by their island counterparts to come up with a new technology/creative solution to tackle the sustainability challenge faced by the island and its community.
Pupils from the two Glasgow primary schools taking part in the project (Broomhill and Hyndland primary schools) together with their partners from Cumbrae Primary School visited the University's Technology and Innovation Centre on the 11th and 24th May where they received certificates and prizes awarded to them by the Principal. The primary 4 and 5 pupils were also delighted to meet Ms Kiara Kealoha, former member of Hawaii Green Growth, who gave a fantastic introduction to life in Hawai'i.
Pupils also enjoyed an interactive demonstration of some of the exciting robotic technologies that the University of Strathclyde has developed, with some having their portrait painted by 'Eric the Robot'.
"Went to @UniStrathclyde today with the Child and his class. Child is now determined to go to Strathclyde and study robotics. Job done beautifully! Well done to all the brilliant scientists involved." (Pupil parent, via Twitter)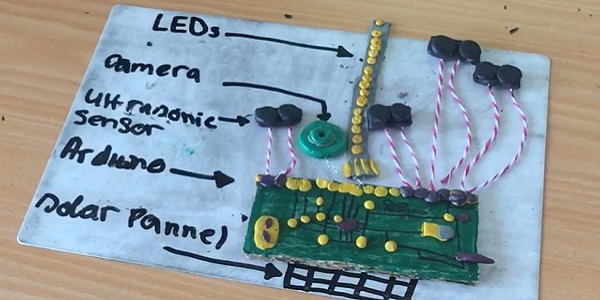 Island Explorers' Programme
Next steps for Island Explorers
Island Explorers was developed by the Strathclyde Centre for Environmental Law and Governance in collaboration with the University Research and Knowledge Exchange Service and Young Engineering Science Club Scotland.
The schools will now be represented at the annual YESC Conference on Friday 6 June at SECC. Some of the creative solutions developed by the pupils will also be displayed at the 2018 IUCN Academy of Environmental Law Colloquium on 4-6 July 2018 at the University of Strathclyde. Thanks to the ongoing collaboration with YESC the project will continue next year featuring in more primary schools across Scotland.
If you would like your primary school to be included in next year's edition of Island Explorers please contact the University of Strathclyde at publicengagement@strath.ac.uk
SDG Generation
Francesco Sindico, Co-Director of the Strathclyde Centre for Environmental Law and Governance commenting on the first year of the Island Explorer project:
"Seeing the level of engagement of pupils and schools has been amazing. While the project did give them a platform on which to start thinking about sustainability, the pupils went on and beyond and came up with exciting and innovative solutions. The Strathclyde Centre for Environmental Law and Governance is looking forward to next year and to working with more pupils across Scotland. Let's not forget that it is them who will be the SDG generation. They will be the leaders and champions in taking forward the legacy of the Sustainable Development Goals after 2030."