SCELG present at the American Society of International Law Annual Conference
On 25 June 2020 SCELG Co-Director Francesco Sindico moderated a session at the 2020 American Society of International Law Virtual Conference on "Climate Change Litigation and the Future of the International Climate Change Legal Regime". The American Society of International Law is one of the most renowned and prestigious international law organisations in the world bringing together practitioners and researchers from all fields of international law. The annual ASIL conference is a highlight for anybody working in international law.
The session featured a stellar line up of speakers: Hari Osofsky, Jolene Lin, Daniel Magraw and Laura Shay Lynes. In his initial remarks Francesco put climate change litigation in context stressing the presence of a climate emergency, the importance of the Paris Agreement and the nexus (positive or negative) between climate change and Post COVID-19 recovery. In his final remarks Francesco stressed the global nature of climate change litigation moving beyond English and the usual suspects in terms of countries. He also stressed the importance of tools for practitioners interested in better understanding climate litigation.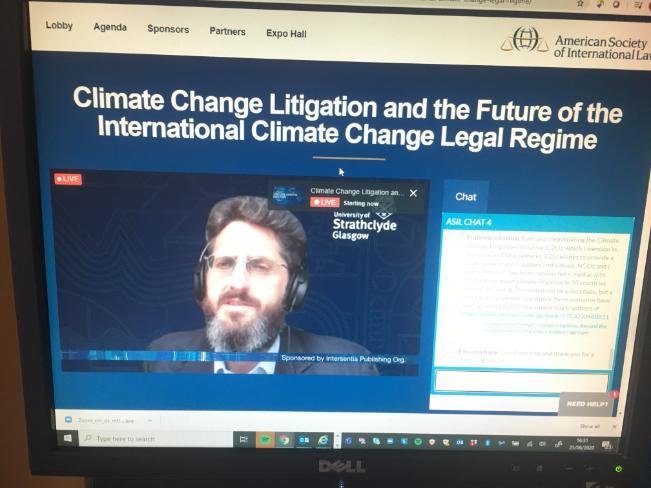 Climate Change Litigation Initiative (C2LI)
It is in this context that I mentioned the Climate Change Litigation Initiative (C2LI). C2LI wishes to provide a wide range of users (judges, individuals, NGOs and (public interest) law firms, researchers, media) with information about climate litigation in 30 countries around the world. This will not be a data base, but a more qualitative exercise where three scenarios have been assessed by national rapporteurs/authors of https://www.springer.com/gp/book/9783030468811 One key aspect of C2LI is its focus also on countries with little or no litigation and discussing and exploring the reasons for a lack of litigation and exploring previous case law that may be relevant in future climate cases. C2LI is led by SCELG, The University of Geneva Faculty of Law and the National University of Singapore Asia-Pacific Centre for Environmental Law (APCEL). C2LI will be launched at COP 26 in Glasgow in 2021.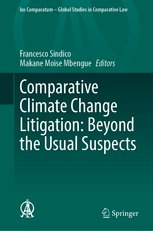 PhD projects and student collaborations
Francesco is not the only person at SCELG working on climate change litigation. Kathryn McKenzie is a PhD researcher exploring the links between climate change litigation and the law of the sea and she has worked with Francesco on C2LI since its inception. Several students on the LLM Global Environmental Law and Governance are also collaborating with Francesco and Kathryn on C2LI, just one example of post graduate students collaborating actively with staff during their studies at SCELG. Finally, next year SCELG will be joined by Amelia Brunette, a US Fulbright researcher who will start her PhD on climate change litigation and human rights.