SCELG Co-Director publishes book on International Law and Transboundary Aquifers
Jan 2021 — In December 2020 SCLG Co-Director, Francesco Sindico, has published with Edward Elgar his book titled International Law and Transboundary Aquifers. The book is the culmination of over ten years of research and professional work on this topic that started back in 2009 when Francesco was at the University of Surrey and started to work on the management of the Guarani Aquifer System. Throughout the years he established strong links with UNESCO-IHP and CEREGAS (The Latin American and Caribbean Regional Centre on the Management of Groundwater), which has allowed him to participate in international projects on groundwater governance and transboundary aquifer law in Southern Africa, Central America and, once more, in the Guarani Aquifer area.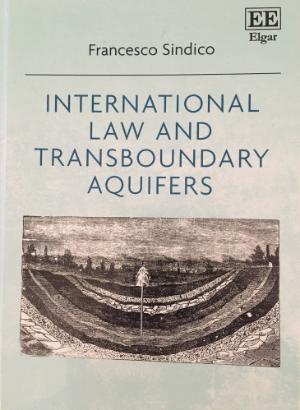 Book launch
On Wednesday 24 March from 2 to 3 PM UK time Francesco will launch the book in a webinar that will see him share the "stage" with international water law experts from around the world (Ricardo Hirata, Gabriel Eckstein, Laura Movilla, Pilar Carolina Villar, Alistair Rieu Clarke and Salman Salman). Join SCELG for an exciting journey led by Francesco in which we will discuss on whether it matters if we talk about transboundary "aquifers" or transboundary "groundwater". We will also discuss whether aspects of the international law of transboundary aquifers are crystallising into customary international law and we will conclude by debating about the future of international water law. The book launch will be chaired by Renée Martin-Nagle and you can find the recording of the event on the SCELG You Tube channel.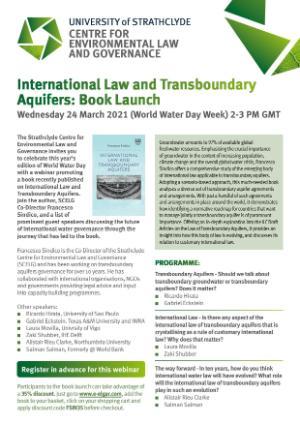 A "law" book also for "non-lawyers" and for international water management practitioners
All aspects that will be introduced in the webinar/book launch are present in the book published by Francesco. The latter begins with a practical scenario that takes the reader throughout the book making it interesting, relevant and accessible to a wide range of readers. The book does many things. It touches upon the complex hydrogeological nature of aquifers and what that means from an international legal perspective. It sketches the historical journey that leads to the current international law of transboundary aquifers. It focuses on its normative landscape and on whether elements of customary international law can be identified therein clarifying why such a determination is relevant from a practical perspective. The book concludes with an overview of the current transboundary aquifer agreements and arrangements around the world and implementation patterns that are arising. You can find further information about the book here and read its first chapter (by clicking preview) that lays out the practical scenario here.