SCELG welcomes new doctoral students
SCELG is delighted to welcome new doctoral students to our vibrant PhD community. Each of our new students are undertaking research within a wide range of inter-connected areas of environmental law and governance and bring a range of professional and academic experiences to their studies.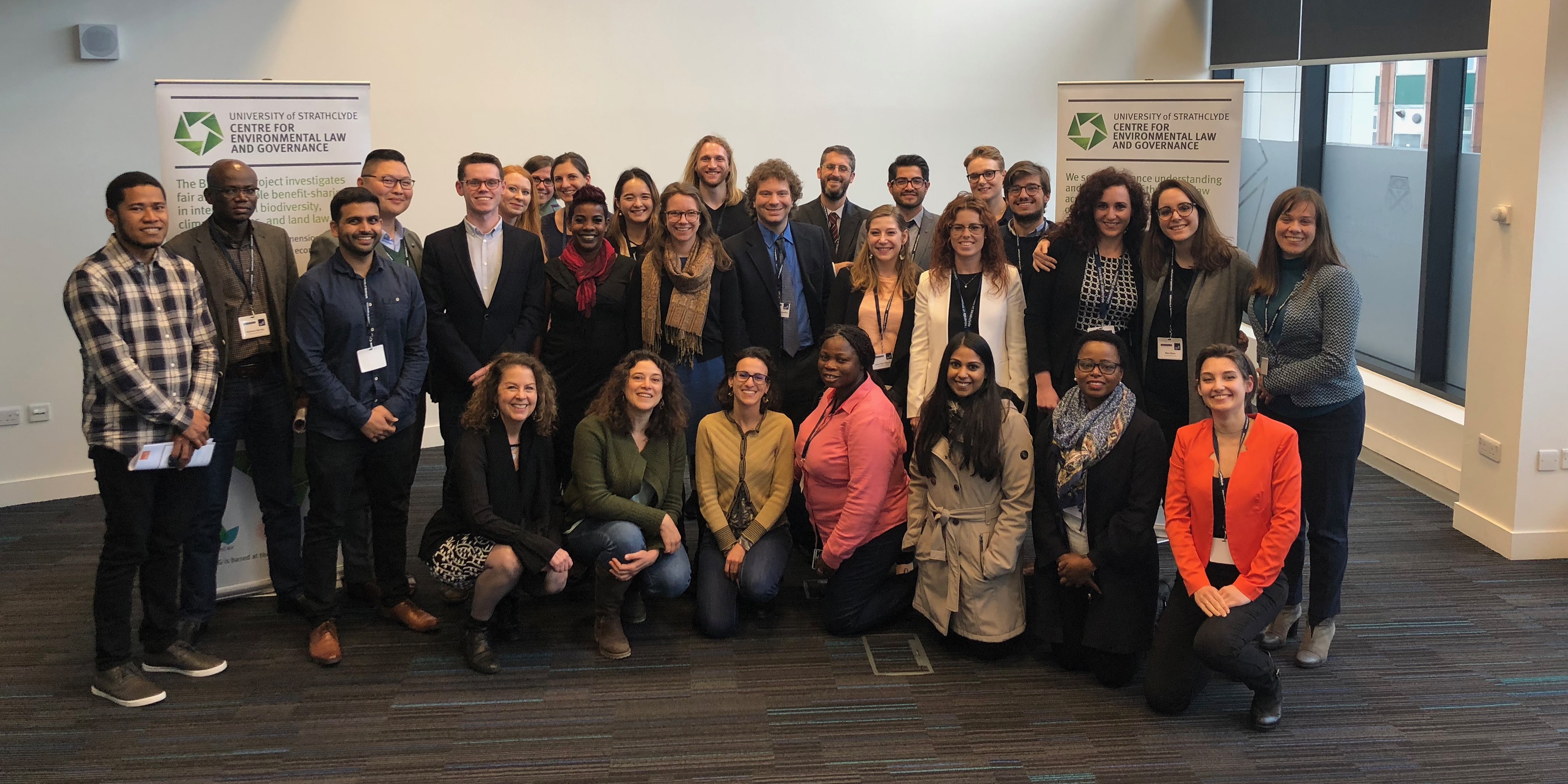 SCELG PhDs at the 2018 Colloquium
Nicola Crook
Nicola's research aims to map the extent to which current law and policy promotes the public participation of Scottish Island communities in environmental matters, with a specific emphasis on the Islands (Scotland) Bill 2018. Prior to undertaking her PhD, Nicola obtained a LLB in Scots Law and a LLM in Climate Change Law and Policy at the University of Strathclyde. She is a Member of EILEAN (Islands, Law and Sustainability), which is a research hub that seeks to highlight examples of innovative policy and management practices, enabling these to be shared between island communities, as well as providing examples of potential techniques for addressing sustainability to other regions globally. She has previously worked as a legal researcher for a leading environmental consultancy in Brussels, contributing to projects for both the European Parliament and European Commission, with a focus on the research and legal analysis of environmental law and policy. She has also undertaken research at the Sabin Centre for Climate Change Law at Columbia University in New York City, which dealt with legal issues related to sea level rise and energy law.
Graham Hamley
Before joining the Strathclyde Centre for Environmental Law and Governance, Graham worked as a legal consultant and team lead at the World Bank where he conducted comparative legal analysis on agriculture legislation in 82 countries. Graham holds an LLB (Hons) in Law from the University of Dundee and an LLM in Global Environment and Climate Change Law from the University of Edinburgh. Through his PhD research, Graham seeks to identify ways to strengthen recognition of the relationship between human health and marine biodiversity in law. Specifically, he aims to explore interconnections between the human right to health and protection of marine biodiversity, with a focus upon marine plastics, fisheries in areas beyond national jurisdiction, and deep seabed mining.
Tallash Kantai
Tallash has a Masters degree in Law and Diplomacy from the Fletcher School at Tufts University. She has been involved with multilateral environmental agreements for over a decade, working with the United Nations (UN) on forests and climate change mitigation issues, and has observed treaty-making as writer with the Earth Negotiations Bulletin. Tallash is a PhD researcher with the One Ocean Hub, studying mutual supportiveness and regime interaction in the governance of the ocean. She seeks to investigate how different bodies within the UN could work more cooperatively across sectors to fully implement the Sustainable Development Goals, particularly around the protection of the ocean.
Naomi Kenney
Naomi holds an LLM in Global Environment and Climate Change Law from the University of Edinburgh, and has a strong interest in human rights, gender equality and issues of access, use and control of natural resources. Prior to joining the SCELG, she spent seven years working with the Food and Agriculture Organisation of the United Nations (FAO), providing legal advisory services on land, forest and wildlife legislation. Her PhD research looks at the human rights implications of biodiversity finance and its role in advancing the objectives of the Convention on Biological Diversity.
Mitchell Lennon
Mitchell joined SCELG as a Research Assistant in July 2017 working on a number of projects including BENELEX and consultancies for FAO. He began his PhD at the Centre in October 2018. He has a strong interest in Law of the Sea, particularly issues around fisheries and marine biodiversity. His PhD looks at the legal issues around fisheries and marine biodiversity shifts under climate change.

Prior to joining SCELG, Mitchell earned a BSc (Hons) in Marine & Freshwater Biology from the University of Glasgow and an MSc in Marine Science, Policy & Law from the University of Southampton. His MSc thesis involved undertaking fisheries research on behalf of the UK Government during a six-month research placement under the supervision of Dr Kieran Hyder at Cefas in Lowestoft.

Mitchell then graduated from Edinburgh School of Law with an LLM in Global Environment and Climate Change Law in November 2017. Mitchell's studies focused on International Environmental Law, International Law of the Sea and European Environmental Law. His dissertation was supervised by Prof Alan Boyle and explored the extent to which Taiwan's international status is a barrier in tackling its illegal, unreported and unregulated (IUU) fishing problem.

Mitchell also undertook an internship with the Legal Office at the International Tribunal for the Law of the Sea (ITLOS) in Hamburg, Germany during the first quarter of 2018. Researching for the Tribunal's Registry and presenting a research paper entitled "Scientific and Technical Evidence in International Disputes Relating to the Environment"
Kathryn McKenzie
Kate recently completed her LL.M. in Global Environmental Law and Governance at the University of Strathclyde. Before joining the Centre, Kate worked as a conflict resolution professional focusing on mediation and inter-organizational relationship building and conflict prevention. She holds a Juris Doctor from Capital University Law School in Columbus, Ohio and a Bachelor's Degree in Classical Voice Performance from The Boston Conservatory of Music. Through her research, Kate seeks to investigate the role of dispute resolution mechanisms to support the empowerment of vulnerable communities, women and children, including traditional knowledge and indigenous peace-making approaches, to contribute to management practices and decision-making on ocean conservation, sustainable use of marine resources and the blue economy.
Linda Mensah
Linda 's research seeks to employ a multi-disciplinary approach to examine the legal transitions towards achieving an inclusive and sustainable artisanal and small-scale mining (ASM) in Ghana. Her research analyses the prevailing trends in ASM formalisations and explores how customary and informal laws can be centred in the global, regional and national dialogues towards maximising the developmental potential of ASM. Linda is also passionate about the Sustainable Development Goals (SDGs) and will further examine how customary and informal laws can be mobilised in the delivery of the SDGs, particularly the achievement of equal access to land and control over mineral resources, gender equality and the rule of law in localised ASM spaces.
Prior to joining SCELG for her PhD, Linda worked as an in-house legal officer and taught Ghanaian Tourism and Hospitality Law part time. Linda was called to the Ghana Bar in September 2011 and obtained her LLM in International Law and Sustainable Development with distinction from the University of Strathclyde as a Chevening Scholar in 2016.
Willem Odendaal
Willem joined the SCELG team in November 2018. He is an admitted legal practitioner in the High and Supreme Courts of Namibia. He has been affiliated with the Legal Assistance Centre (LAC), Namibia's only public interest law firm, for the last 20 years. Willem has conducted extensive socio-legal research on topics such as the Namibian Land Reform Programme, the Community Based Natural Resources Management Programme and Indigenous Peoples' land and environmental rights. Willem has also done comparative research on post resettlement support in Namibia, South Africa and Zimbabwe. He also has research experience in Kenya, Uganda, Cameroon and Ghana.
Willem's PhD project is focusing on how the Namibian Constitution, International Law and Comparative Law have shaped the Namibian land reform policy and legislative framework since the country became independent from South Africa in 1990. Willem is particularly interested the debates about transitional justice and how the Namibian Constituent Assembly negotiations have set the groundwork to decolonise law.
Willem is currently coordinating a US funded project on "Indigenous and marginalised peoples' land rights in Namibia". Willem uses this opportunity to test, develop and strengthen some of the theories he is grappling with at the moment in his PhD project.