Emerging Talent Award for Professor Eva Hevia
We are pleased to announce that Professor Eva Hevia of the Department of Pure and Applied Chemistry has been presented with the Emerging Talent Award 2016.
This prestigious Emerging Talent Award, sponsored by Banco Santander Foundation and SRUK, recognises outstanding young Spanish scientists in the UK. Through her countless achievements, Prof Hevia is held up as an inspirational role for women in science, and this award further encourages and strengthens the bridges of knowledge transfer between UK and Spanish scientific researchers.
Congratulations to Professor Hevia on this fantastic achievement.
Full details can be found in this article at naturejobs - The talent prize that flies the Spanish flag for organometallic chemistry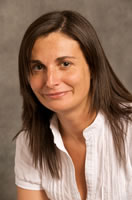 Professor Eva Hevia