Top International Award for University of Strathclyde Professor
We are proud to announce that Professor Karen Faulds of the Department of Pure and Applied Chemistry at Strathclyde University has been selected as the 2016 winner of the prestigious Craver Award.
The internationally renowned award is presented on an annual basis by The Coblentz Society, to an outstanding young molecular spectroscopist whose efforts are in the area of applied analytical vibrational spectroscopy. The Craver Award will be presented at the 2016 SciX Conference to be held in Minneapolis, USA, where she will give a Plenary Lecture in Applied Vibrational Spectroscopy followed by a separate half-day award symposium of five invited presentations.
Professor Faulds' research involves the development of surface enhanced Raman scattering (SERS) for novel analytical detection strategies, and in particular multiplexed bioanalytical applications. SERS is a spectroscopic technique that offers significant advantages over other established techniques such as fluorescence. Professor Faulds' research has highlighted these advantages by creating new examples of increased capability predominantly in healthcare applications.
Karen Faulds received her PhD from the University of Strathclyde in 2003, and since then has achieved outstanding success, being promoted to Professor in 2015. She has published over 100 peer reviewed primary publications and 7 invited book chapters, as well as being presented with numerous other awards over the years; including the Nexxus Young Life Scientist of the Year Award in 2011 and the RSC Joseph Black Award in 2013.
Karen has also been elected as the first female and youngest Chair of the Infrared and Raman Discussion Group (IRDG), the oldest spectroscopic discussion society in the UK. She is the Strathclyde Director of the Centre for Doctoral Training in Optical Medical Imaging and has been invited to speak at over 70 national and international conferences.
Professor Faulds is currently involved in training 24 PhD students and 8 PDRAs, either as principal supervisor or co-supervisor here at the University of Strathclyde. We are sure that her outstanding achievements will be a true inspiration to them and to future generations of chemists.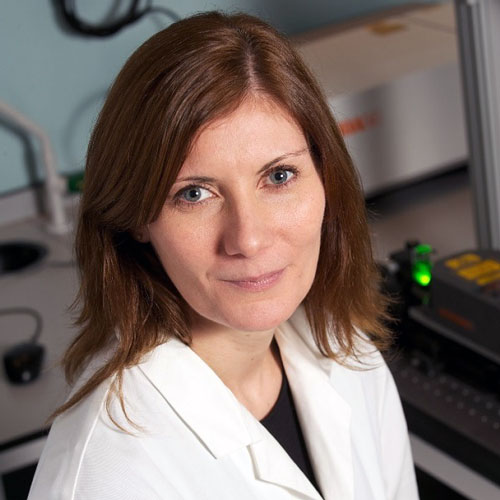 Professor Karen Faulds