SUPA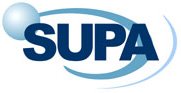 Eight Scottish Universities have come together to form a research alliance in physics:
Heriot Watt University
University of Aberdeen
University of Dundee
University of Edinburgh
University of Glasgow
University of St Andrews
University of Strathclyde
University of the West of Scotland
The aim is to place Scotland at the forefront of research in physics through an agreed national strategy, an inter-institutional management structure, and coordinated promotion and pursuit of excellence.
Adopting a coherent approach to staffing strategy, research training, research initiatives and funding opportunities, SUPA will pool and enhance Scotland's strongest physics research areas. It will develop as a world leader in physics, creating the largest group of physics researchers in the UK. It's also intended as a single 'front door' for potential staff, sponsors, and industrial collaborators.
Further information