Campus Tree Trail - Every Tree Tells a Story
Working in partnership with Every Tree Tells a Story, Strathclyde Sport's ExHALE and Sustainable Strathclyde this tree trail identifies trees in and around the University campus which can be explored on foot.
Designing this route we have identified a number of tree locations, describing the tree and its surroundings, seeking to encourage walkers to explore and wayfind between each tree according to their own choices and needs.
James Bonner, Every Tree Tells a Story:
Walkers can choose to visit as many, or as few locations, as they wish – adapting their route according to the weather conditions, or how they are feeling. Take the trail alone, or with others, and try to take some time out to appreciate each tree, including how they change throughout the year. We hope this tree trail will benefit your health and wellbeing by encouraging you to spend some thoughtful time outside, as well as drawing attention to nearby trees and nature that benefit and inspire us every day!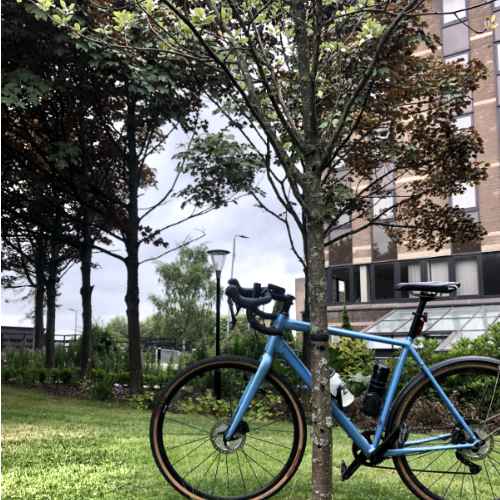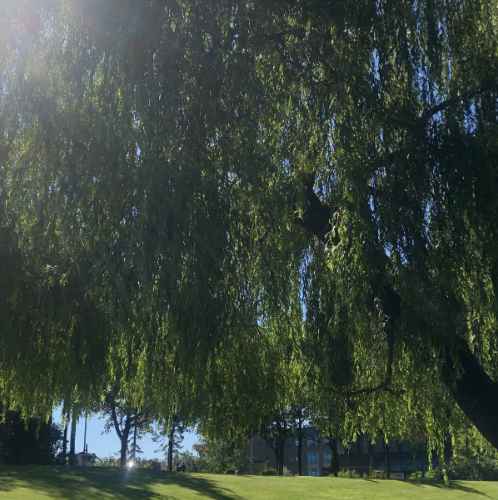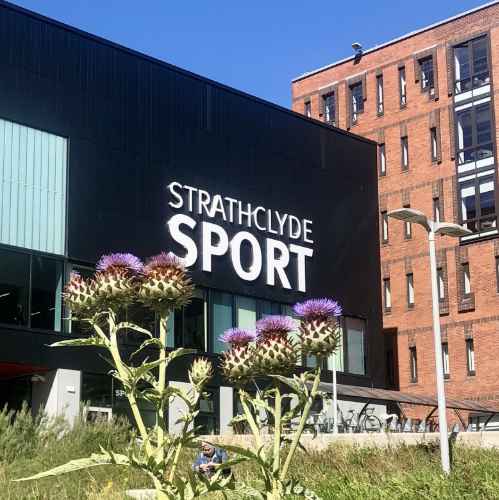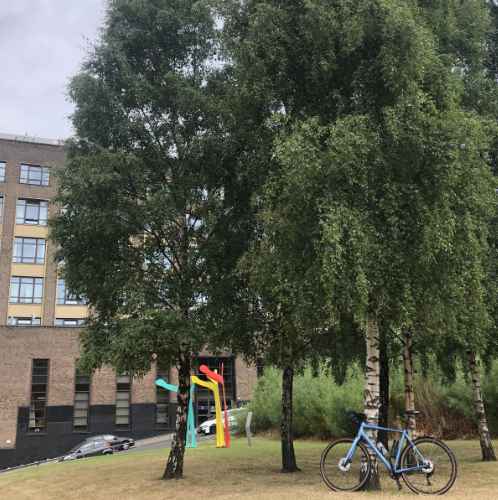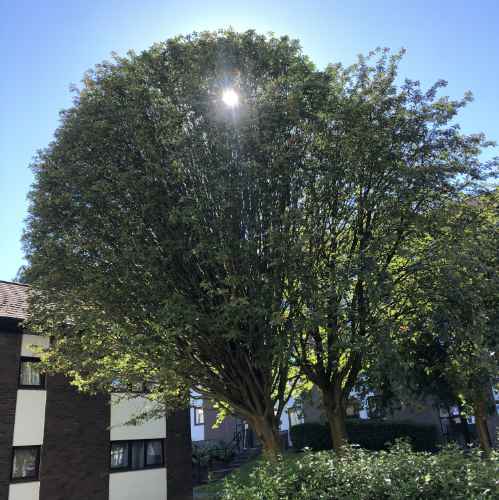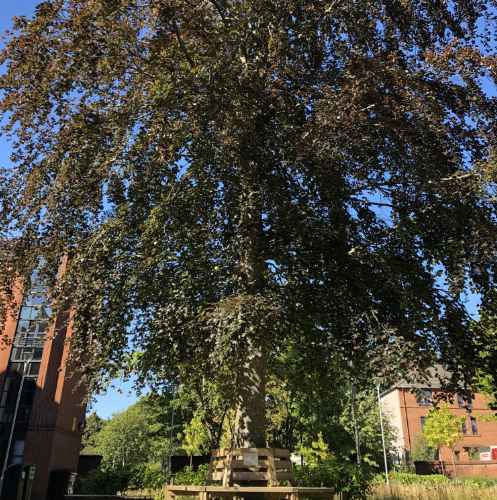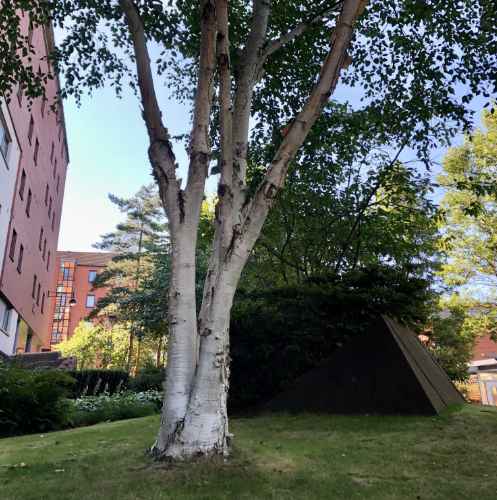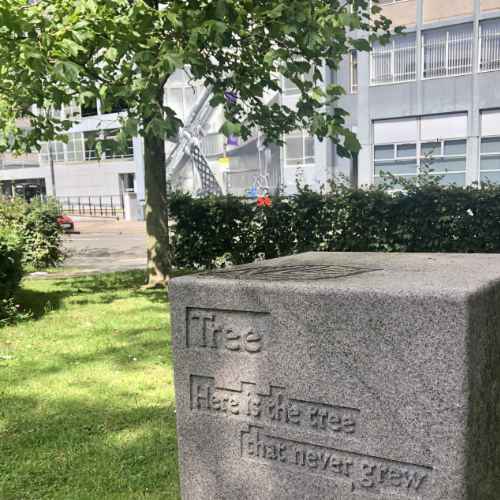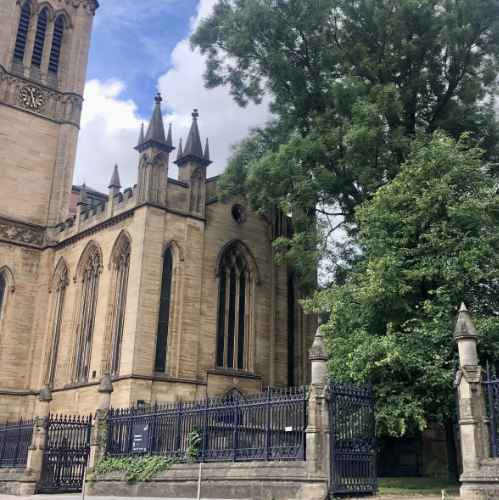 Here is a full list of the trees in our route:
Location
Type
Other
Molière Memorial Tree
Architecture garden
Rowan-Whitebeam
(Sorbus Aria)
Memorial tree and plaque with a quote from French writer Molière, situated in the scenic architecture gardens within campus.
Weeping Willow
Architecture garden
Weeping Willow
(Salix Babylonica)
Planted in 1977 and surrounded by "Callanish" (also known as Steelhenge), a distinctive sculpture and landscaping installation constructed in 1974.
Big Thistles
Library/Sports centre
Thistles
(Echinops)
Not strictly a tree- but thistles are Scotland's national flower! There is a Breathing Space bench nearby to allow you to rest and reflect amongst the wildflowers.
Rottenrow Birches
Rottenrow gardens
Birch
(Betula Pendula)
A group of welcoming birch trees close to the "Hope Triptych", built in 2021 for COP26 to reflect the scale of the climate emergency.
Collins Street Tree
Gardens at halls of residence
Copper Beech
(Fagus Sylvatica Purpurea)
This tree is in an energising garden, surrounded by a circular bench and next to a Breathing Space bench to allow to you to pause and re-energise.
Garnet Hall Rowan
Courtyard in the halls of residence
Rowan- Whitebeam
(Sorbus Aria)
In Scottish folklore Rowan trees are known as "trees of life" and are said to symbolise courage, wisdom and protection.
Millennium Gardens Birch
Entrance to Millenium Gardens
Birch
(Betula Jacquemontii)
A distinctive birch tree welcoming visitors at the entrance of the Millennium Gardens.
Ramshorn Theatre Giant
Ingram Street
Ash
(Fraxinus Excelsior)
The Ramshorn Theatre is a former church building, and this huge tree near the entrance reaches almost the top of the tower.
Deanside Well Garden
George Street, opposite Graham Hills Building
...
An artistic reference to a tree in a garden on George Street, the site of what was a water well. Stone sculptures refer to the Glasgow Crest- including the 'tree that never grew'.
*A thank you to the fantastic grounds and gardens team within Estates for providing us with the above information on our trees.
We'd love to hear your thoughts?
We want to know about your relationship with trees. Do you have a favourite, a tree (or place of several trees) that you've always admired, or maybe one you've cared about? Is it a tree from your past, or one you know now? Where in the world are those trees?...
After all, every tree tells a story... and we would love to hear yours!
In addition to the 9 trees on the trail, there are some other trees included in the map.
Why not try to find these trees, take your own photos of them, and send them to the Every Tree Tells A Story social media channels:
@everytreetellsastory on Instagram
@everytree_ on Twitter
Everytree.uk our webpage
Send us other trees you notice and admire around campus, and perhaps they'll make it on the map too! Google map of our Campus Trees