Accommodation

Postgraduate students
Accommodation in Glasgow remains in high demand ahead of academic year 2023-24.
Places in University accommodation are limited and consist of a range of room types, both on and off campus.
If your home address is within a 25-mile radius of the Strathclyde campus, you can still apply but we are unlikely to be able to offer you a place in University accommodation. Exceptions will apply to applicants with extenuating circumstances and those with SIMD Quintile 1 and 2 home postcodes.
Applications for accommodation
Applications for accommodation for September 2023 entry will open on 18 April 2023.
Applications for accommodation must be submitted online by the following dates to be considered for an offer of accommodation. Applications received after the deadline dates will be held in our University files for future consideration for term 2023/24.
| Student group | Applications open | Deadline for submitting your application | Deadline for conditions to be met |
| --- | --- | --- | --- |
| New undergraduate students | 18 April 2023 | 30 June 2023 | 22 August 2023 |
| New postgraduate students | 18 April 2023 | 25 August 2023 | 25 August 2023 |
| All eligible continuing students | 18 April 2023 | 30 June 2023 | n/a |
Private housing options
Given the unprecedented nature of demand, we encourage all students to consider private housing options across the city of Glasgow and surrounding areas.
Our Student Union has provided a handy 'house hunting starter guide full of information on other types of accommodation available in the area and guidance to help you apply.
Family accommodation
University accommodation is only suitable for single occupancy. If you require family accommodation please make use of the guidance provided to help you source alternative accommodation. We recommend that you book your accommodation in advance of travel to Glasgow.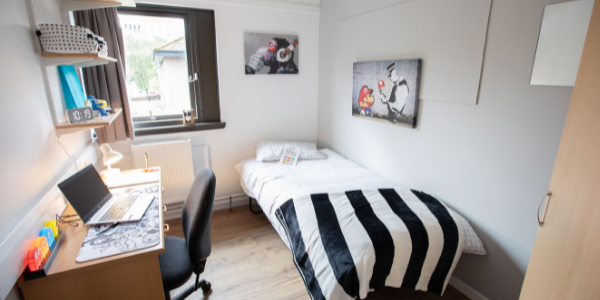 Standard Room - £110.25 per week (2023/24)
Single room
Laundry facilities (extra charge)
What's included
Utility bills
Contents insurance
WiFi
24/7 support
* Image of Birkbeck Court bedroom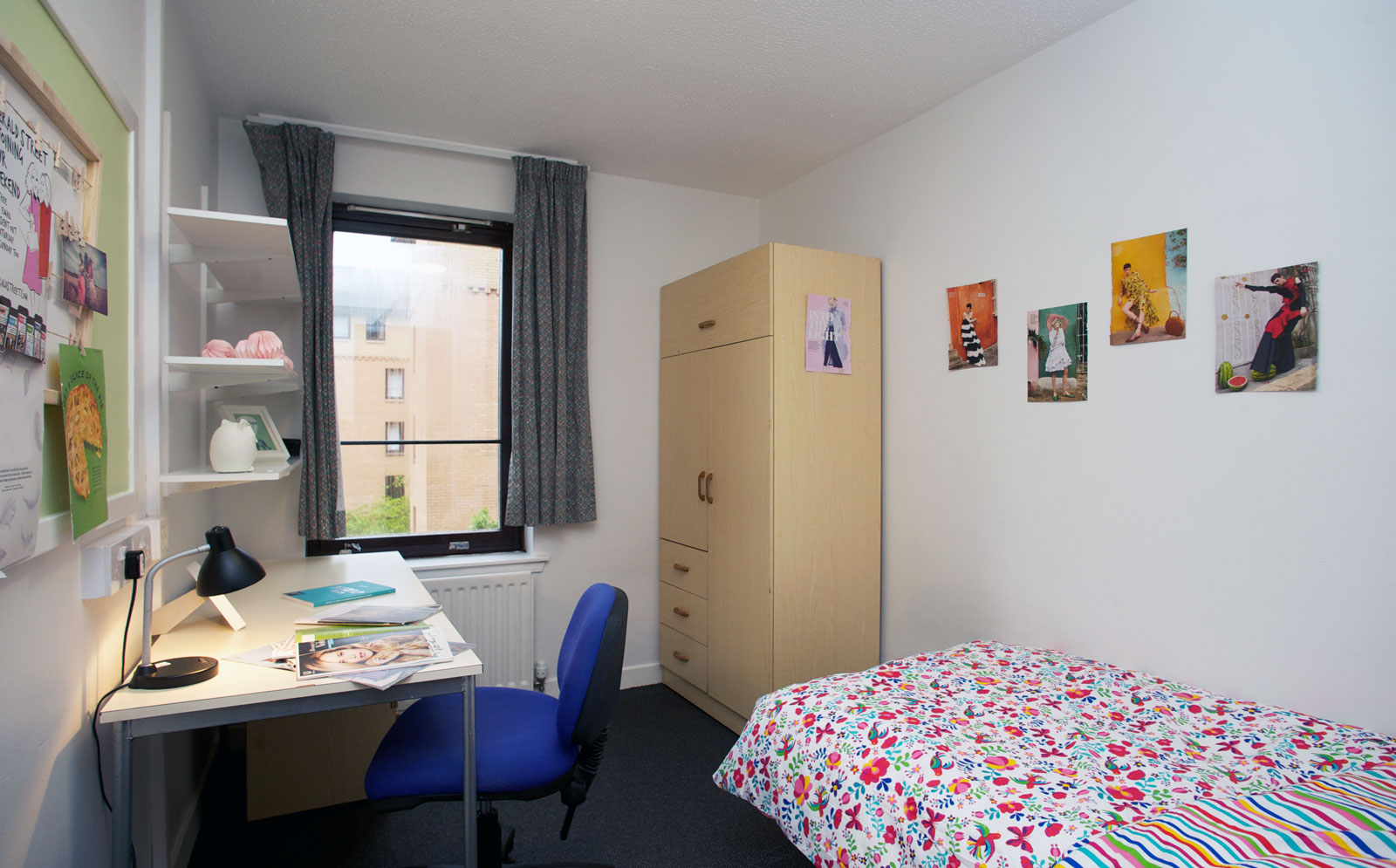 Standard room with wash hand basin - £116.62 per week (2023/24)
Single room with wash hand basin
Laundry facilities (extra charge)
Car parking onsite at Andrew Ure Hall (extra charge)
What's included
Utility bills
Contents insurance
WiFi
24/7 support
*Image of Andrew Ure Hall bedroom
Standard ensuite room - £149.45 per week (2023/24)
Single room with ensuite bathroom
Laundry facilities (extra charge)
What's included
Utility bills
Contents insurance
WiFi
24/7 support
*Image of James Goold Hall bedroom
Off Campus Ensuite - 2023/24
Buchanan View 51 weeks £156 per week
Boyce House 51 weeks £173 per week
Bedroom with ensuite
Walking distance to University
Laundry facilities (extra charge)
What's included
Utility bills
Contents insurance
WiFi
24/7 support
* Image of Buchanan View bedroom