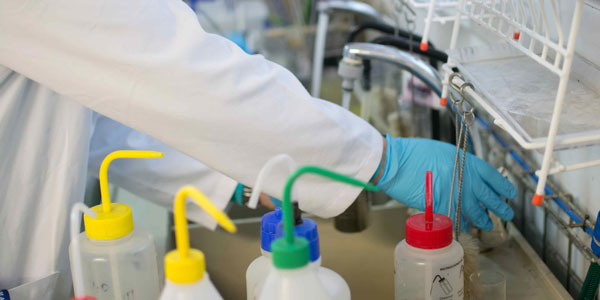 Apprenticeship Degrees blog

Meet our Chemical Engineering DA, Izzy
I could say I have always wanted to be a Chemical Engineer ever since I was little but that would be far from the truth...
I picked Mathematics, Chemistry and Geography A levels solely because I enjoy these subjects; not knowing where they could take me in the future. I had never thought about Chemical Engineering as an option for me, especially through an apprenticeship. I feel this route was, and still is, underrepresented throughout school. Through my own research, I discovered this apprenticeship at GSK and only understood more what a Chemical Engineer does throughout the interview process; then I decided it would be perfect for me. Beforehand, I assumed (like most people) it was all chemistry and laboratories. I now know this is not the case; the career is so much more than this.
About my role...
My role revolves around using mathematics, physics and chemistry principles to resolve problems relating to the production of specific antibiotics, along with using innovation to improve these production processes. Since beginning my apprenticeship, I have been involved in an array of tasks ranging from derouging chemical clean designing to barrier safety studies- things that I had no idea about, but already within my first year I am familiar with and even adding value to improvements around these which contribute to the overall business goals.
University Life...
I attend university remotely on day release and therefore will gain a BEng Hons Chemical Engineering Degree. There are so many aspects involved with Chemical Engineering in a variety of sectors and I cannot wait to explore these in the future.
I really enjoy the uni side of things and can confidently say the course is very well aligned to my needs and has met my expectations. The course facilitates the perfect balance between independent study and aided study for me personally. It is a very flexibly designed that aligns with my work schedule and also provides necessary deadlines to ensure my own consistency of study throughout the course. No doubt some of the work is challenging, however, Strathclyde definitely provides an array of resources to simplify the understanding of difficult concepts.
Beginning my apprenticeship, I was initially worried about the degree course being delivered online. However, I have soon realised the quality of teaching hasn't wavered and if anything, has allowed more reliable teaching throughout the pandemic
My career path...
Although my career path has not always been clear to me, my aspirations certainly have. I have always known I want to constantly develop my knowledge and be able to use it to make meaningful change in the world. I am only just starting out my engineering journey, but I am already picking up the knowledge and skills to facilitate this aspiration. Once I have finished my apprenticeship, I look forward to becoming chartered and moving into a career further down the country or even abroad; wherever opportunities prevail themselves.
My advice...
My message to everyone is to be informed about all your options. Only then will you be able to make an informed decision as to what career is right for you.
I look forward to progressing through my degree with the support of GSK and Strathclyde.
Blog written by Izzy Sloan, 2nd year chemical Engineering DA who works for GSK