Intergenerational Work
"Intergenerational practice aims to bring people together in purposeful, mutually beneficial activities promoting greater understanding and respect between generations, and contributing to building more cohesive communities." (The Beth Johnson Foundation, Centre for Intergenerational Practice)
As intergenerational practise gains a higher profile within the voluntary and public sector, and is linked to several policy areas within the Scottish Government, The University of Strathclyde is currently undertaking a range of activity to be a leader in this area.
Intergenerational Mentoring Network
The Intergenerational Mentoring Network was set up in 2006 and focuses on young people living in the most disadvantaged areas of Scotland who have an interest in entering Higher Education but may not have the access to the necessary knowledge and advice in order to realise this. The Network recruits volunteer older adult mentors to offer one-to-one support to challenge and inspire young people to plan their futures.
Design for All Project
In June 2021, a group of adult learners from CLL and students from the Department of Design, Manufacturing and Engineering Management (DMEM) came together to work on unique 8-week pilot course 'Design for All'.
The free online course was created for budding product designers to uncover and develop their creative talents. The course guided students through the key stages of design - including research, concept design, making prototypes, and testing.
The unique, collaborative, intergenerational project involved each CLL student being paired with a University design student. The pairs were encouraged to work through each stage of the course together to support and learn from each other throughout the experience. You can read more about the project here: Design for All | University of Strathclyde
Intergenerational Language Exchange
In 2020, students of French at CLL were invited to take part in an 'E-Café' – a language exchange meeting online organised by NovaTris, the Centre for Cross-border Skills at the Université de Haute-Alsace in France.
This exciting intergenerational opportunity allowed CLL students to engage with younger French students online and have fun practising their language skills together. Since then some students have also now been matched with an individual language exchange partner for one-to-one online practice that has been a great success so far.
If you are interested in learning more about being matched with an online language partner, please contact Gemma.Gilliland@strath.ac.uk for more information.
Sharing Childhoods 2 (SACHI2)
From 2016 - 2018 The Centre for Lifelong Learning was a partner in an Erasmus + project, Sharing Childhoods 2 (SACHI2) which aimed to increase the active participation of over 50s in local communities through knowledge and experience sharing with primary school children aged 10-12 years old.
The main aim of the project was to increase positive interaction and improve relationships between children and older adults, as well as positively contributing to the development of foreign languages within Glasgow Primary Schools.
Generation for Generation
The research team from the School of Psychological Sciences and Health launched a school-based intergenerational research project "Generation for Generation" in the West Lothian area in September 2018. This programme was designed to promote health and wellbeing in adults aged 60 and above and to improve children's success in school. It also aimed to bring the generations together and build stronger and better-connected communities. The programme volunteers aged 60-85 years were helping young children in primary schools (P1-P4) with their reading, writing, numeracy, and other school activities. They were asked to help in a local school for 4 hours over 2 school days, for 6 months. The last group of volunteers will finish their involvement at the end of March 2020. This programme has the potential to benefit the adult volunteers, as well as help the children and schools involved.
For more information about the study please email anna.krzeczkowska@strath.ac.uk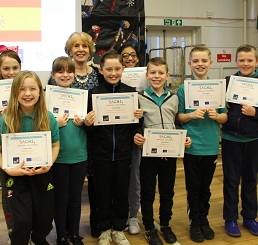 SACHI2 final session in Glasgow