Meet Melanie Smith from Ayr, currently in her third year at Strathclyde studying the BSc Speech and Language Pathology degree.
Hear how our pre-entry access course granted her the opportunity to change her career path…
What first attracted you to taking the Pre-entry Access Course at the Centre for Lifelong Learning?
I was attracted to the Pre-entry course as it was a route for me to study to gain access onto the BSc Speech and language pathology degree. As a mature student the options for studying while being able to work full time are very limited. The pre-entry course allowed me to have income from employment while also studying and preparing for uni. The fact that pre-entry takes place at uni on campus was a huge factor for me and allowed me to familiarise myself with the campus.


What were you doing prior to the Pre-entry course?
Prior to pre-entry I was in full time employment working as a support worker with people with learning disabilities in the community. The experience that I gained from employment I believe has been very valuable upon studying at degree level.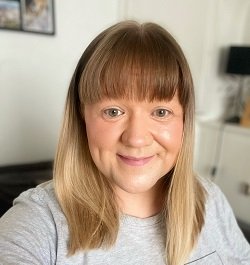 What did you enjoy most about the course?
On pre-entry I enjoyed the variety of subjects available, at 8 weeks per module they really do fly by but it feels like a short snippet into uni life. The subjects I studied were English, History and Psychology and these were the subjects recommended in order to progress onto studying BSc Speech and language pathology at Strathclyde.


What do you find difficult about the course?
The most difficult aspect of pre-entry was writing assignments and completing an exam. This was the first time I had completed any kind of assessments in 18 years and it was daunting. But the university staff fully prepared me to be able to cope with assessments and were very supportive and motivating.


What are your thoughts on the range of modules on offer?
The range of modules available are fantastic and are very diverse depending on what you want to study at degree level. I chose English, History and Psychology as I wanted to study BSc Speech and language pathology. There were other options for students who wanted to go on to study law, teaching, business and more.

What advice would you give to a prospective student coming to study your course?
My best advice would be to take on board everything that the lecturers tell you, they give so much information and it is so valuable and has shaped me into the student I am today. Enjoy the course, work hard but also enjoy yourself! The friends I made on my pre-entry course are still friends I am very close to now 3 years later. At degree level, it always helps to have other mature students who you can reflect on adult learning with.


What are your plans once you complete the course?
I completed Pre-entry in 2020, I am currently a 3rd year undergrad student studying BSc Speech and language pathology. After I complete my degree, my aim is to work as a Speech and Language Therapist. I would honestly say that without studying pre-entry I would not be where I am today!
Applications for pre-entry access course 2023/24 are now open – visit our website for more information and to apply.