A genealogy student has won a National Genealogical Society (USA) competition for her work on a local genealogical society newsletter.
Stephanie Glotfelty, a student on the Genealogical Studies Postgraduate Diploma programme, along with her co-editors won the 'small genealogical society newsletter' category at the National Genealogical Society Conference in Richmond, Virginia on the 31st of May.
The National Genealogical Society newsletter competition is open to societies large (500 + members) and small (under 500 members) whose newsletters are produced by volunteers.
Entry to the competition was in the form of two consecutive newsletters which were scored using the following criteria:
material interest, variety, and originality.
writing and editing quality.
readability and attractiveness; and
overall publication makeup.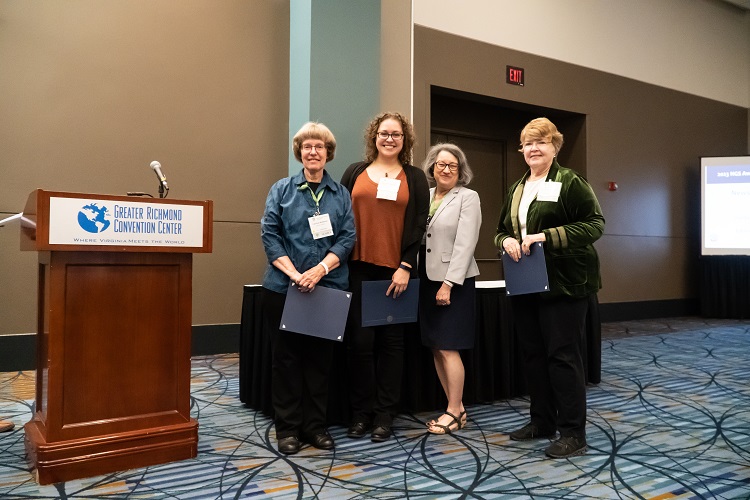 (photo: left to right is Caroline Brethauer, Stephanie Glotfelty, Judy Nimer Muhn (NGS Chair, Awards Committee), and Ruth Sando)
Stephanie and her co-editors Caroline Brethauer and Ruth Sando were recognised for their outstanding work on the Fairfax Genealogical Society (Fairfax County, Virginia) which has between 300-400 members. The team prepare content, edit and format five issues per year (September, November, January, March, and May). Some of the articles produced in the newsletter have included topics ranging from scanning projects at the National Archives of a "Colored Troops" Union regiment based in Arlington, Virginia, during the US Civil War to the intricacies of census records to using Revolutionary War Bounty Land Claim rejection papers to break down a brick wall.
Stephanie said 'I've learned a lot in writing the assignments for the Strathclyde program, which I've applied to the newsletter. I'm in the last module of the Postgraduate Diploma at the moment and I hope to continue on to the MSc starting this autumn'.
The winning team and now looking ahead to the society's 50th year – and although they aren't allowed to enter the NGS competition again for 5 years – they have an exciting year of news and stories focusing on their 50th anniversary ahead!
Interested in studying genealogy? Find out more today.