Learning & Teaching Building

What's inside
The student journey
The whole idea of the Learning and Teaching building is to focus on all aspects of the student journey - from your very first days at Strathclyde to graduation and beyond.
In the new building, the majority of our student support services will be available to you under one roof.
Take a look below at a selection of what the Learning and Teaching building has to offer.
State-of-the-art facilities for students
The Learning and Teaching building will include:
a 400-seat lecture theatre with a sky wall divider
break-out rooms for social learning
tutorial rooms
more than 50 small meeting and group work spaces (these spaces will have the ability to beam content from group desks to main screen and vice-versa)
rooms will use high definition, wide-angle intelligent cameras. If your friends dial in on Zoom or Teams, you can see whoever is talking, even if they're not directly in front of the screen
LCD panels on trolleys - these will allow you to turn almost any space in to a collaborative working space
lecture theatres with high definition screens. The theatres will have the ability to beam out audio and video to every other room in the building
Wellbeing & student support
As well as focussing on all aspects of the student journey, the Learning & Teaching building will have a big emphasis on wellbeing. Student support services available in the building will include:
access, equality & inclusion
accommodation desk
careers & employability
counselling
disability & wellbeing
international student support
wellbeing room (including provision for yoga, meditation and hypnotherapy)
Our student support services will have much more visibility in the new building and there will be much greater flexibility between services.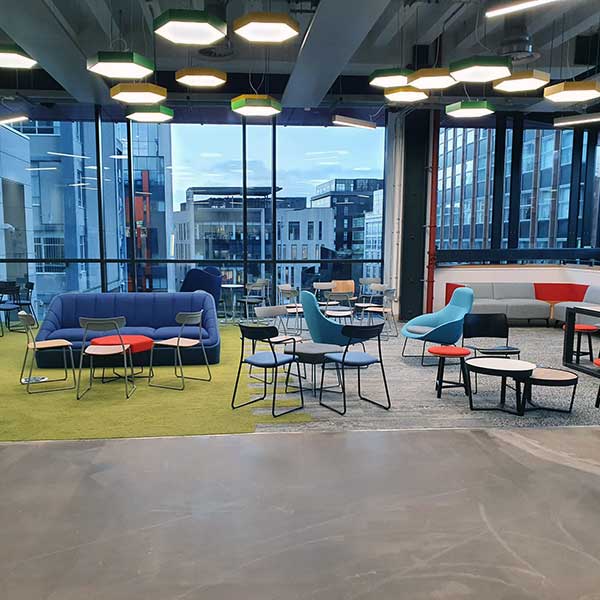 Seated area inside Learning & Teaching Building.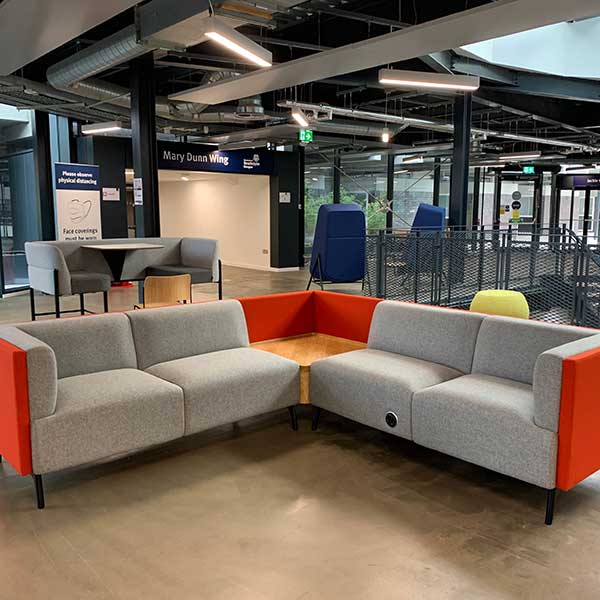 Sofa in Learning & Teaching Building.
Food & drink
The new building will have plenty of options for keeping you nourished and refreshed! Take a look at some of the options below:
'Grab & Go' counter for busy days when you want to eat well on the move. There will be a wide variety of salad options and sandwiches
Made to Order Counter where you can choose your food, your way. Food options will include delicious soups, stews and curries with a great range of sides
self-order on screens and relax, while we make your food!
our coffee cart will provide fresh, piping hot coffee and sweet treats when you're taking a break from lectures or catching up with friends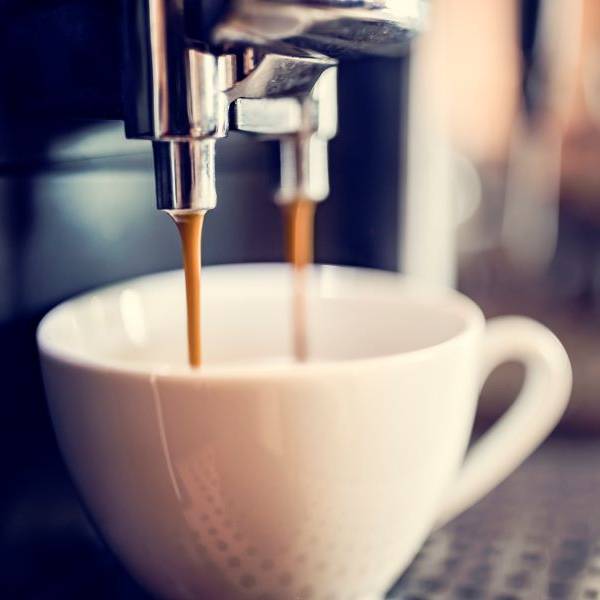 I have no doubt that the new Learning and Teaching building will be transformational for Strathclyde, as it brings the student experience right into the heart of the campus and gives a proper space for our student community to naturally thrive and flourish.

It will be great for students to get the opportunity to use the state-of-the-art facilities and to see the natural innovation that this inspires, so that not only students getting the most out of the building, but also to enable us to get the most out of each and every one of our students.
Kayla-Megan Burns
President, Strathclyde Students' Union
Strathclyde Doctoral School
The Learning and Teaching building will create a dedicated, University-wide space for our postgraduate researcher community at the heart of the campus.
The new space will enable postgraduate students to meet and get together with others from across the faculties, as well as offering hotdesking facilities for research students.
Based on Level 7 of the building, the space is flooded by natural light with great views across Glasgow! It will be a home for events and training run by the University and the Doctoral Researchers Group.
Co-location with student-facing services, including student services and the Students' Union, will mean that postgraduate researchers have easy access to the wider facilities within the building, including state-of-the-art study and knowledge exchange spaces and a range of catering options.
We are constantly striving to enhance the experience of our postgraduate research community and we see this location within the Learning and Teaching Building as an important part of this. Our new space will be open and welcoming and we look forward to seeing you there soon.
Eleanor Shaw
Associate Principal & Director of Strathclyde Doctoral School