Campus update

Wolfson Building
We have completed the £15.5 million redevelopment of the Wolfson Building, establishing it as the centre of Strathclyde's UK-leading Department of Biomedical Engineering.
Our new investment in Wolfson will help the department to capitalise on its successes and expand its teaching and research capacity. The Wolfson's first-class research and teaching facilities will help to provide an enhanced experience for current and future students and staff. Watch our fly-through video below.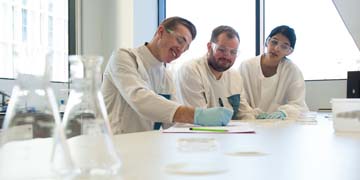 This exciting, innovative and bold redevelopment project has seen the transformation of Biomedical Engineering Facilities at the University of Strathclyde, including:
new research and teaching laboratories
modern, flexible teaching facilities
increased office accommodation for staff and students
new social and engagement spaces for students.
Images courtesy of Wellwood Leslie Architects and Multivista

Wolfson Building Gallery