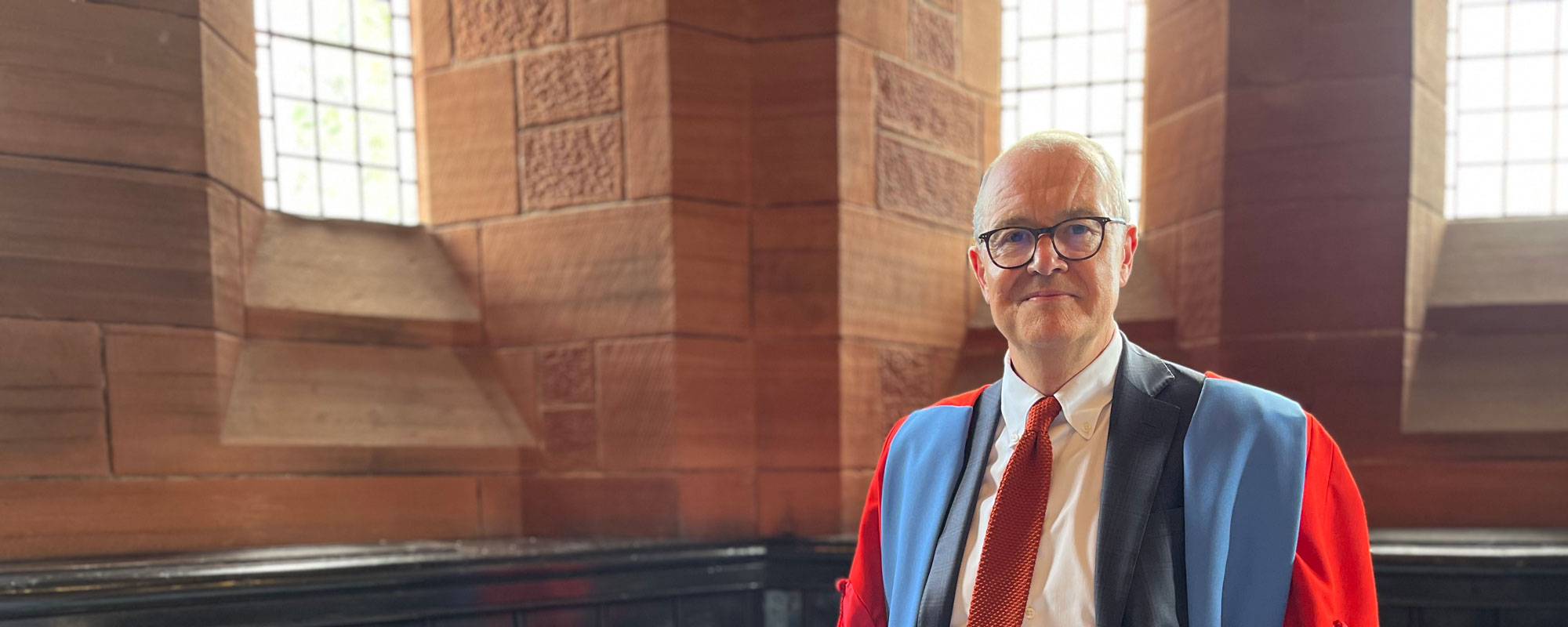 Honorary Degrees

Sir Patrick Vallance
Meet Patrick
Patrick Vallance is a British physician, scientist, and clinical pharmacologist who's worked in both academia and industry. He served as the Chief Scientific Adviser to the UK Government from 2018 to April 2023. He is also the National Technology Adviser (NTA) and Head of the Government Science and Engineering (GSE) Profession.
Early career
After studying medicine at St George's, University of London and gaining a BSc degree in 1981, followed by a Bachelor of Medicine, Bachelor of Surgery (MBBS) in 1984, his initial career was in academia. He began with teaching at St George's Hospital Medical School and then as a professor at UCL Medical School where he became head of medicine. He was also registrar at the Academy of Medical Sciences. His research concentrated on vascular biology and endothelial cell physiology and included studies that demonstrated the link between nitric oxide and blood pressure.
GSK
In 2006, he joined GSK as head of drug discovery, becoming Senior Vice President for medicines discovery and development, and in 2012 was appointed President of R&D, becoming a member of the GSK Board and the Corporate Executive Team. Under his leadership, new medicines for cancer, asthma, autoimmune diseases, and HIV were discovered and approved for use worldwide. He has championed open innovation and novel industry-academic partnerships globally (including between GSK and Strathclyde) and maintained a focus on the search for new antibiotics and treatments for tropical diseases.
Scientific Adviser
In April 2018, he began his tenure as Chief Scientific Adviser (CSA) to the UK Government, advising the Prime Minister and the cabinet. In 2018, he was one of nine scientific advisers who, in a paper in Nature, called for "inclusive, rigorous, transparent, and accessible information for policymakers" and supported the Evidence-Based Research Network, established in 2016, to "lobby for all proposals for new research to be supported by references to systematic reviews of relevant existing research". Patrick became known nationally during the Covid crisis through his many appearances on TV and radio often alongside the Prime Minister, Secretaries of State, and other officials such as CMO Professor Chris Witty.
Few people have had as successful and high-profile careers in academia, industry, and public service as Sir Patrick Vallance. If you add to this his role as CSA during a pandemic, the evidence is clear of his exceptional service to society.
Watch
Watch Sir Patrick Vallance receive his Honorary Degree, and hear what he had to say to our students at their graduation ceremony.
We caught up with Patrick ahead of receiving his Honorary Degree.
Congratulations! How do you feel about receiving your Honorary Degree from the University of Strathclyde today?
Thrilled. I love this University and I've been involved with Strathclyde in a number of ways right from the time when i was in GSK actually when a fellowship and PhD programme was set up, so I really like what you're doing here. I'm very honoured to get a degree, and I'm particularly pleased because my brother graduated from here in 1979 and he's very annoyed that I got my degree for free as it were, and he had to work for his!
What's the most important life lesson you've learned that helped you get to where you are today?
I don't know about the most important lesson but one thing that's really important is just to remember you can't do everything on your own. You need friends, you need mentors, you need people who support you, you need to have a support network around you for anything.
What advice do you have for our graduates?
Make sure you do something that you think is interesting, it has purpose, and where possible, you're working with nice people.
What makes you happy?
In the work sense, the thing that used to make me happy as a researcher was discovering something, and knowing that in that moment, you were the only person in the world who knows that piece of information, that was good fun. In a more general, life sense, what makes me happy is being with people who are interesting, good fun and able to talk about things that matter in the world in a way that's engaging and exciting and illuminating.
What's the most important thing you do daily for you?
I do exercise. I hate having to exercise, but once I've done it I feel great. I now do gym exercise so I do weights and squats and things like that, and the thought of it makes me feel like I don't want to do it, but my daughter once said to me 'but you must want to do it because you are doing it'.