Distinctive Strathclyde
Strathclyde's innovation ecosystem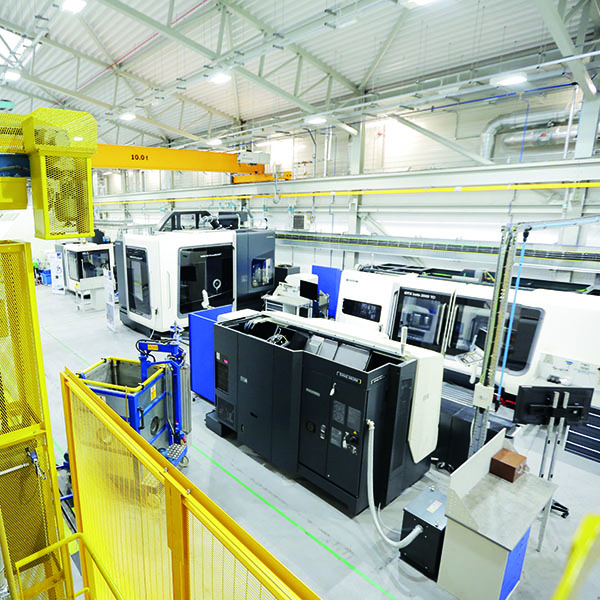 As the place of useful learning dedicated to making a positive difference in the world, we play a leading role in bringing new ideas to life. We work with partners from the private, public and third sectors to tackle societal and global challenges and drive inclusive economic growth.
Whether through our industry and research-informed learning and teaching; our focus on entrepreneurial skills for students; or our translation of research to tackle the real-life, practical challenges of business to solve problems and boost the growth of SMEs to multi-nationals: our innovation makes a real-world impact.
As home to a network of four Catapult Centres and four Innovation Centres, as the base of Fraunhofer UK, and as a host site for the National Physical Laboratory and the Laboratory of the Government Chemist, we sit at the heart of Glasgow City Innovation District (GCID), an initiative driven by the University in partnership with Glasgow City Council, Scottish Enterprise, Entrepreneurial Scotland and Glasgow Chamber of Commerce.
Through GCID we're creating a hub for entrepreneurship, innovation and collaboration, building on Scotland's rich tradition of scientific excellence and industrial collaboration. The GCID is attracting significant numbers of companies and organisations looking to nurture and accelerate growth, improve productivity and access world-class research, technology and talent from the University.
It is expanding Strathclyde's scope for industry and academic engagement across all Faculties, opening doors to ground breaking collaborations, and will be a key priority development area over the period to 2025.
A second innovation district at Glasgow Airport – the Advanced Manufacturing Innovation District Scotland (AMIDS) – sees Strathclyde as the anchor University for the National Manufacturing Institute Scotland, a strategic partner in the Medicines Manufacturing Innovation Centre, and operator of the Lightweight Manufacturing Centre. All of this is built around the University's Advanced Forming Research Centre, which has grown at double its planned rate since its inception and now forms the cornerstone of AMIDS.
Strathclyde has unrivalled expertise in the interdisciplinary development, analysis and support of policy creation and delivery across an extensive range of fields. Policy@Strathclyde is a platform for our impacts in the policy community and will harness the expertise across the University and of our public and private sector partners. As a key element of our innovation ecosystem, we are engaged in all areas of society and policy and we aim to improve and enrich the human experience.
And in healthcare, Strathclyde Health and Care Futures will enable the development of a strategic relationship with NHS Scotland, the Scottish Government Health and Care Directorate, and wider public health and funding organisations. The initiative will contribute to Scotland's public health and local priorities by enabling the development of new technologies and approaches to health and social care to respond to changing demographics, pressures on primary and secondary care services and demand for patient-directed care.
Public Engagement
Public Engagement in all its forms – from student and staff volunteering to communicate the impact of our world-leading research – is central to Strathclyde's ethos, a part of our history, culture and civic responsibility, which empowers staff and students to pursue their ambitions and to share and develop their knowledge with others. It sits at the heart of our mission as a socially progressive institution, as we strive to engage, inspire, inform and empower all parts of our community.
Our approach to 'public engagement' is inclusive, encompassing activities to widen access, schools engagement, volunteering and mentoring, as well as public engagement with research. This stems from the conviction that our institution is intrinsically linked to society and should work for the benefit of all.
Through large-scale University-wide platforms staff are supported to engage with the public in an easy-to-access way. Explorathon is Scotland's edition of the Horizon2020 European Researchers' Night: delivered as a nationwide consortium, Strathclyde has hosted the night annually since 2014, reaching tens of thousands of members of the public in Glasgow through events in key public locations, including a shopping centre and the Riverside Museum.
Images of Research is an annual competition through which researchers are challenged to portray their work and its impact in a single, eye-catching image and short story. The subsequent year-long exhibition brings the research conducted at Strathclyde to an audience of thousands of people, as the exhibition moves around high profile public spaces including art galleries, museums and the Glasgow Science Centre.
We will continue to reach out and inform public policy in a way that is trusted, highly respected and engaging. Strathclyde's Fraser of Allander Institute – soon to mark its 45th anniversary – continues to play a vital role in public life in Scotland holding policymakers to account and improving public understanding of key policy questions in a world of uncertainty.
The Brilliant Club provides training and support for early career researchers to engage with schools and we extend our engagement reach through partnership working with collaborators such as the Glasgow Science Centre. To reach audiences further afield we are increasingly enabling academics to produce professionally edited articles for publications such as The Conversation.
Our new Public Engagement Strategy sets out how we will deepen and enhance our commitment to sharing our collaborative innovation ethos with local, national and international communities. It includes new Platforms to facilitate more in depth relationships, including a Living Lab, as part of the GCID investment, to allow users to be engaged much earlier in real-life product and service prototyping.