Images of Research 2023 winner announced!
And the winner is...
Samuel Etopidiok, Preserving the cornerstones of our cultures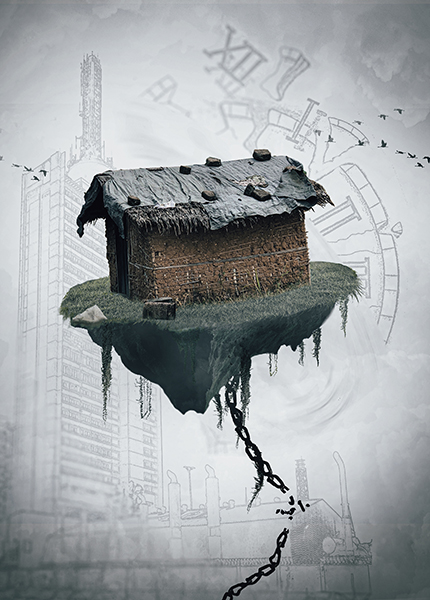 The judges felt that Samuel's striking and thought-provoking image ably communicated the issue of potential cultural heritage loss through neglect, and therefore the importance of his research that aims to preserve it for generations to come. Read more about Samuel's research here.
Congratulations also to Marsaili Mainz, runner-up for her equally striking image depicting the often hidden environmental implications of fast fashion.
Winner of the Strategic Themes and Impact award is Christine Dufes for her her eye-catchingly simple depiction of her complex research journey to create 'seek and destroy' nanomadicines in Fighting cancer.
Selected from all shortlisted entries to this year's competition, Hakam Alaqabani's entry, The magic of nanotechnology, is our People's Choice winner.
This annual competition and subsequent year-long exhibition brings the research conducted at Strathclyde to a wide audience both online and in print, via a variety of public exhibitions.
This year's competition, Hope for humanity, highlights the endeavours of our research community to make a difference in society. At this difficult time, great progress continues to be made, from health to technology, in addressing sustainability challenges and influencing policy change for a more inclusive world. Society is at the heart of what we do, and our research aims to create a brighter future for all.
Inspired by the University's strategic themes, this year's categories reflect our key areas of focus:
Community conscious
Healthy society
Responsible research
Technology transforms
The full exhibition is now on display at the Technology and Innovation Centre, in the cafe, until Tuesday 4th July. You can also view the full gallery (and previous years') from the comfort of your armchair or download the Images of Research 2023 brochure for fuller details of all of this year's entries.
Keep up-to-date with all the latest competition and exhibition news by following us on social media:
Twitter: @StrathImages
Instagram: coming soon!
For any queries about the competition, please contact: imagesofresearch@strath.ac.uk
Thank you to our competition sponsors, Jessops, who are providing some great prizes for this year's winners. Also, thanks to Guy Hinks Photography for their sponsorship of the Strategic Themes and Impact award, providing a photography workshop for the winner. Visit the Judging and awards page for more details.
"This was a thought-provoking exercise to be involved in. Research plays a significant role in addressing many of the challenges we face today. However, it is a common assumption that we can only engage with research through labs or academic papers. This exhibition demonstrates the creativity, curiosity and novel approaches we need for impactful research. The use of imagery makes it accessible to everyone."
Amelia Whitelaw, Director of Interface,
Judging Panel, 2023